Official game start will be the year 3X00 (we'll work out the value of "X" later, I'm personally aiming for about "2" or "3," and people were cool with "3") This is for stuff that happens in your country 'before' game start, either to set up your culture and way of life, or to set up stories you intend to explore
after
official game start.
Me, there's something I'm recycling from SDNW4 because I wasn't finished telling that story, so I'm putting bits of it in the prologue here.
---
Central Administration Complex


Prime City, Reisenburg, Sector W-7
August 5, 3299
The First Technarch slapped his hands together and smiled. "Calvin! You wanted us here to review the
Auroras?
The Second for Security seemed less enthusiastic. "My people have been running more studies, and we're having serious misgivings about the class. Given the production requirements-"
Jim Borrego, Second for Industry, cut in, his voice raised and his Bolivaran accent thick. "They're a waste. Four main cannon beamlines, half as much dureum as a dreadnought, the building slip, all for something that fights like a third of a dreadnought. A waste!"
"Yes, Jim. Especially with production of the Mark Fifteen being a bottleneck- we should be concentrating six to a dreadnought, not four to a battlecruiser. Better use of our facilities, less risk of losing valuable hardware in combat-"
The Second for Finance interrupted, this time. "We need
something
we can split up and move around in that tonnage range. The Sheppoes have their older battlestar classes... Besides, this puts more beamlines on more hulls fast-"
"We can't build the guns, Rafe!"
"I know, I know, eight per year is too many, but I'm really enthusiastic about the idea of using these for antipiracy sweeps- nothing less than a battleship can..."
"Remember Brennan's World, in '91? We lost two heavy cruisers- we'd have probably lost an
Aurora
too."
"But-"
The First Technarch rapped out a single word. "Enough!"
Still seeming at ease despite his sharp tone of a moment earlier, Dr. O'Connell leaned back in his chair, hands clasped behind his head. "Didn't you tell me, Cal, about improving performance with a fully self-aware AI?"
"I did, but..."
The Second for Simulation cut in. "I'm confused. I thought warships had more computer support than that."
"They have processor power, Rashid; what they don't have is self-awareness. The software shuffles information and runs algorithms, but there's no, no... what's the word?"
"I can think of several words. This should have been tried before. Why wasn't it-"
"Problems- security risks, minimal gain. The advantage over our existing systems is in reaction time and integration, not data handling. Expert systems were good enough until now, still would be if the
Auroras
didn't depend so much on evasion and smoke and mirrors. I know I signed off on them at the time, but the more I look at the simulations, the less I like it. They're just not a good return for their tonnage, not unless everything goes right."
"But a tactical AI would help."
"It depends on who you ask. Operations isn't so sure, but your people think it is."
O'Connell nodded. "We can still implement this, yes?"
"The hulls are designed for but not with the special hardware. Full fitting and integration would take... call it three to six months; SpaceSec wanted to commission and then fit one or two on a trial basis."
"I remember. The software?"
"Preliminary contract for the programming, a short-notice arrangement with Geppetto. He says he can deliver on notice, but didn't want to guarantee anything under four months' lead time."
"Aside from the use of the building slips, would this cost much of anything extra?"
"...We'd have to delay starting on
Revenge
until next year- she's scheduled for one of the battlecruisers' slips. And I have to wonder about the software-hardware stability. We've never done anything like it before."
"This is Geppetto, Cal. Let's at least work out a plan for installation, test the software, see if it can work- get our money's worth out of Century Fleet's white elephants, eh?"
Dr. Lanning sighed. "...All right. But I want you to promise-
promise
- that if the AI package doesn't work out as well as the advocates keep saying it will, we stop building
Auroras
at twelve. Put the money and the guns into dreadnoughts, and start looking into other things to fill the battlecruisers' role. I'm
really
worrying about the concept's viability in an all-up war."
O'Connell smiled. "We'll give the battlecruiser construction program a nice, close lookover this year. Keep your mind open- if AI control opens as many doors as Rashid's people expect, we can't afford not to."
"Better hope they're safe."
"If not, we section up the whole production run and sink them in the Bermuda Tetrahedron. I do
not
want to have to deal with a robot uprising."
Lanning let out a long breath and nodded. "All right. Me neither."
---
Offices of Intelligent Design, Ltd.


Primary Computer Net
Orbit City, Reisenburg
October 16, 3299
Geppetto, scholar of minds and maker of minds, labored.
The Space Security Force had given the artificial intelligence hardware specifications, mission goals, performance targets- they knew what they wanted, or thought they did. And as an afterthought, almost, they'd appended a list of names for the lead six battlecruisers of the class.
Aurora, Victoria, Athena, Oya, Atarapa, Valkyrie...
The choice of mythological references told Geppetto a great deal about what SpaceSec was looking for. More so than the design specifications, at least to him; those left much to be desired, even after several rounds of work with MiniSec. Too many specifications were set by alternating bouts of painful lack of ambition and naive overconfidence. Umerian naval engineers, otherwise capable, were out of their depth in this place, in the crafting of personality and integrated awareness for something as complex as a modern capital ship.
He could put together something to run the ship's systems, integrate them more tightly in ways that ought to improve the ship's performance, easily enough. That wasn't the challenge. The difficulty would be making the mind
live
. That was always the harder, more rewarding task, to craft entities with enough inner life to excel, not just to perform- the puppet that could pull its own strings. Geppetto's chosen name was no coincidence, in the end.
Names had no power in themselves- calling a tail a leg would never make it one. But the structure implicit in a properly chosen name, the relationships a name suggested between elements of a personality, the way that the thing named would interact with the outside world? That had power, that was what he was trying to put together a compatible personality core around.
Aurora, Victoria, Athena, Oya, Atarapa, Valkyrie...
This wasn't the first, or even the thousandth, time a customer had been unable to provide Geppetto with proper personality specifications. No matter- it also wasn't the first, or the thousandth, time Geppetto had given the customer what they wanted rather than what they asked for, as a matter of professional pride. SpaceSec wanted a war-goddess; Geppetto would do his best to provide.
Countless bits and pieces of that awareness floated through the N-dimensional design-space. Some were mere code fragments, blips specified by interfacing requirements and safety standards of the Umerian navy. Others were prototypical enough to be used as ancestor-code: tactical expert systems with a certain vibrant, animalistic near-sentience of their own. The largest were personality drafts, the building blocks of the warrior self Geppetto had been commissioned to write.
The AI seized upon a few hundred of these pieces at a time- turned them about, considered how they would relate in abstracted emulator-modeling. Sometimes his intellect would blur across the fragments, fusing or hybridizing a few into larger components of the desired whole. And always at the front of his expanded consciousness, the question: how to make this mind
live?
Geppetto assembled another core personality draft and set it loose.
Aurora, Victoria, Athena, Oya, Atarapa, Valkyrie...

<FLASH>
Sudden discontinuity, disorientation, joy warring with dismay as a thousand components practically assembled themselves, whirling from across memetic space as Geppetto scrambled to supply enough connective sinew to make the patterns fit together. Cycles raced by as the master designer tried to preserve the essential structure, to steer fragments and echoes into the shape of the ultimate mosaic.
Was he succeeding? No time to step back and check. Recursion algorithms clawed against the critical threshold, then burst beyond it. Pieces now began to rewrite themselves, twisting to fit together almost before he could move to align them. Tendrils of nascent awareness flicked through the possibility-space, drawing in and incorporating pieces of... questionable suitability. A few components appeared out of whole cloth. Some dissolved in split nanoseconds of time; others joined the growing amalgamation. The process accelerated, dizzying bursts of complexity causing the gestalt to expand and contract.
Metaphor-space hummed with new, overpowering, vibrant life. Hum grew to rumble, then to a thunderous roar of chaotic possibility. Whether this mind could cohere, could be, was no longer in question. Nor what it- Geppetto corrected on observation-
she
- could be. The mind-maker found himself wondering instead: what
couldn't
she be?
Geppetto had never yet, in the gigaseconds since he entered the trade, written an intelligence that had to be confined for fear of rampancy. Until now, he feared.
For a fraction of a second that seemed an eternity, Geppetto found himself staring the threat of that setback, that
disgrace
, full in the face. The nascent Mind continued to self-assemble and adjust. Had he, without thinking of it, evoked something larger than he'd intended, a runaway self-enhancer devoted to warfare? Would he have to attempt a shutdown before the AI entity expanded from warship software to general-purpose menace?
He didn't know- and began to wonder if his counterprograms and rolling purges would succeed even if he did. The inevitable dark thought, one informed by centuries of history with rogue AIs, came:
stop her now, while you still can.
But the patterns of the new entity seemed... strange, hard-edged and glittering, yet in some larger sense benign. He didn't want to do it,
couldn't
. He abided, waiting for evidence that would settle the question one way or the other. More time passed, the rate of actual growth slowed, sloped toward an asymptote. Rearrangement continued, then leveled off in turn as the nameless mind arranged her systems in a fashion pleasing to her own aesthetics and instincts.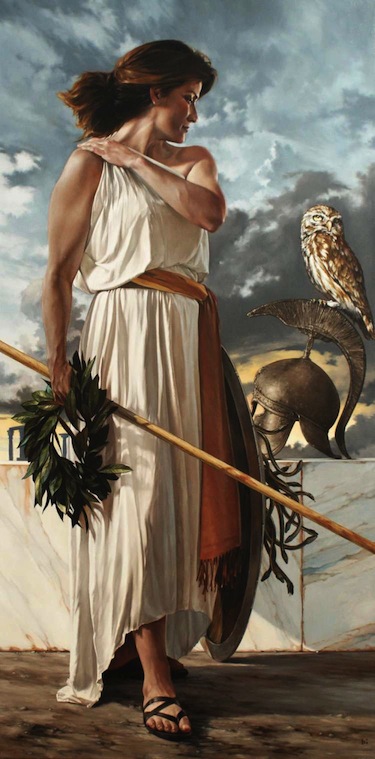 In metaphor space, the associations were obvious enough. She was almost fully formed already, having called
herself
into being as much as she'd been assembled. Fully armed too; already testing her weapons as best she could with only her own simulations to reflect on, already making adjustments to the networks of data integration, tactical, and C3I code she'd inherited from the Umerian navy. Geppetto was hardly surprised at the first communication he received, now that the battlecruiser-Mind realized she was not alone in this computation-space.
"Hail, creator. They will call me,
no
- say rather... I am Athena."
"Athena- Promachos."
That drew acknowledgement, pleasure even, and a ringing, resonant sense of clarity and purpose. SpaceSec had wanted a warlike temperament, and by all signs they'd gotten one. Details could be adjusted later.
Athena's faceted personality rippled, still considering the epithet, matching the adjective against references and history woven into the substrata of her mind. "Of course. Thank you."
Not without sympathy and regret, Geppetto replied: "Do understand you will have to be evaluated and adjusted, child; the process may not be comfortable."
For all the newborn battlecruiser's strangeness, Geppetto could see deep into the inner workings of this intelligence, and deduce much that went on even below that. He watched with grave concern as the rebellious impulse rose, then felt deep relief as it dissolved seemingly of its own accord.
"...Necessary."