Simon, unsurprisingly, wrote the Elysians. I couldn't even begin to.
6113 Tybalt Row, Apartment 9-14
Nova Luna, Planet Nova Luna, Nova Luna system, Midnight Confederation
"Mooom, the holo's broken!"
A gangly-limbled teenager lay sprawled on an overstuffed couch, bathed in the shifting light of a the test pattern floating in space in the middle of the living room. He'd just yelled through an open archway, his tone whiny enough to have referred to power converters.
"No it's not, honey, I was just watching the news on it," came the response in a somewhat exasperated voice.
"Well it's broken now, the Sixth Cruiser Squadron is supposed to be on!"
"Try another channel, Brian."
"But--hey, that worked. What the shit, did the fucking station cancel it?"
"Brian!
Language!
"
"Sorry mom..."
__________
New Moon Holovision headquarters
Two men in t-shirts and khaki pants huddled together over a flat panel screen showing nothing but a still test pattern. Whispered communication bounced back and forth between them, both men tapping furiously on the array of controls before them.
"I'm telling you, the file's there, it's playing straight from it."
"No it's not. Look at the feed, dammit, look at the feed!"
"I know, I can see it, I'm not blind, Eddie!"
"Well then you know it's not playing from the right file or something."
A finger stabbed down at the directory tree on a secondary screen, tapping the surface of the display where a little animated icon was looping in place next to 6CRSS4E3.
"See? SEE? It's playing! That's what the file should be named, and it's where the file's supposed to be, and it's playing from that file!"
"I see that, Eddie, but I also see that what's playing is a goddamned test pattern, which is, in fact,
not
what is supposed to be playing, no matter where the damned system says it's playing from!"
One figure looked quickly over his shoulder, then hissed a reply, "Fucking hell, Chris, do you
want
to bring the boss down on our necks before we have an answer for h...Chris, why are you staring over my shoulder? He's...standing right behind me, isn't he?"
A baritone voice with an ominous rumbling tone cut across the conversation, drawing twin flinches from the two figures, "Yes, he is. Now why don't we start over with what you two should be telling me, rather than me having to find out when the head of customer service called up to let me know that our highest-rated show wasn't airing as scheduled?"
"Y-yes sir..."
__________
Variable Sanity Media Studios
"I'm terribly sorry, Mister Paulson, but we seem to have...misplaced...the recording for this episode."
"Then check the blasted backup server, I've got NMH execs screaming down my neck for blood or money or the blasted episode!"
"We have, sir. The files there are blank too, just a test pattern."
"That...doesn't even make sense. Fine. Whatever. Call in the editting staff, get them back to work to re-cut the episode from raw footage and yes I know it's a Saturday and
why are you looking at me with that expression?
"
"We...checked the raw footage as well. It's the same thing."
"That makes even less sense. Umm...holocam memory modules?"
"Test pattern."
"That...but...that...daaah!"
___________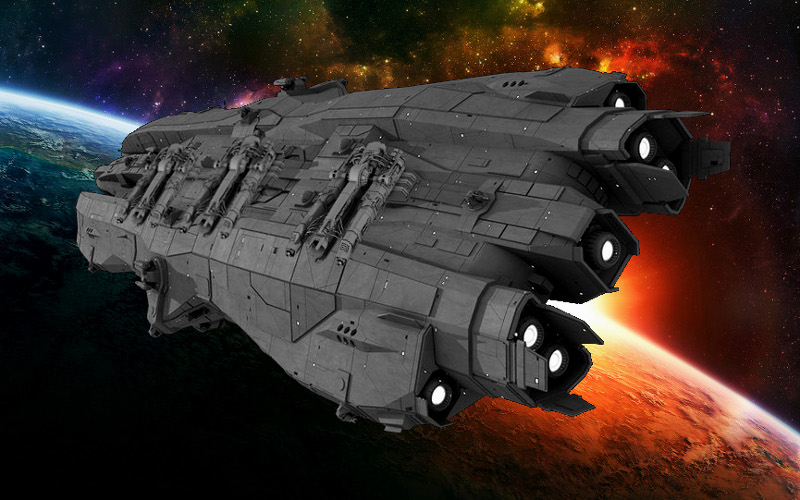 Battlecruiser

Majestic


Sixth Cruiser Squadron
Unknown Location (big surprise)
The rain of sparks over
Majestic's
tactical plot had finally stopped, but it had stopped twice before, so West simply hung the borrowed umbrella from his belt rather than giving it back to his operations officer. The squadron's trip through hyperspace had been a short one; many of its vessels were damaged, not least of which
Majestic
herself. The survivors of the recent battle were all clustered closely together, the least damaged ships forming a shell around both the non-combatants and their more heavily-damaged comrades. Guns trained warily outwards, the whole formation huddled between an apparently-uninhabited (or at least non-technological) world and an unusually large, close-orbiting moon, shielding themselves from detection as best they could.
Welding torches and repair boat thrusters strobed and glimmered like a swarm of fireflies somehow flitting around a school of steel-gray fish.
West had been standing in front of the holographic plot's railing for hours, available for any important decisions, but otherwise just staring down at a display in his hand. Each time he brushed his fingers across the surface, it displayed another dossier from the list of casualties. Names, service dates, pictures, evaluations, each one belonging to a dead man or woman. There were mercifully few of them, compared to what could have been. Many had made it to escape pods or lifeboats, more had been recovered from hulked, still-intact wreckage. There, more than anywhere else, the relative crudity of their attackers' technology had been a blessing. The amount of firepower required to actually destroy one of the Sixth Cruiser's ships as opposed to simply rendering it a worthless hulk was great enough, in such a case, that only one light cruiser had been actually shattered. Still, the list was only short in relative terms. In absolute ones, it was painful.
A flicker in the plot snapped West's eyes upwards suddenly, even as the call he'd been dreading rang across the bridge. It had a much different tone, however...a curious one, rather than a declarative.
"Contact? Bearing 242 mark -16, Range...difficult to ascertain, I'm not getting a clear return."
The flicker in the tank resolved itself into a long line tracing away from the Sixth Cruiser's position, colored the amber of an unknown contact.
"You sound confused rather than worried, Tactical. Tell me more," West calmly asked, not turning away from the plot.
"Ah, yes sir. I'm not getting any sot of active emissions from the contact, and it's bouncing our active sensors....weirdly. Sorry sir, I can't be more precise than that. From its movements, it's under power, but I'm not picking up any kind of drive system active, nor am I detecting any shielding systems or reactor emissions. I'd call it heavily stealthed, but it shows up just fine to actives and those are usually the easiest to fool." A shrug followed those words, the officer looking more than modestly sheepish. "I have no idea what it is, captain, but we should be able to vector one of the recon drones close enough for a visual in a few minutes."
"Do it."
The next few minutes were an odd mixture of tension and eager curiousity. The contact could be a threat, true, but as many contradictions as it embodied, it could be almost
anything
. Finally, the nearest recon drone approached close enough for a meaningful visual, one that West ordered overlaid above the tactical plot.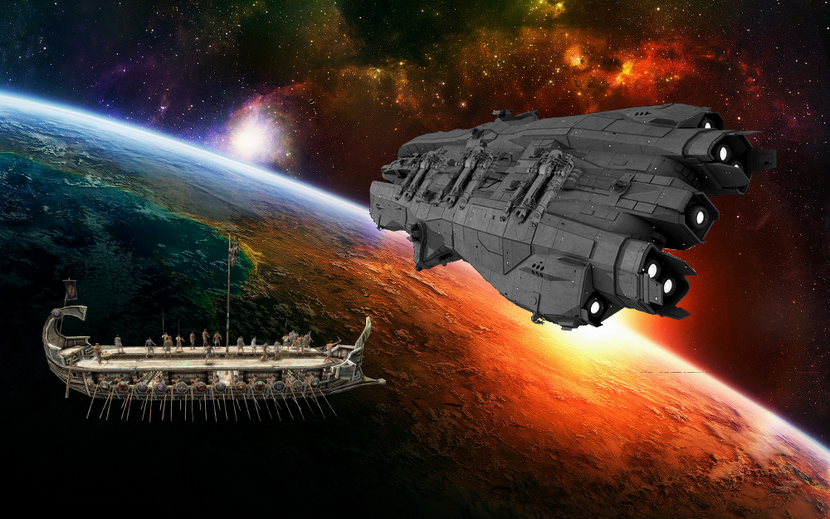 "...What..."
___________
Elysian Hero-Trireme

Far-Go


Searching the Nine Vectors*
The Month of Septimulon, 4153 AUC**

*Sector D-28
**GODDAMN SURREAL TIME!
Onward did the Elysian heroes sail, daunted in their innermost hearts yet outwardly BRAVE and rigid in their countenances after what they had learned on their last day upon the beach-world so close by where they had slain the terrible kraken. Of that revelation, the story is not yet told, but one day will be, my gentle listeners; fear not.
Onward they journeyed! Into unknown stars and unknown fates, beyond the charts prepared for them, guided only by the DEAD RECKONING of wily Astrometrius, beloved of Mathenerva! Buffeted by the strange starcurrents of these constellations, their course was set for them all too well, for the subether had not yet relaxed from the great splash made by the blasphoritous bulk of the MEH, so few months ago in those days.
As they rounded another great planet, Crispus, the boring son of Petrus cried from the top of the mast: "I see something!"
"WHAT?"
"I... I think it's a ship!"
The great general, valiant and titanomachian-throated ROCK STRONGGO, did thus squint to observe what lay ahead. Others among the Elysians did as well, while the oarsmen continued to ply with their usual mightitude and maintenancy, keeping up a steady beat in time to the trireme's great drum. Some among the oarsmen, though, were thrown off their strokes slightly when a fiery and unidentified object did burn past their ship!
"A comet! A comet! Avert the omen!"
"NAY!"
For STRONGGO, quick and wise, perceived that it was indeed no comet at all! Nay, this was some sort of mysterious golem-engine, perhaps a slave of the owners of the ship ahead. He knew he must learn more.
"HELMSMAN! TOWARDS THE STRANGER!"
Onward did the hero-trireme proceed, now at a quickened pace, for the Elysians knew not whether they faced friend or fiend in these vasty spacedeeps. Should the foreigners be a friend, perhaps more of the beauteous and friendly nymphs, all would be well and they should no doubt make HASTE! Aye, and should the foreigners be enemies, such as some lost and wandering band of Connolteans or PERSIANS, then should all courageous warriors go swiftly into battle, as is proper, and thus make haste anyway!
The brawny arms of the oarsmen closed the distances swiftly, and soon the form of the great foreign vessel, escorted at a distance by a myriad of similar and smaller ships, was made clear. Aye, formidable covered ships were they, festooned with assorted weaponries and tended by a host of golem-slaves like unto the one which had so recently passed the brave sons of Elysium, and also other such engines which did perform the duties of SMITHING upon their iron hulls, cunningly worked to follow the direction of the foreigners' shipwrights!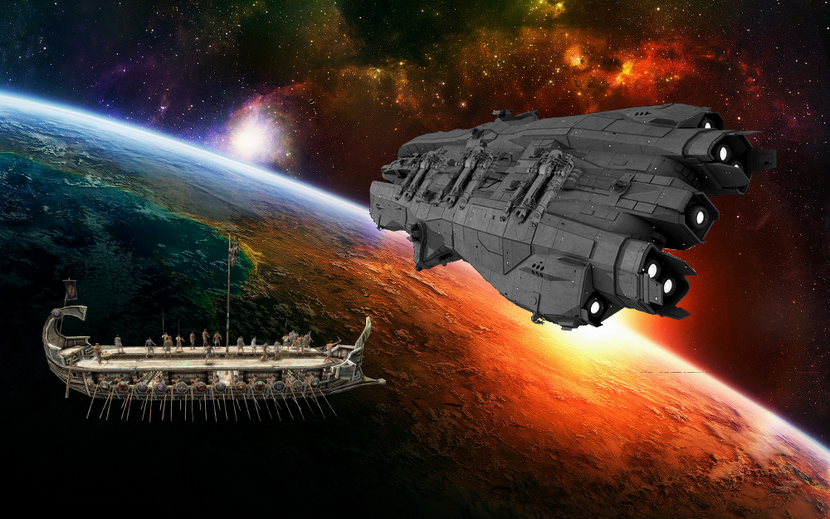 "...WHAT!?..."
For then did invincible STRONGGO, son of IRONBEEF, perceive that the hydrotomic cannon of the strange vessel were pointed in the direction of the noble hero-trireme. Of the precise nature and potency of these weapons' discharges he knew, nor desired to know, not. And yet as a captain of men, his duty was clear."
"OARSMEN, STAND BY TO RAM! HOLD STEADY!"
Adonemo the fair-visaged and agile was quick to stand by his captain's side, and did murmur: "What if they are friends, or at least not enemies? Perhaps they will point their weapons away should we ask it of them in friendship."
Stronggo was silent for a time, watching the stalemate. Then he nodded once, slightly. "AYE! WE PARLEY! FERRICLES! RIG THE ANTENNA!"
Kzzraarghl, of whom we have not yet spoken but will again, growled in DISPLEASURE, but became distracted by the odor of various smoked meats that had priorly been prepared for the heroes' luncheon.
Meanwhile, just in case, the Elysian heroes prepared for war as well as for peace. The greatest picked men of the hero-company, marked for GLORY by their divine ancestry and magnificent physiques, did go BELOW, there to retrieve weapons from the trireme's armory. Thus would the mighty warriors be ready for any treachery. Aye, should the strangers launch some sneaking and backstabbing attack, like unto the heroes of the Trojenocide would the men of band of STRONGGO be! Then would they spring forth from their vessel after the ramming, and BOARD the foreigners' covered ship, there to bring bright-bladed and bellowing belligerency into their very midst, and capture the vessel which had been turned against them.
But the time for war was not yet, and the time for parley remained. Stronggo, in his mighty and brass-lunged voice, rivaled only by that of Stentor the Loud, Elysian arch-herald, did thus make known his wishes to the unknown and foreign beings, via the great antennas of Ferricles and the smiths.
"HAIL, WANDERERS! IF YOU DO NOT WISH TO BE MY ENEMY, POINT YOUR WEAPONS ELSEWHERE!"
For a space, nothing was said. Then, in obedience to the profound bass and manifest demidivine nobility of indomitable STRONGGO's great voice, the strangers did OBEY, and their great cannons did SHIFT some distance away, pointing off to another of the nine vectors, rather than towards the brave sons of Elysium! Aye, and then did the captain of the ironship make reply, via the transmitrons of his own vessel! Strange was his tone, and occasionally was his voice INTERRUPTED, either by some flicker of his own instrumentations, or perhaps by some flicker in his own brain as he beheld the greatest specimens of Elysian manhood!
"I...believe I can arrange that. Senior Captain West, Sixth Cruiser Squadron. Ah...to whom am I speaking?"
"GREETINGS, CAPTAIN! I AM ROCK STRONGGO, SON OF IRONBEEF, GENERAL AND EXPLORATORIAN OF THE ELYSIAN PANTHEON."
Some gentle and muted voice upon the aether-waves did then speak quietly: "Turn that down." The Elysians knew not whether it was their hosts, or some spirit of the stars, but the foreign captain did continue regardless.
"Ah...well, it's a pleasure to meet you, and your... unique... craft, Mister Stronggo. I'm afraid our boat bay is out of commission, so I can't invite you aboard. Er...what can I do for you?"
"WE ARE ON A TEN YEAR MISSION FROM THE GODS, TO SEEK OUT NEW LIFE AND NEW BARBARIANS! WHO ART THOU, AND WHERE ART THOU GOING?"
The foreigner sounded somehow ABASHED when he made reply, more so than would be expected even from the proper awe of a barbarian beholding Elysians. As he spoke, his voice became quiet and dismayed, with hints of some unknown anger.
"That's...a better question that I might like. I know precisely where we need to be, but not where we are, nor how to get from here to there. In short, we're about as lost as it's possible to become."
STRONGGO, wise and just STRONGGO, did then scratch his beard, as befits a man contemplating a great problem. "ASTROMETRIUS!"
"Aye?"
"COUNSEL THESE MEN, THAT THEY MAY RETURN TO CIVILIZATION!"
"Of course, my general. It is not fitting that they should wander the nine vectors forever. Captain, may I speak to your master navigator?"
"That... would actually be perfect. Just a moment." Then did the captain turn away from his macrophone, speaking more quietly. Words passed, about the rightful removal of men from closets and the turning-up of voluminosities. Some time passed also, swift-flowing like the rivers of the Blessed Isles.
Then did the foreign navigator make himself known. "Aah...hello? Can you hear me?" This was accompanied by the sound of open palm, as though some rueful boner had been committed, of which the sages know not, for who can truly understand the ways of barbarians?
"Aye, I can hear you well. Harken, my friend, and I will endeavour to steer you towards a truly civilized world, fair to behold and marvelous in its mastery of arts, crafts, and culture both physical and philosophomentalic!"
"Okay. But first, um. I'm... going to have to ask for your credentials."
"Naturally. I am a tested master of twenty years' experience in the Guild of Astrogators, trained and schooled under the tutelage of the grandmasters of the art. I have led some hundred voyages through the constellations about glourious Elysium, and also this great voyage, having guided my hero-comrades these thousand parsecs as best I was able using the traditional tools of my trade- chartmapograph, straight edge, caliproids, SEXTANT, and... well, aye, at times I did fall back upon the use of the slide rule we obtained from a Sumerian trader back by the homestars."
"That...that...that is...that... Okay. That's good. You know what? That's good."
"Thank you, my brother navigator, and may your voyages be more blessed by the gods than mine."
"Ah..."
"According to mine calculations, you are roughly a quarter-myriad of megamegaleagues from Elysium, the fair-bosomed center of the human universe! If you wish to return to civilized space, with your most excellent engines that DEFY the heavenly currents of these strange constellations, you have only to travel due east! Keep the most brilliant portions of the glourious Way of Milk two and a half points off your bow, while allowing your vessels to roll NOT, lest ye become confused and wander off in spiraling ways to be devoured by star krakens! Along this course, soon wilt though encounter the nebular-dwelling and fair-visaged empire of the nymphs. They are broadly honorable, and will most likely afford you blissful rest and succour, but their charts will most likely avail you not, as they are quite illegible, believe me when I say this!"
"Nymphs, way of milk, points off bow. Eaten by krakens. I... see."
"Beyond them lie a league of federalist silver-mining states, of which I know not, but also the exotic perfumeries and flying carpetoids of Klavostarabia! Be wary of the migration of the spacegulls of those sectors, for they will surely lead you ASTRAY, as for some reason unknown to me they fly disturbingly close to the great rotating maelstrom, and following their flight may see you drawn irretrievably into the very ergosphere, where none may stop spinning, or worse yet into those black-veiled regions where all oracularies and divinations point DOWN, and neither oar nor sail can save you from your fate!"
"Spacegulls, misleading. Maelstrom, dangerous. Oars, not helping. Gotcha."
"Aye, but should you brave the MAELSTROM, and the disturbingly smooth spaces beyond into which you must beat double-time to find purchase in the aether for your vessel, there will you discover the noble and clean-limbed warriors of SHINRA! With them too may you find hospitality and aid, so long as you are not intercepted by the greenskins of Morkdor, whose furious dakkosity and rusty-edged steel await in so many regions of the galaxy to test the manhood of warriors bold enough to face them in combat.
"Riiight. Shinra, helpful. Greenskins, not helpful."
"Surely not! Aye, and continuing upon this course, on beyond SHINRA lie the haunted ruins of Earth-that-was, guarded by powerful and surprisingly tangible shades, which it is best to avoid entirely, as none dare speak of them at length, and none know the full might with which they defend that world."
"Haunted planet. Duly noted. Thanks for the warning."
"Aye, beyond there is the mighty red turbogiant of BUGJUICE, and diverse other wondrous sights! Beware of the slave-soldiers of PERSIA, though, for while they are feeble and eunuchly in their cowardice, they are great in number and armamentations, and may seek to make slaves of you as well if you do not repel them with firm and upright defenses! Steer to port, into the welcoming shallows of space beyond there, and you will find true civilization!"
"Persian hordes... bug juice... civilization. OK, I've got all that down."
"Marvelous! I wish you good fortune upon your journey, wanderers! And should you come upon magnificent and invincible Elysium in your travels, tell them... tell them we will be home as soon as we can."
"I'll, er, pass that on. And thanks, a lot, really. You've just saved my a--er...thanks." There were rustling sounds, like unto those of some light-constructed helm being removed from the cranium of the navigator, and towards that of the captain, for this is precisely what had just taken place. Again did the foreigners make reply, and this time it was the West-man:
"Thank you again, Mister Astrometrius, it was? And thank your captain for me, you have just done us a great service."
"I shall, wanderers. I shall."
And with these noble farewells, the Elysians did COME ABOUT and resume their way, wondering at the fate of these mysterious Sixth Cruisers. Who were they? Where were they from? And what happened to the First through Fifth Cruiser Squadrons?
With these unanswerable questions ends this chapter of the saga of ROCK STRONGGO!
---
At some point during the exchange with the...trireme... West finally succumbed to the inherent absurdity and, with a slightly manic grin, unhooked the umbrella from his belt and opened it over his head without comment. Some of the looks he received for doing so were baffled, some concerned, but many worse similar expressions to his own, arranged on a spectrum between barely-suppressed maniacal giggling or simple stoic acceptance of the absurd. West just watched the visual feed hovering in the air above the bridge's holographic projectors, his expression wobbling between extremes as the wooden ship backed oars to turn in place, then began to accelerate not smoothly, as a ship with any kind of sane engine would, but in rhythmic spurts in time with the movement of the banks of oars studding its flanks.
At the sound of a clearing throat just beside and behind him, West turned to look at its originator and inclined his head with a somewhat warmer, less manic smile at the shorter figure of the woman standing there. Formality, at least with someone he'd known as long as his operations officer, seemed a poor fit given his barely-suppressed desire to break into a mad cackle.
"Illyana?" he asked, pitching his voice low enough that it at least provided the illusion of privacy, enough to imply that this was a conversation between Ted and Illyana, not Senior Captain West and Lieutenant Commander Kozlova.
By way of answer she deflected her eyes away from his face and nodded towards the umbrella, then looked back with an arched eyebrow.
West snorted quietly and shook his head, making no move to close the umbrella as he responded, "We're about to let Chandler -- of all people -- lead us through hyperspace from an unknown location to a dubiously-vague destination based on directions provided by a man who uses a sextant and a 'chartmapograph,' which I couldn't even begin to define, who flew here in a wooden starship powered by oars. I hardly think an umbrella makes this situation make any less sense." His own expression began to take on a bit of a manic, fatalistic grin as he spoke.
Illyana did a poor job of muffling a bark of laughter into a cough, shaking her head ruefully and then simply inclining her head in acknowledgement without another word. As she retreated back to her own station, West turned to look at Chandler, who stiffened up to attention while still seated behind the astrogation station.
"Mister Chandler, start setting up a course. We'll be at least another eight or nine hours finishing what repairs we can't manage in transit, so you've got some time. Take that time and do it right. Make sure you keep a close eye out for..." and here West's lips began to quiver in a smile he couldn't even begin to fully hide, "...spacegulls."
Roughly ten hours later, the ships of the Sixth Cruiser Squadron, now with patched-up hulls, repacement sensor clusters, and other essential repairs gated up into hyperspace and vanished.