CHAPTER 5: THE (NOT) FINAL SHOWDOWN
Time is: Fall 1960
Tests. Tests, tests, tests and more tests. The flight schedule for 1960 was full of unmanned tests of the Mercury capsule. Megabucks were thrown away on flight hardware and post-accident analysis of the Mercury capsules. And this year would be no different.
Except for the part where Zenobian spies penetrated THE CAPE and abducted their defector, right from an astronaut's cot. Several astronauts were visibly shaken, their oiled up chests not quite as glistening as before, and their industrial lubricant consumption way down.
Johnny von Braun was being pressured from all sides. He had to yield - eventually - but he'd make damn sure the first manned flight would be a total success, even if he had to give the Zenobians their milestone.
Fucking Zenobians. Fucking communoids.
Code:
Current funds: 42 megabucks

Current astronaut roster:
MODEMJR - CAP 3, LM 0, EVA 2, DOCK 1, END 2
FLASHHEART - CAP 1, LM 0, EVA 4, DOCK 1, END 1
CUNTSER - CAP 3, LM 3, EVA 1, DOCK 0, END 1
MCCAIN - CAP 4, LM 1, EVA 2, DOCK 0, END 1
KELLY - CAP 3, LM 1, EVA 0, DOCK 2, END 2
HARDBEEF - CAP 3, LM 0, EVA 0, DOCK 1, END 2
OHJESUS - CAP 4, LM 1, EVA 0, DOCK 1, END 1

Programs running: Explorer, Atlas, Mercury

Launch pads: 3

Scheduled missions: Launch Pad A, unmanned suborbital, Mercury/Atlas
Launch Pad B, unmanned earth orbital, Mercury/Atlas
Launch Pad C, unmanned earth orbital, Mercury/Atlas
The tension was palpable. This season would be the most important one to date, and everybody knew that.
It didn't help that apparently a saboteur was on the loose inside the cosmodrome. As the Vostok capsules arrived from their final fitting, were tested and integrated with their boosters, Baikonurek became a veritable fortress, with guards and vodka bottles everpresent and ill-tempered. Many innocent technicians were arrested, and foul capitalist rodents outright exterminated for attempted sabotage on power and computer cables.
Then, finally, it was time. The first of the two launches loomed. It would still be months before the first Zenobian manned mission, but the data gathered from the Vostok's first flight would be critical.
Code:
Current funds: 48 megabucks

Current astronaut roster:
KARZANOVSKI - CAP 4, LM 0, EVA 0, DOCK 1, END 2 (VOSTOK/V)
IVANOV - CAP 4, LM 2, EVA 0, DOCK 1, END 1 (VOSTOK/IV)
FAAABIO - CAP 2, LM 0, EVA 2, DOCK 0, END 3 (VOSTOK/I)
DOSTAROVASKI - CAP 2, LM 0, EVA 1, DOCK 1, END 3 (VOSTOK/III)
IVANOVICH - CAP 2, LM 1, EVA 3, DOCK 2, END 3 (VOSTOK/VI)
NIKOV - CAP 4, LM 0, EVA 2, DOCK 0, END 2 (VOSTOK/VII)
TITOV - CAP 3, LM 1, EVA 1, DOCK 0, END 1 (VOSTOK/II)

WARNING: Comrades assigned to Vostok II have regained their good moods and composure.

Programs running: Sputnik, A-Series, Vostok, Booster stage

Launch pads: 2

Scheduled missions: Launch pad A, unmanned suborbital, A-Series/Vostok
Launch pad B, manned suborbital, A-Series/Vostok
***
MISSIONS LAUNCH


MERCURY III, SEPTEMBER 1960
Von Braun watched the rocket rise. The tremendous manly labors that went into correcting all (or as many as possible) previous problems with the Mercury capsule better pay off!
The flight controllers monotonously read out passing mission steps...and to everyone's amazement, the capsule re-entered properly and gently glided into the sea on its parachutes.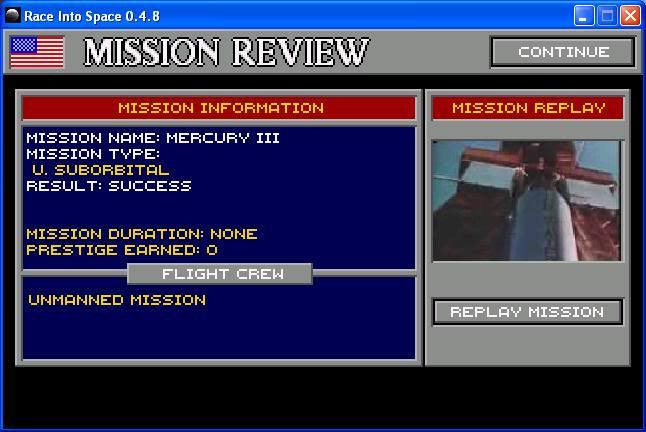 Success! There would be much manly rejoicing tonight!
"Comrade director!", dr. von Evilstein said with great dishonesty, "How is the product of your mind doing? No sudden inexplicable problems?
Syrgy Pavyllych didn't answer. von Evilstein had been strangely cooperative for the last few months, and neither the new program director nor the comissar could figure out why. Still, with the outcome of the Kremlin corridor battles still uncertain, it was wiser not to needlessly antagonize the man.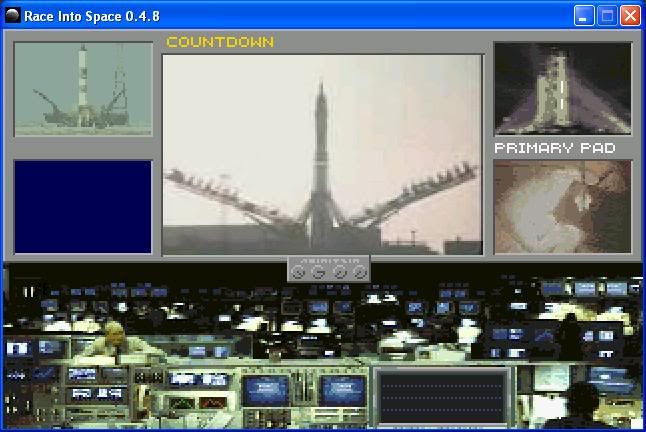 While the altercation was happening, the pad crew was running the countdown. Syrgy was just about ready to sit down in his comfortable chair, when an alarm blared.
"Clear the pad! Clear the pad!", someone shouted over the radio. The high-speed cameras recording the launch started showing thick smoke billowing from the rocket's first stage.
"PIZDETS!", one of the engineers yelled, banging on his console.
Syrgy seemed slightly dismayed, but tried not to show it, reassuring his team instead, "Do not worry, comrades. We will find the problem and correct it!"
Mercury IV was more complicated than III, as it was supposed to have been a full orbital mission.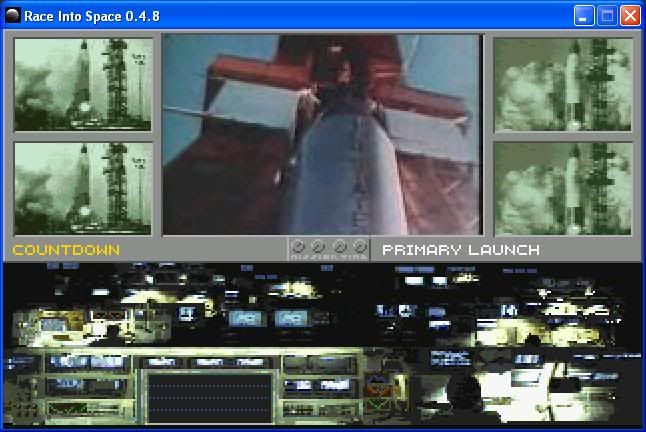 ...yeah. It didn't go that well. Turned out the rocket wasn't quite debugged yet.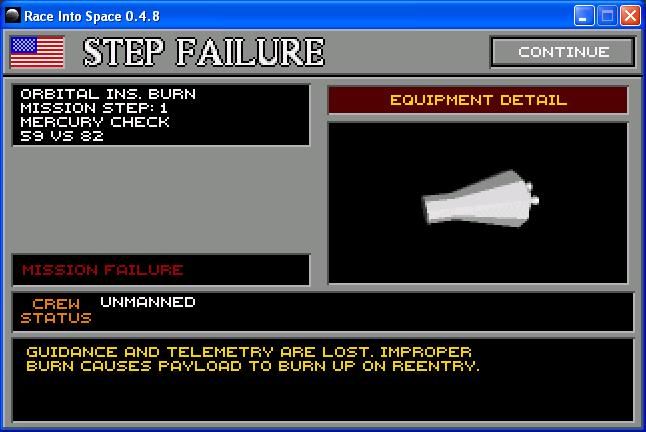 ...what a fucking year.
Still, progress was being made. Nobody died, but Johnny von Braun felt he would have to schedule a really long and really unpleasant meeting with the Senate Budget Comittee pretty soon.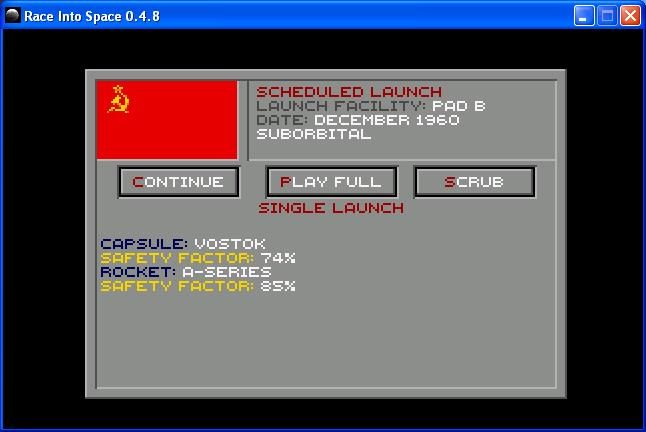 "Mission approved, comrades. Green light."
The state reporter snapped several photos of the hero of the hour. Comrade Cosmonaut Faaabio Elenin, the first man to leave Earth's atmosphere. And, presumably, return alive.
Syrgy Pavylyvych shook the man's hand and wished him good luck, before the cosmonaut boarded his bus.
"I have to get a smoke", the old rocket engineer said, watching the bus leave towards the rocket looming in the distance. He knew perfectly well the Vostok was as ready as it would be, but it still had many problems that were impossible to resolve with groundside testing.
The risk was great. Extremely great, which made comrade Faaabio's bravery all the more profound, as he knew the risk perfectly.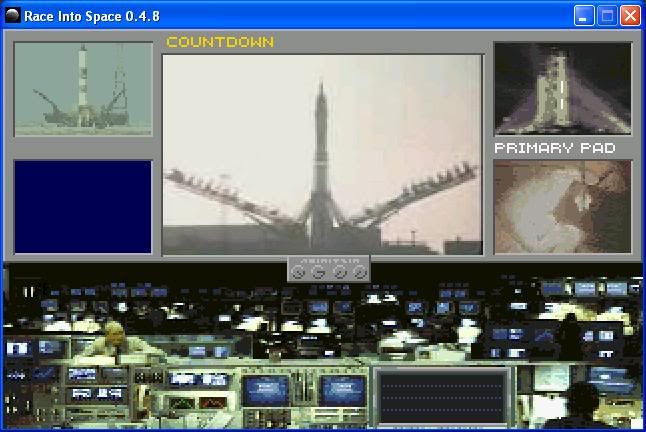 And it wasn't just technical risks. The control room was packed with generals, Party officials, reporters from "Only Pravda" and a myriad other VIPs, every single one of whom possessed the authority to ruin Syrgy's career.
"Comrades, we are ready for launch.", the pad chief reported, "Countdown is at 15 seconds and holding. We are awaiting the green light."
"Green light. Proceed with countdown."
"Da, comrade. Fifteen. Fourtreen. Thirteen. Twelve. Eleven. Ten. Nine. Eight. Ignition starting...seven...six...five...four...three...two...one..."
The rocket rose with a mighty roar.
"Farewell, good friends! See you upon my return!"
"Copy that, Vostok-II. All reading are nomnal. You are gaining altitude."
"Everything is fine on my end."
"Standby for staging...", an engineer monitoring engine performance was reading out, "Staging complete...capsule on ballistic trajectory..."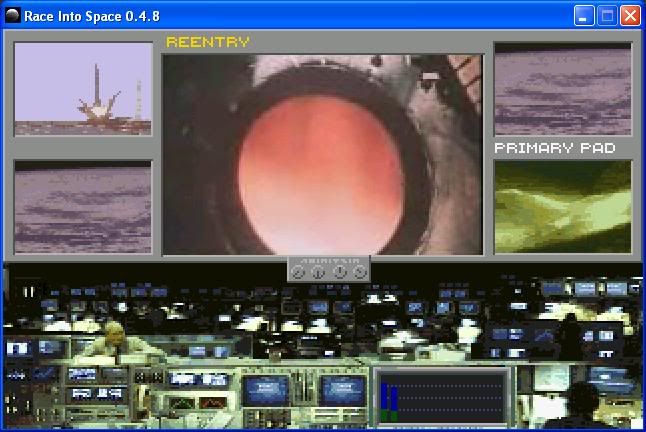 "I see many flames...approaching black *krszztstzt*"
Second ticked. Syrgy caught himself biting his nails. Would the heat shield hold?
There was no communications or telemetry. Silence fell inside the control room.
"Comrade! Comrade, recovery troops reporting - they see a parachute! They have a parachute!"
A grainy helicopter-mounted camera focused on a distant figure.
"It is good to be back, comrades!"
***
Notes: URRA! Comrade Faabio survives the first manned Vostok launch, and thus becomes the first human to ever leave Earth's atmosphere.
Meanwhile, Murcans are still experiencing teething problems on their capsules, and running test flight after test flight, with their first manned mission not scheduled until May.