CHAPTER 1: THE RACE BEGINS!
Time is: Fall 1957
Hrmpf...some bad news...we'll have to talk to ol' Ironhowler about that one!
It was hard work, administering MASA, but Director von Braun seems to have hit a good balance between expenditures and effects he could show for them. Fall 1957 would see the first ever Murcan satellite launch. The Atlas/Explorer program's progress reports were looking very promising indeed.
Except for the rocket. The contractors said there were still some kinks to be worked out...but if they wanted to beat the communoids, well, they'd have to cut some corners. The mission would fly in November, come hell or high water.
Yes...he didn't really know what his counterpart and former colleague, Von Evilstein, was doing out there in Zenobia, but it was clear his space program was a clear and present danger to Murcan manliness - and von Braun would protect the manliness of his newly adopted country, no matter what!
And other good news - an astronaut showed up! Though Johnny didn't exactly have any funds to actually pay or train him, the guy - Fax Modem he was called - didn't seem to mind. He set up a small tent in the middle of the empty field and would await assignment. It was a bit creepy how an entire little camp just...spawned around that tent, though.
Code:
Current funds: 20 megabucks

Current astronaut roster: N/A

Programs running: Explorer, Atlas

Launch pads: 1
Argh! Corruption!
Oh well, it's not like we you were planning any R&D, anyway...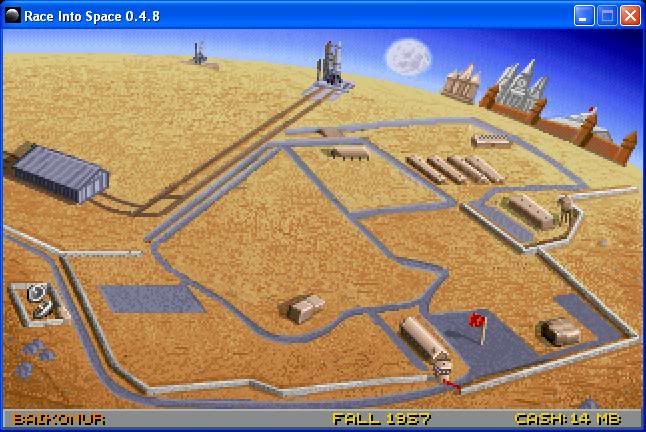 "Leak! Leak! Everybody out!", somebody screamed. Alarms started going off, while suspicious white fog billowed out of the A-Series rocket being assembled together for the launch. The two rockets lay side-by-side, being rapidly rushed to the launch pad by hordes of low-paid and ill-trained workers.
"This is madness!", the representative from the
Krasnyj Oktabr Rocket Factory
protested loudly, "These two rockets are prototypes! Prototypes! They did not undergo any sort of testing whatsoever!"
The representative had been threatening, begging and finally meekly asking Von Evilstein for more funds and time to test his rockets. Same went for the team in charge of assembling the two
Sputniks
that the rockets were supposed to take to orbit.
Bah
, was the Director's common thought,
Foolish Zenobians don't know that all you need to triumph is iron will and testicular fortitude to take risks!
Besides, he wouldn't be blowing up any Thanasians if an accident occured, so whatever. Zenobians should be thankful they had his unabated genius to guide them. He did receive status reports on both the A-Series and Sputnik programs, but threw them in the trash immediately. The apes were obviously wrong in their probabilistic calculations.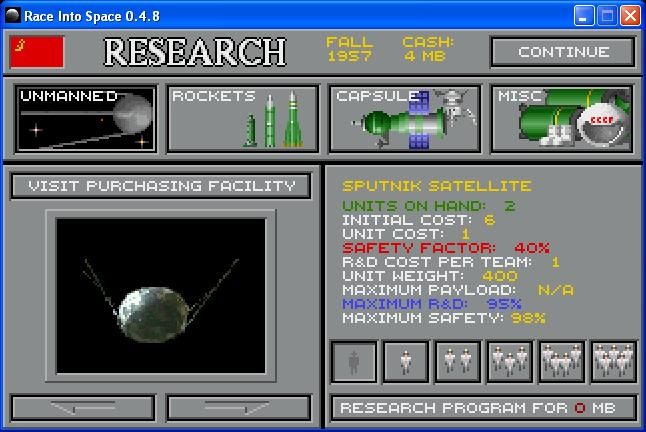 Whatever happened, the rockets would launch on time. The Zenobians
would
meet the rushed schedule...or else!
MWAHAHAHAHAHAHAHAH!
Code:
Current funds: 14 megabucks

Current astronaut roster: N/A

Programs running: Sputnik, A-Series

Launch pads: 2
***
MISSIONS LAUNCH
SPUTNIK I, SEPTEMBER 1957
Von Evilstein had to admit, he was somewhat nervous.
It wasn't really the Comissar and his pistol, menacingly hovering around the command center. No. Well, yes, that too. But the viewing stand was also full of Party bigwigs, very important and very ill-tempered people. People who all knew lots of other people who lost friends and loved ones in the Salvation War.
Needless to say, their sympathy for a certain ex-Nazzi rocket engineer was in short supply.
This better work
, Director von Evilstein thought to himself. The rocket was on the pad. It swayed a bit in the wind, and ground crews were still tightening bolts and making checks that should've been made earlier, but it had to launch. Otherwise that damn von Braun, his nemesis, the bastard who always stole his idea, would WIN.
And von Evilstein would not be one-upped by some stupid Murcan wannabee. Oh no.
"We are go for launch! All systems green!"
"We have ignition...rocket is clear of tower...we are on out way, comrades! Da! Long live..."
"OH NO MOTHER ZENOBIA WHY?!"
EXPLORER I, NOVEMBER 1957
It was prepared. Rock and Roll was playing. The launch control crew was all pumped up. Hell yeah! Fuck yeah! That was the stuff! OOORAHOOAH!
von Braun sat down in his rockin' chair and stared at the main screen. He would rock this world today! Today Murca would take its rightful place amongst the nations of the world!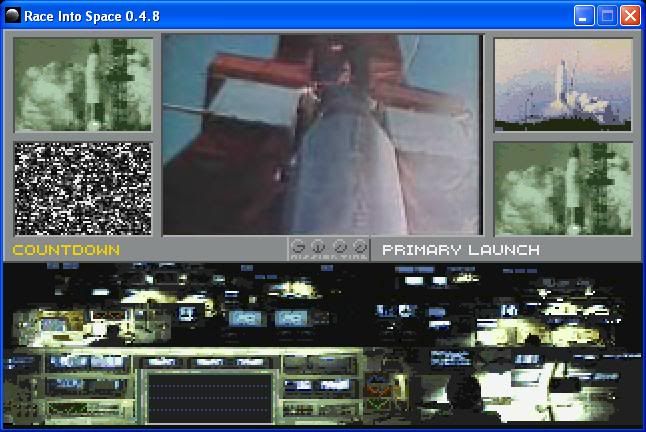 "Pad leader reports all systems ready. Beginning countdown. Ten...nine...eight...seven..."
"Liftoff! We have liftoff!"
There was hollering and high-fives all around the control room. They did it! She was on her way!
"Engine failure! Engine failure! Rocket descending!"
"What?! No!", von Braun rose from his chair, trying to command the rocket to fly again, "No!"
The range officer sighed and turned his key.
"Noooooooooooo!!!!"
SPUTNIK II, NOVEMBER 1957
Three months...it were three dismal months for director von Evilstein.
He spent them mostly explaining why the first, bombastic launch with all the party heads ended in such dismal failure. The Central Comittee wasn't exactly thrilled, but they let him go...FOR NOW.
After all, he did have a second launch scheduled, and the stupid Murcan rocket got blown up by their own range officer! There was still hope for mother Zenobia.
This time the comissar had his sidearm unholstered, though. That was bad.
"Counting down...all systems operational...nine...eight...seven...six..."
"Lifotff!"
Director von Evilstein held his knuckles. He held them so tight he might've broken a few.
Yes. He definitely broke a few.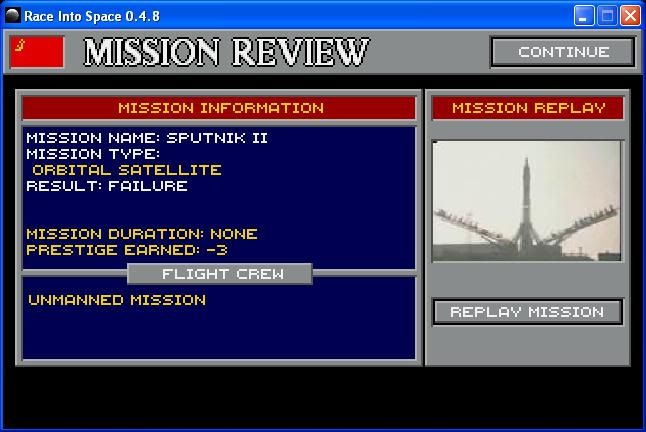 ***
Results:
Basically, total and dismal failure. Lousy rocket designs fail during all three launches. Your superiors are most displeased, though since your rivals both failed in their launches, you have not been dismissed/shot/sent to a gulag.