...aaand, let's kick it off. People can still apply for various positions. The first year will not see finalization of the Class I astronaut list until the first recruits become available in Spring 1958. In essence,the first two turns are a race to get unmanned vehicles up there.
Von Smallhausen is, of course, still available for questions regarding the Federation's rules for the race.
CHAPTER 1: THE RACE BEGINS!
Time is: Spring 1957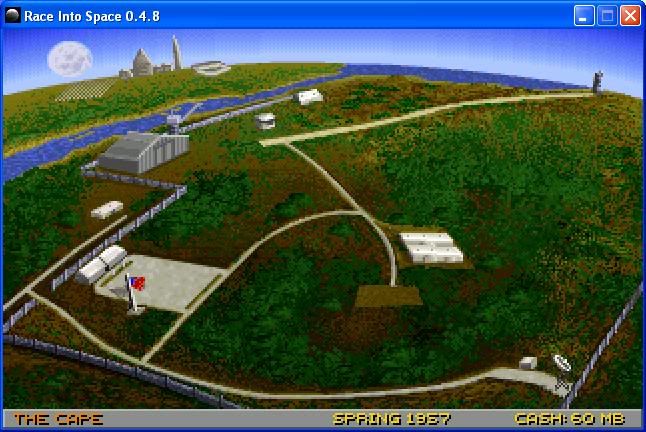 "Here we are, Director!", Johnny Von Braun's driver was almost too cheerful. The young snappy Murcan soldier drove his Geeper through the gate, that was guarded by a somewhat sleepy and possibly dead security guard.
As they made their way across the mud and dirt roads of THE CAPE, the Director whimpered. President Ironhowler told him he was going to have "everything necessary" to beat the Zenobians to the Moon - but all he could see was a huge open field, a junk shack and a couple wooden barracks. The only relatively hi-tech building in the area was a single launch pad he could see far on the horizon.
Johnny Von Braun got out of the Geeper in front of one of these wooden shacks and decided to man up. Whatever happened, he'd persevere! He was a Murcan now, a good proud good ol' boy, and by God he'd succeed! Or else...
The "or else" meant of course "being tried for war crimes", as director Von Braun was, much like his Zenobian counterpart, a former Thanasian rocket scientist who worked to try and blow up Anglian cities from afar with his inventions. Hopefully, after he showed those communoids and his former colleague Von Evilstein what's what, he could finally be allowed to join this great, patriotic and god-fearing nation as a citizen!
Anyways, entering the tiny shack, Director Von Braun found his office was a tiny, tiny room, mostly occupied by a huge desk. There was a single window presenting a view of THE CAPE, but there wasn't much to view, really.
On top of the desk lay a massive pile of reports, from which he could discern the state of the MASA (Murcan Aeronautics and Space Agency).
Code:
Current funds: 60 megabucks

Current astronaut roster: N/A

Programs running: N/A

Launch pads: 1
Okay, so the pile was...not very high, really.
The eggheads working one wooden shack over, on the other hand, have submitted a head-splittingly huge list of proposals for research programs they wanted to initiate, in an easy-to-read flash card format providing all the necessary information.
UNMANNED SATELLITES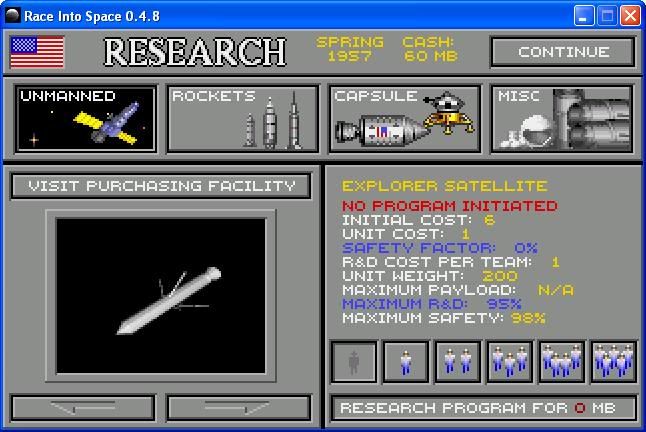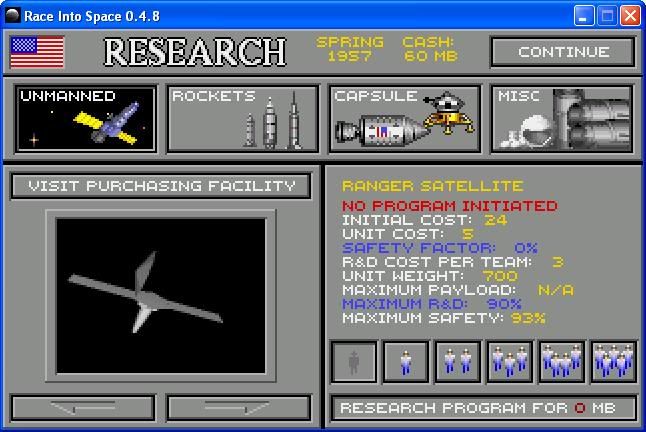 ROCKET BOOSTERS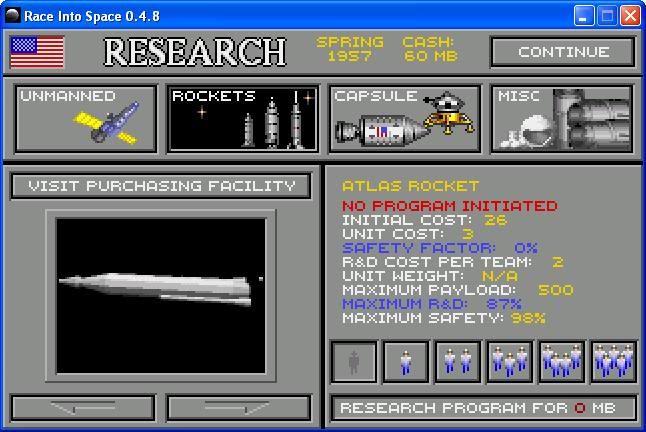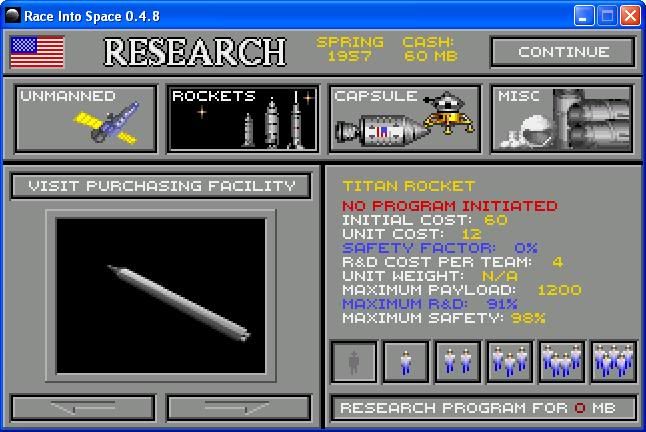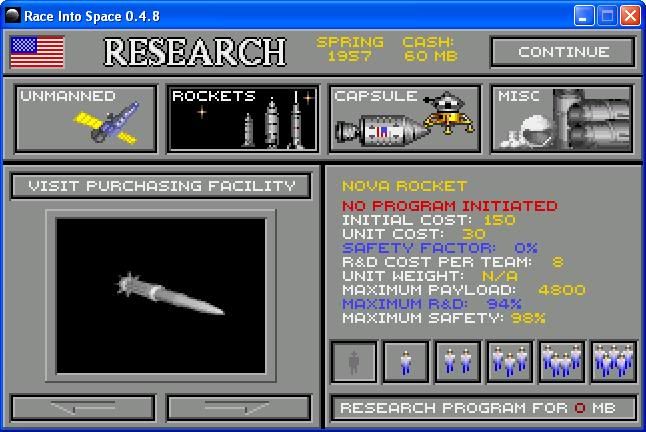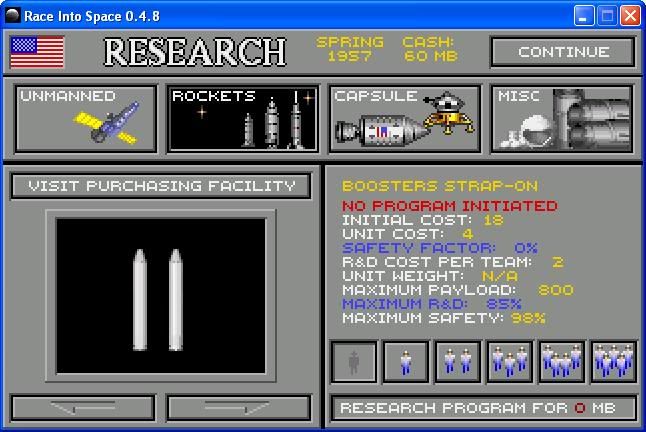 MANNED CAPSULES AND LUNAR LANDERS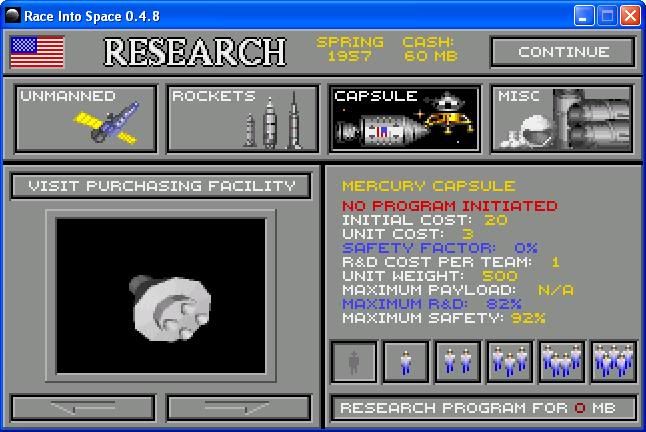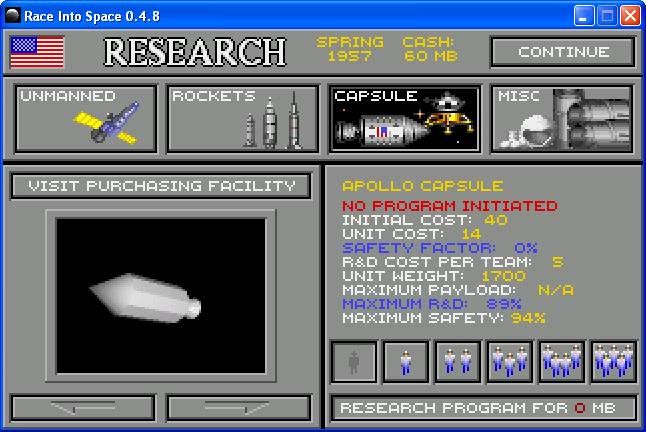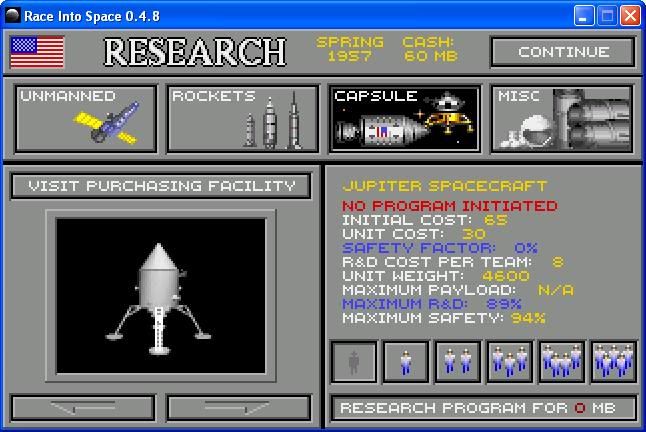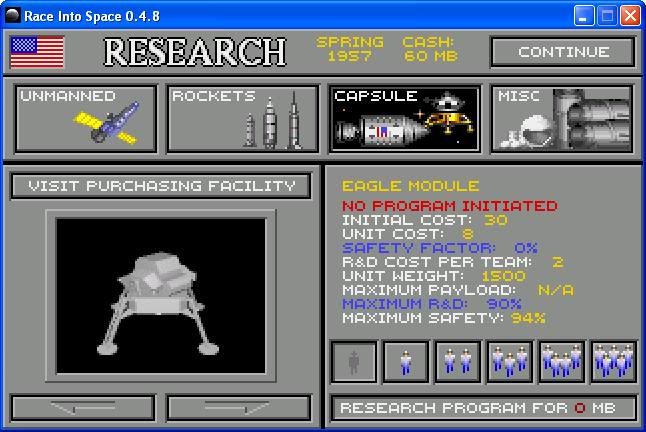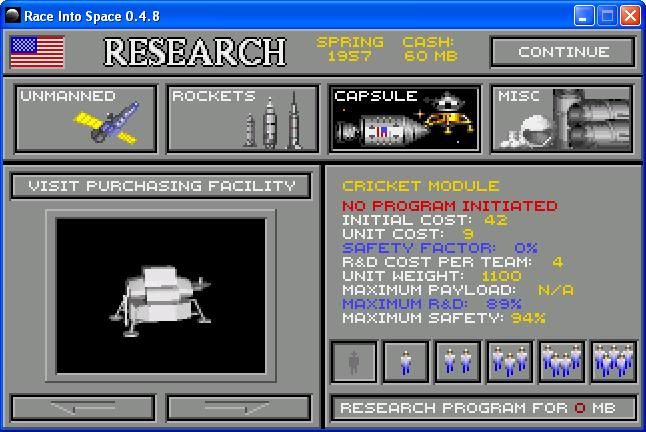 ADDITIONAL EQUIPMENT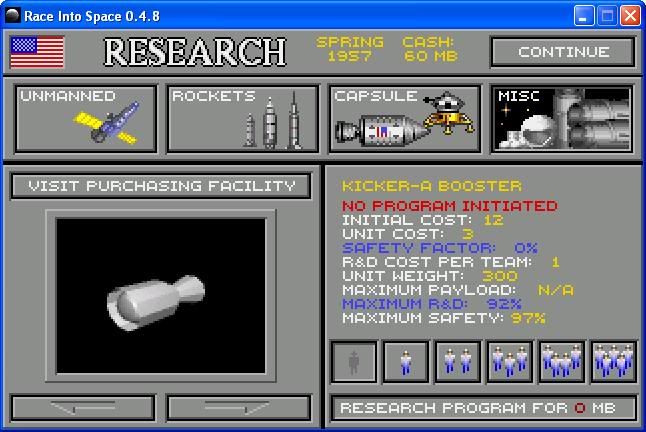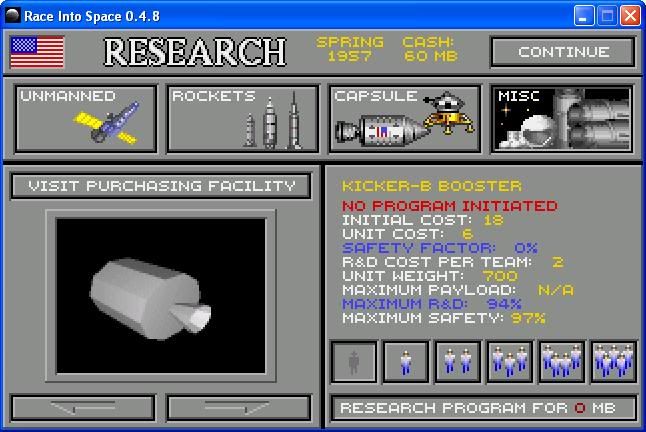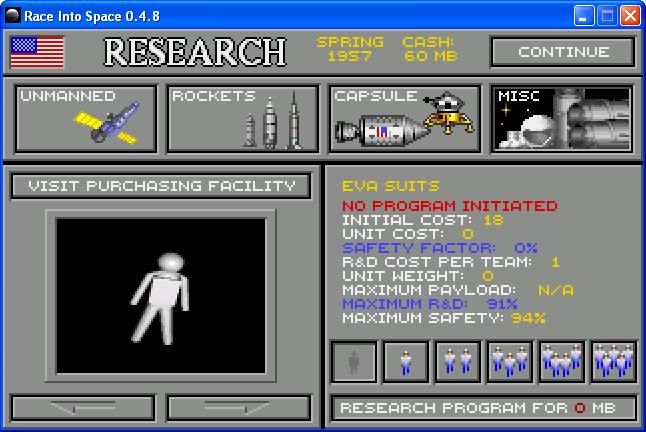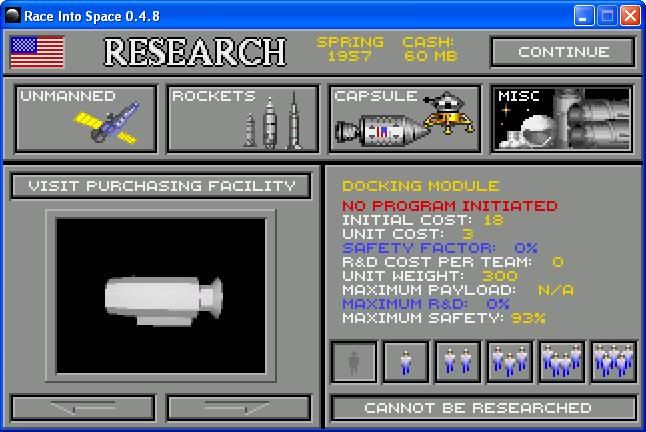 There was also a red phone, which the Director was sure would start ringing quite soon, and star spewing angry questions directly into his ear.
Sighing, the Director decided to get some input on the all-important decision of "how to spend my pile of money?". He called up the man who signed off on the flash cards, MASA Director Of Research, Sam Francisco.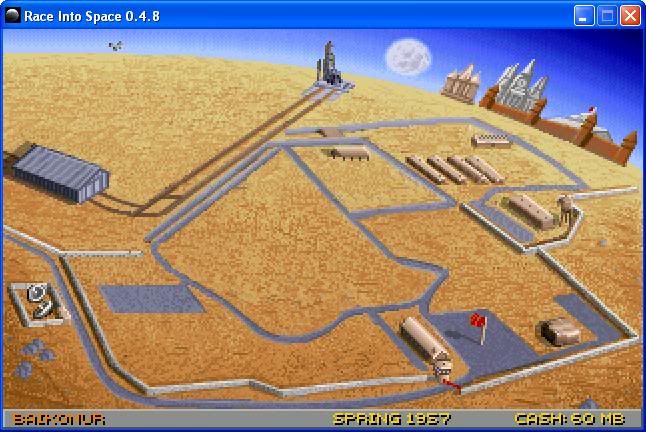 Director Doom von Evilstein III
glared
at the Comissar.
"Excuse me? I'd like to use that bathroom, please, ja?"
"Go ahead, then", People's Rocket Comissar, Ivan Omeganski, answered. But he wouldn't move. It appeared he really meant it when he said he was going to watch the director at
all times
.
"Nein! Zis is indignity! I refuse to vork in such conditions!"
"We have worse workplaces in Zenobia, you know.", the Comissar didn't seem to mind, "How would you like to chop down trees in Zyberia?"
"But eet iz not necessary!"
"I have to make sure you do not try to escape your socialist duty to the Motherland, comrade von Evilstein. By, say, comitting suicide."
"But how?! How could I pozzibly commit zuicide on ze toilet?"
"Drowning."
The Director threw up his hands in frustration, "Fine! You win, communoid bastard!"
The unpleasantness did not take long, but Director Von Evilstein was not any happier about it. He stormed through the corridors of the dilapidated (and tiny) post-war bunker down to his office, the Comissar following him around. He started reading through reports from his research staff, in an attempt to decide what programs to begin. He had to do it just right, or risk actually going off to Zyberia to actually cut down frozen trees. Fortunately, his Murcan counterpart Von Braun always was an idiot. Von Evilstein was the brains behind the Thanasian retribution weapons, and by God he'd beat that young fool at this game. He glanced at the cork board showing the current status of his agency.
Code:
Current funds: 60 megabucks

Current astronaut roster: N/A

Programs running: N/A

Launch pads: 1
And held up the first technological reports, that were provided to him in an easy to read flash card format.
UNMANNED SATELLITES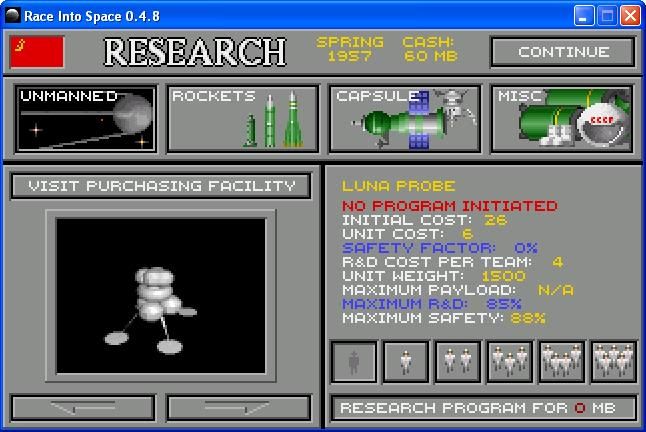 ROCKET BOOSTERS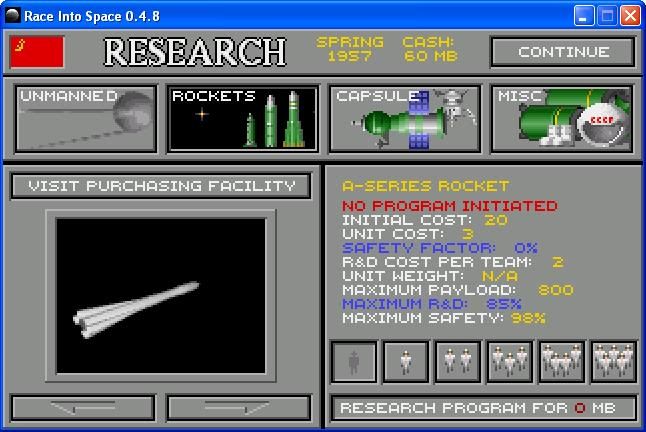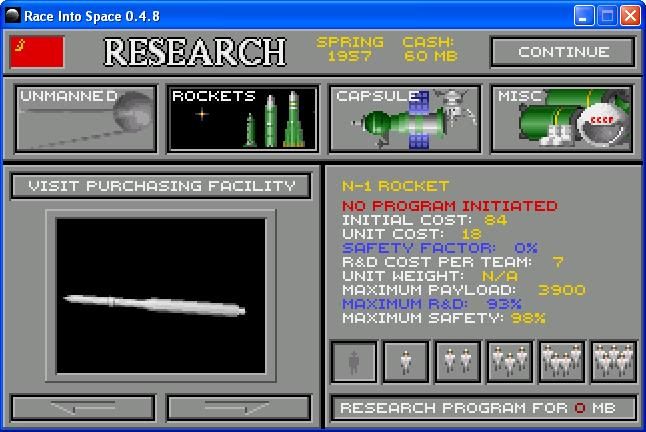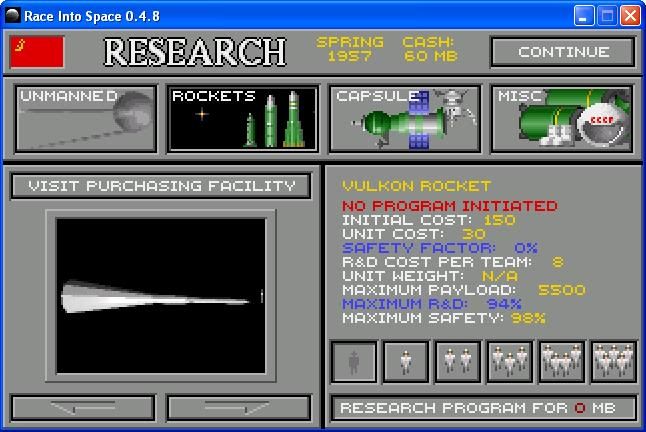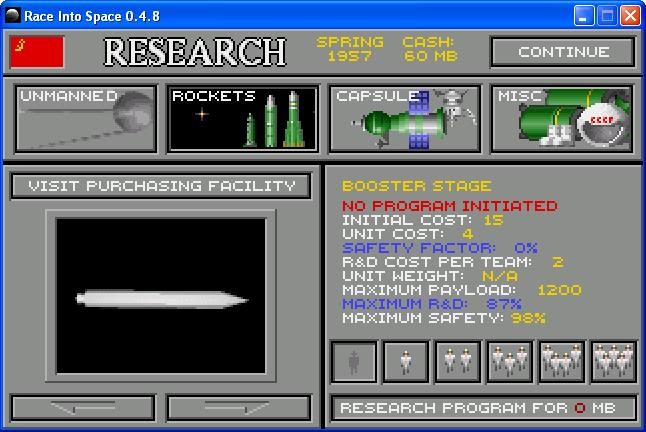 MANNED CAPSULES AND LUNAR LANDERS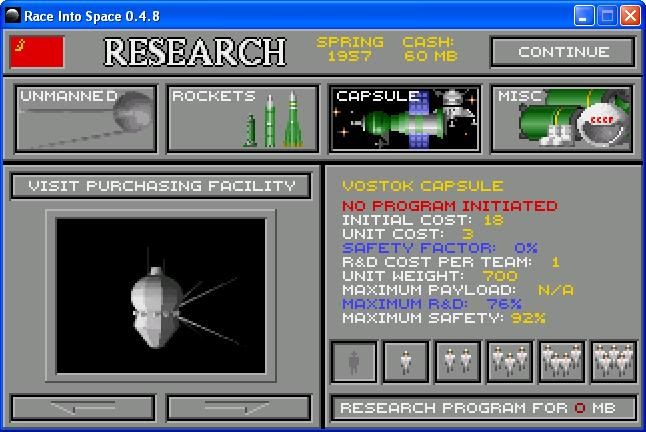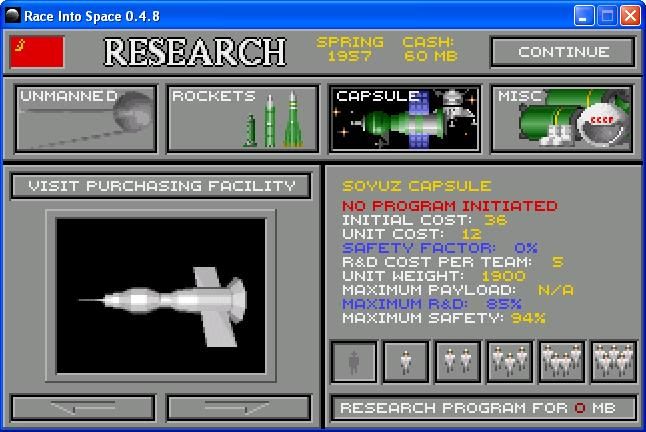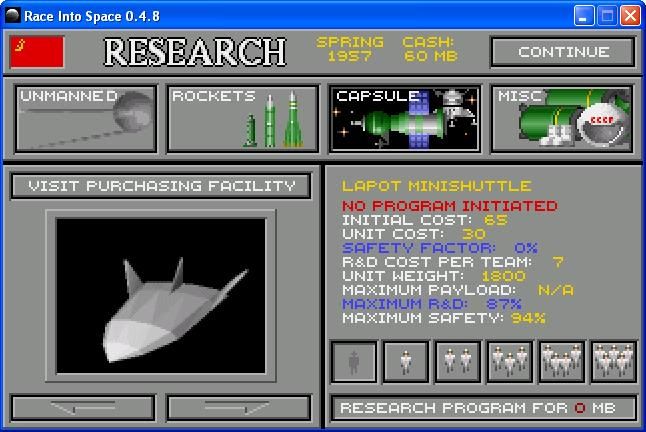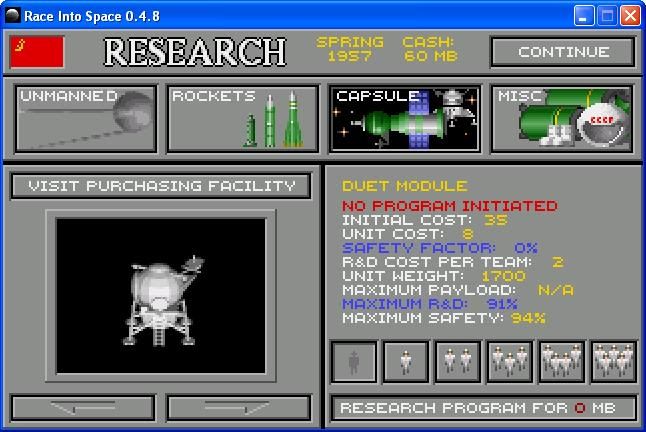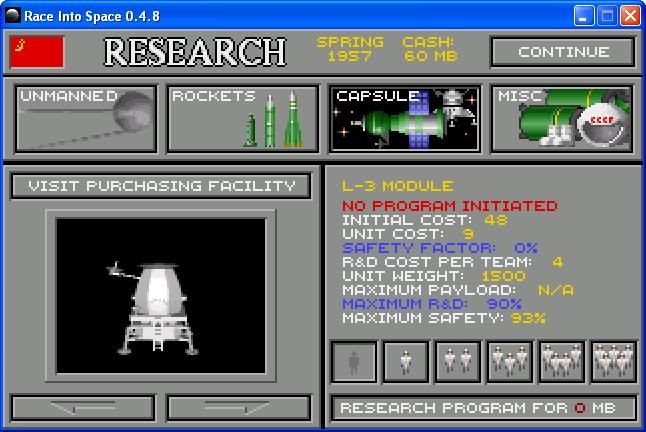 ADDITIONAL EQUIPMENT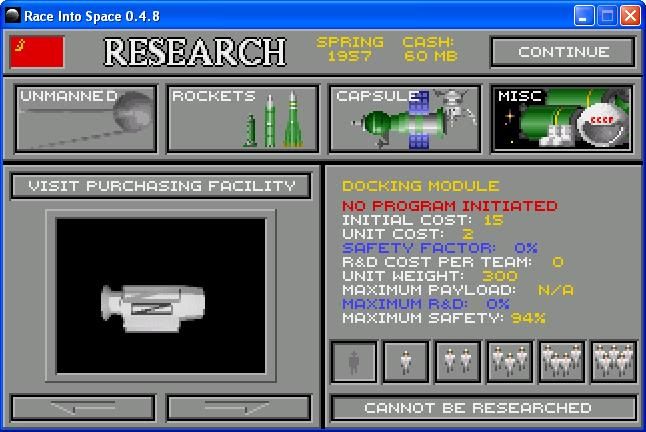 ...oh, those zany Zenobians! Such quiant designs, so rugged and simple and quite rigid and...
Director Von Evilstein slapped himself very, very hard. No time to think of hardness! There were decisions to make!
----------------------------------------------------------------
Code:
DECISIONS TO MAKE:

1) What programs to initiate?
2) How many research teams to assign towards research for these programs in Spring 1957?
3) What, if any, missions to plan for Autumn 1957?