The Bragulan Economic Exposition Extravaganza of Friendship (BEEEF)
Vlyadibragstok, Southeastern Severnaya Sector / just beyond Northwestern Lena Sector
Unreal Time / October-December 3400
Part 1:
"Thank you, Shroomanists!" Fulcrum shouted.
"You're awesome!" added Dash.
They beamed at the last complement. "No problemo, giant birdie heroes!"
With the Shroomanist NUERSEs handling the casualties (fortunately not many) the avians could continue their search for the errand guard.
"Dash? Found anything?"
"Buncha wreckage, trail of destruction that
might
be from Slate, but rampages happen every other day so dunno." He landed and gasped for breath.
"If he's not already heading for the yacht, he's causing trouble elsewhere and we could use the yacht's communications for handling that. We must hurry, and I know you have your dignity, but sometimes we must swallow our pride for the greater good, so..."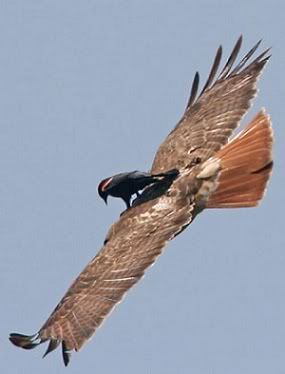 Like this, but instead of Epaulette, it's Dash, and instead of a red-tailed hawk, it's Fulcrum. Incidentally, Epaulette was, for a very short time, a flight instructor, so this may have happened once.
Fulcrum flew as fast as he could, which was quite fast indeed. Not quite as fast as an aircar, perhaps, but he could fit through smaller spaces.
"Dash, hanging on back there?"
"YEEEEEEEEEEEEEEEEEEEEEEEHAAAAAAAAAAAAAAW!"
"Oh good!"
When they arrived at the yacht, it was just starting to power up the main engines. Fulcrum shrieked. "HALT! STOP!"
"Get in here! We're taking off!" yelled someone from inside the hatch.
"NO! You are
not
taking off!"
"We can't leave without you!"
"Damn right you can't!"
There was a pause, and then, "Fine, we'll leave without you!" The hatch started closing.
"WHAT?" That might not be the worst possible outcome, as he could still have an audience with the Karlacks, but where would he sleep at night? And where could he poop without the fear that someone was collecting his feces for analysis and study? Then he had an idea.
"Dash, off my back and stay here!" He didn't even wait for Dash to let go and the avian tumbled off. He shot towards the hatch, which slowed its closing, and landed – right on the edge, where it would crush him if it closed. It stopped moving.
"
What are you doing?
" Ah, there was the source of the voice. The
other
deputy, who'd gotten a bad and unexpected case of agoraphobia after they left the Refuge, so he hadn't left the yacht since. Fulcrum had seen him so little, even with the cramped conditions in the ship, that he couldn't even remember the deputy's name. It was amazing that he (or she?) had even made it past the airlock. "We can't close the hatch!"
"Yes you can," said Fulcrum, with a squawk. "But that would kill me. Or you could leave the hatch open and the two of us will die as we exit the atmosphere, and the ship might take some damage too.
Or maybe we could stay put.
What's more important to you, fleeing like a coward, or keeping me alive? The Refuge won't like it if you do the former, and if you don't do the latter, the Bragulans won't be happy, and we could
really
use an alliance with them right now. Yacht, I know you hear me!"
"What do you want?" the deputy and the yacht both screamed.
"Power down the engines!"
"No! Get off the hatch!"
"I am not moving until the engines are fully powered down."
"Don't be ridiculous!" the deputy yelled, but the yacht had final decisions on its own engines, so it was already complying.
Then Fulcrum declared, "Also, someone must bring me Dash's medal!"
The entire time Dash had stayed put, more or less, though with the jitteryness that only a bird can have. At first he tried to whistle ditties to himself, mashups of bits of song he'd overheard, but he couldn't concentrate enough on it. He also couldn't hear anything over the engines, but then they shut down and the airlock opened. A Mechanical honor guard (and this was when he noticed that they weren't flanking the hatch as they always had been before) came out, carrying something to Fulcrum; he took it and returned to Dash. It was the Plutonium Badge of the Bragulan Star Empire, last class.
"Dash, hold on to this. It is your ticket to nearly anything at this place."
"Wh-what-"
"I need you - the
Refuge
needs you - to stay here for the moment. If the ship takes off, assume that I am dead and you are now the Refuge's ambassador to Bragule. Go talk to Colonel Frygirzy at the central security directorate – wave that badge around if need be to get to him – and tell him that I send my regards. He should be able to fill you in for nearly everything you need to know and can take you to the people who can fill in the rest."
"But-"
"I know you don't want to do this. I don't want to put this weight on you either. But our duty to the whole is paramount, above any personal loyalties."
Dash's feathers fluffed a moment as he shivered. "I understand. But if the ship doesn't take off, I'll wait here, as long as it takes."
"Good bird," said Fulcrum, and he turned back to the yacht.
As he stepped just onto the edge of the hatch, he informed them of what he had told Dash, "in case any of you are planning some sort of trickery, like keeping me in the airlock while you fly away."
He stepped through the hatch, and it closed behind him. Then he entered the airlock. The disinfectant cycle started, but not the engines. Then it finished and Fulcum stepped inside.
"Bring me Slate," he said.
One of many sad sights in the universe is that of a hulking robot super-soldier whimpering in fear. The significantly smaller Fulcrum glared at him. "What did you tell them?"
They waited for forty seconds before Slate blurted, "Gods!"
Fulcrum's insides knotted, just as any Refugee's would at the thought of their presence, but he didn't show anything. One of many advantages of having no facial expressions beyond 'fierce.' "Explain."
"Shroom! Of the Lost! She's...she's
wrong
."
"What do you mean?"
"She feels
wrong
. Like the
things
that obey and toil for the gods!"
Nothing could be heard but breathing and the background sounds of the yacht's operation, until Fulcrum said, "That's it?"
"What?"
"That's it. She
felt
wrong. Did you sensors pick up anything? Exotic impossible particles, rents in reality, anything like that?"
"No..."
"
Did you even do a scan?
"
"...no."
"Of course not. You were too busy
screaming your little head off
and running over innocent bystanders to ascertain the true nature of their emissary. Dash and I could have been in extra-mortal danger, and you
abandoned
us." In his shame, Slate tried to creep away, but a wall was in the way. "So we don't know. Oh, and how about that hab of ours? The one in orbit passively scanning everything around? Have they picked up anything?" Silence. "Have they?"
"No," said the yacht.
"So with no evidence, just your own hysterical fears, you were ready to flee
like the Hhlixess
." All who heard him winced; it was a low blow, though a deserved one. "Perhaps we are in grave danger. We don't know. Even if we are, we must face it as did those of the Most Noble Sacrifice. Do you remember what my ancestor* the Silver Commodore Pwis-Gredek said? 'No matter how strong, the worries of the individual can never override the well-being of the thousands**.'
"Without even knowing the truth, just based on the rantings of a single deranged and terrible bodyguard, you were willing to abandon your responsibilities, your oaths, your duties to the Refuge. You
knew
there were dangers if you ventured Outside, but all of you volunteered. You
volunteered
. Maybe if you were all conscripts, forced into this against your wills, I might understand, but you knew the risks and chose to do this anyway, for the greater good of the Refuge."
Fulcrum actually understood very well what they were feeling; it was a struggle for him to not befoul the deck right then and there and keep his voice steady. But it had to be done, for all the tens of billions back home. He shrieked and continued, "Before the jump, before our great division, were any of you of the Soaring Plasma fleet?" He waited until everyone had confirmed that they were not before continuing, "my clan was,* and our ship was there when the emissary of the gods flickered through to our space.* I was a juvenile then, barely past my first molt. Out of the corner of one of my eyes I saw it,* what could only have been a planet-long tendril of un-space, impossible geometry, before it flickered away.
"You know what I did
not
see at the Lost pavilion? Impossible geometry of a planet-long tendril of un-space, or similar Horrors from beyond. You know what I did see?
A purple humanoid in a black leather catsuit
***."
He was interrupted by an underling, a communications 'bot. "The hab is ready to leave orbit; they're waiting on our signal. What should I tell them?"
"Tell them to stay in their designated orbit and proceed as normal!" and Fulcrum punctuated it with a squawk. "We will
all
proceed as normal, or at least make an effort to appear so. Not even an emergency transmission. We will send ours as scheduled, but with the notes on the Lost embedded in the encryption. Tell the hab to make the Lost their top priority for monitoring, but otherwise everything stays the same, prospective shoppers and everything. We must determine if the Lost are a threat. If they are, we will not indicate that we know so, to give us more time to monitor them. If they are not, we will not embarrass ourselves like Melody's team. She's still trying to clean that mess up."
The communications 'bot interrupted him again. "Excellency, we are receiving an Outside transmission from-"
"I'll take that. Earpiece." He placed it over his
ear hole
so the others could only hear his end.
"This is Ambassador Fulcrum of the Refuge...yes...Most sincere apologies. It was a...cultural misunderstanding.* My people misinterpreted something others would consider to be normal and harmless* as a deadly threat. I assure you, I am educating them on that right now. Was anything disrupted by our accident? ...That is fortunate...that would have been most regrettable, yes...indeed...your understanding and magnanimity are an honor to your Imperator and your people...my deepest thanks to you all...I will be there shortly...yes...Fulcrum out." He set down the earpiece. "It looks like we do have some embarrassment, and I must go Out to clear it*. While I am gone, I encourage all of you to remember your duties and the example of the Most Noble Sacrifice, and
don't do anything foolish.
"
Dash was still loyally waiting where Fulcrum had left him, whistling a march made from four others and dreaming up schemes to rescue the eagle with a brigade of penal troopers and cubs when he exited the yacht.
"That didn't take long," Dash said.
"It was nothing,*" Fulcrum replied. "Just a small misunderstanding,* and it's fine now.* I had nothing else planned for today, so I am interested in trying some of that...snow cream...that I have seen."
"Ooh, that sounds good!"
"For cultural studies*, of course."
"Right, right, for cultural studies only*. I get ya!"
Then they spent some time figuring out how to bring the plutonium medal with them, in the hopes of getting a freebee.
*This is a lie.
**Fulcrum is misremembering the quote, badly.
***He isn't entirely sure what a catsuit is.
Part 2:
A little bit later...
Previously in SDNW4 wrote:
The dozens of warheads sped closer and closer to their target. The alienoid dignitaries aboard the ships shook their heads sadly, or, perhaps cackled in glee as the vegemite-enhanced bragnukes touched the ship….and flew right through it, continuing on as if nothing had happened. On they flew into deep space as the amazed dignitaries stared at their instruments in shock, refusing to believe their eyes, for the alien ship remained unscathed. So focused they were on what they had seen that they failed to realize that the show was still far from over. No one was sure how it happened, but somehow, the missiles that were one moment heading away from the planet suddenly were headed towards it with the same velocity.
"...aw crap," said Fulcrum.
Part 3:
Fulcrum wielded an aggregate's body in one of his feet. He had been waving it around for many long minutes as he screamed them down, then lectured them again. "That all being said, the next person who tries to start the engines to fly away,
and Yacht I mean you too
, will find out what happens to your soul when you die! Do we have an understanding?"
"Peep!" said the body, as Fulcrum squeezed a bit too hard.
"And the rest of you?"
"Yes!"
"Good." He let the body go. It plopped on the ground and then rolled away to join the rest of herself, and then the whole group squirmed away before Fulcrum had another idea. "We were monitoring it, and the hab was monitoring it.
Did we get a scan this time?
"
"Affirmative!" said the yacht. "Both of us!"
"And what did you find?"
"...nothing."
"...nothing?"
"Nothing."
"What do you mean by nothing?"
"Sensors detected no theologically-unsound anomalies during the weapons test."
That was still unsettling, but, "Well then, what are we all so panicked about? Ahahah
is the hab maintaining orbit as usual?
"
"Yes, sir."
"Good."
I'm glad they didn't lose their heads.
"Tell them to continue their monitoring of the Lost. Apparently it's not unsound, but it's still exotic technology. If it really is safe we might want some of it ourselves. At the least we want to know how to counter it, in the event that we have to fight it." And that was all he had. Fulcrum hadn't expected the answer he'd heard either. Unfortunately, they were all still waiting for him. That made him shriek. "
Get back to work!
" Everyone, organic or not, scurried away.
Fulcrum sighed.
He'd come to BEEEF expecting...what?
Well, that was what he had hoped for. Also cake. Fish cake. Shaped like fish, even! How decadent!
But no, he had been expecting something terrible.
And that was his mission. The Refuge was threatened by the nearby organic replicators, far too close. He was to...do something about that, to the Refuge's benefit. The Lost were a hypothetical danger. The Karlack Swarm was clear and present. Buy time to get more ships built, fake treaty of nonaggression, real treaty of nonaggression, rips its heart out with his own beak and talons, anything.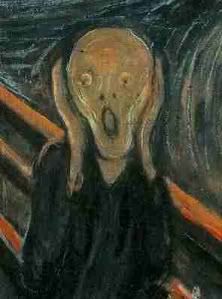 He wasn't about to let Panic Node get in his way.
"Communications! In the next regular transmission, tell them to send a ship. Bring in some military! I don't care if they're Contact-affiliated or not. I don't care if they've had any training. I want people made of sterner stuff, who won't panic at the slightest rumor. Anyone who doesn't want to stay here can take that ship out."
...and maybe, just maybe, he'd get a fish-shaped fish cake too.