Co-written with Simon Jester
With renewed patriotic zeal Spozavik got up, put on his shoes, and wore a freonic dinner jacket to keep himself cool in unbragulanly human temperatures. Then with Gryza at his side, he went down to have dinner. Now he was ready for the most formidable Dr. Chernov.
PRIME CITY, REISENBURG, Umeria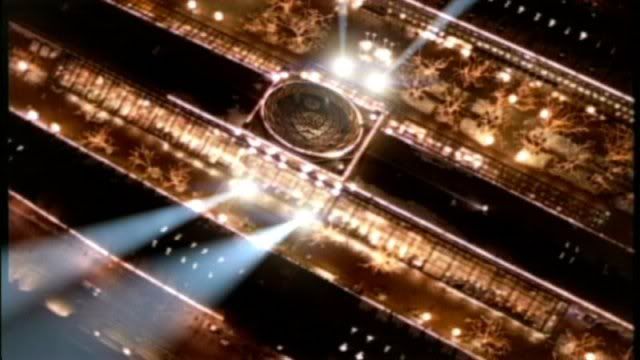 The
Sunset Reis
was one of the classiest places in Prime City, opulent and extravagant, very much unlike the typically pragmatic and practical sensibilities of Umerian society. But almost nothing in Umeria was without pragmatism and practicality, for even the indulgent design of the
Sunset Reis
had a function - which was to entertain and suitably impress Umeria's guests and cater to their own opulent and extravagant sensibilities. Of course, these were much unlike the typically pragmatic and practical sensibilities of the Umerian society, save for a few notable exceptions in the Umerian GINI, like some members of the rare 'private enterprise' species, and those of the government in the habit of slyly moving a few decimal points here and there (and though these also belonged to an endangered species, the government didn't bother with conserving them).
Diplomatic trade liaison Dryznyl Shpechtkov and his lovely assistant Gryza Grbychyov arrived at the
Sunset Reis
. The place had a great view of the sunset over the mountains to the west from a hundred meters up. They were lucky to have made it in time to catch it. The dying orange-red sunlight splayed out over the Prime City acropolis of acrologies, reflecting over the gleaming chrome and anodized aluminum buildings in a stunning sight. Well, a punily stunning sight compared to the mightily stunning sight of the great Bragulescape of hard-edged grey bragcrete buildings, towering smokestacks, endless factories, and overhanging storm clouds of ominousity. But still, quite nice, and a little bit impressive. A little bit. Maybe. Spozavik wasn't quite sure of what to make of it. Was it even... romantic?
SNAP
He spun around with the speed of paranoid reflexes, but to his relief only found Gryza snapping a photo with a polaroid camera she had produced out of nowhere. She smiled as the camera spat out the polaroid photo of Spozavik staring out at the sunset with a pondering look. But seeing it made his blood freeze. If other IBGV operatives saw such emotionality in him, that may put his emotional structural integrity in question, it may even be grounds for a thorough ideological review. The prospects of that was horrifying. Why on Bragule had Gryza taken that... ?!
"Don't worry, I won't tell." Gryza teased him, poking her tongue out. "I'll keep it for safekeeping. You have to trust me."
"I... uh..." Spozavik sputtered. This was unexpected. He began doublethinking so hard that he was on the verge of triplethinking, an ideologically commendable task that was nonetheless dangerous and discouraged for the doublethinker's own sake. He wondered what would happen. If he said no, would that undermine the mission and their relationship as co-agents? Was Gryza even an IBGV agent? Why would an IBGV agent do such a thing? If she wasn't one, then why would a non-IBGV agent do such a thing? Was she an agent of some other agency aside from the IBGV? Was this a ploy by Gryznk? Was he being tested, as he was in Rygnskrgnvk?
But what if he said yes? What if he
trusted
her.
Gryza solved that when she went over and stood beside him, leaned on his shoulder, held her hand with the camera out and snapped a picture of both of them. The camera spat out a polaroid that showed the stern consternipitated look on his face, while displaying her own mischievous expression.
"Oh, don't worry, you can have one too!" Gryza handed the picture to Spozavik.
"But why?" was all Spozavik could utter feebly.
"Why not?" she beamed at him. Then she brought up her camera, which made Spozavik cringe and subtly turn away from the thing's lenses. "Besides, it's my first time on a foreign assignment. I'd like to keep some remembrances, you know."
"I... see." Spozavik clearly didn't. He felt so confused at the moment.
"You should try to relax a little, sir." Gryza commented as she focused her camera and began taking pictures of other things that didn't have Spozavik's face on it. Subtly, Spozavik avoided the camera's line of sight and also used his IBGV training to evade all shiny surfaces that might reflect his face off them. "You're so tense, even I can see it. Just relax."
"Ah, yes. I'll try. I will." Spozavik remembered to breathe. He wondered what had gotten into himself, what was happening to him. He was a trained IBGV agent, a professional. Was working outside the Koprulu Zone for so long finally taking its toll on him? Was he getting out of practice? What would happen if he had to face off against CEID spies and Byzantine Inquisitors, would he even have a chance in his current state? This was no good. He knew he had to shape up, knew he had to get his shits together. So Spozavik straightened himself, regained his composure, and reached out with his paw. "After all, we're going out to dinner with these Umerians. It just wouldn't do to perspire in front of all these humans now, would it?"
Gryza took his paw with hers.
"Of course not, sir." Gryza smirked amusedly at his sudden change of demeanor. Then she gestured towards the doors of the
Sunset Reis
. "Shall we?"
"Surely." Spozavik smiled. "Let's go and have some fun."
---
The second they entered the
Sunset Reis
they were greeted by a small group of journos, who immediately began taking pictures of them. The first-ever diplomatic mission by Bragule to Umeria made for quite a piece of news and both the government-run and private medias longed to get a scoop on this most interesting development. Koprulu Zone affairs was quite perplexing to the rest of the galaxy, and even in Umeria many wondered if these strange Bragulans were as bad as the Sovereignty war movies and holo-shows made them out to be.
By now, Spozavik had gotten used to the journo news drones that hovered around them and took videos and pictures. He was still cautious, but he comforted himself in the fact that these things resembled the ubiquitous drones used back home in the Bragulan Star Empire. The Bragulan drones would float around with their rotors doing overt surveillance, going everywhere and watching everyone outside and even inside their own homes, going so far as to peek into windows. Unlike subtle and covert surveillance like wiretaps and wall-ears and wall-eyes, the swarms of drones together with the omnipresent telescreen conveyed a message that 'BROTHER BEAR BIG BYZON' was watching the populace, thus discouraging ideological incorrectness if not defeating it outright. Many drones even came with psychokinetic energy (PKE) meters and ectopasm sensors to detect any psionic activities, and should any unauthorized usage be detected, along with any other form of ideological impurity, they could send in the gun-drones or activate automatic K-bolters, or unleash the dreaded BragHacks with their meat-clever rotor blades to non-lethally suppress any dissident aggression.
The hovering camera drones also reminded Spozavik of the time he was in Altacar, where unlike the Umerians their journos were far less respectable with their tabloids and paparazzis - as he had the misfortune of realizing. Some of the Altacarian tabloids had the habit of commenting on the weights of various VIPs, up to and including Bragulan diplomats. That had caused quite a ruckus and the Bragulan Embassy of Altacar had to go so far as to make a public address stating that unlike humans with their laziness and propensity to stack disgusting quantities of blubbers despite being unable to hibernate, Bragulan girths were due to their superior Bragulan musculatures and whatever fats they had were also used during hibernation. That thought made Spozavik a little bit conscious.
A journo drone flew behind him and took a picture of his behind.
"Does, uh... does this seem kind of tight?" Spozavik wondered out loud. It was an honest question, was his freonic dinner jacket too tight?
"Shows off your backside." Gryza commented inattentively. A camera drone took a shot at her, but she retaliated by using her polaroid on it. " Hey, did you see the chandelier? It's hovering."
"What's the point of that, I wonder?" Spozavik had seen one of those before, when he was undercover as a diplomat on some wilderspace world near the Byzantine Imperium. He remembered trying to clout an insufferably arrogant Byzantinian noble's face off, because the Byzantinian had said something rude or something, but the Byzantinian turned out to be a posthuman and his face had somehow refused to come off. Unhurt, the Byzantinian ended up challenging Spozavik to a duel... with powerswords! Only one of them lived to tell the tale though, since no mercy was the mark of a great Bragulan.
"Oh, mangos!" Gryza said as she saw a server-robot with a tray full of mangos. She quickly snatched one and began nibbling on it.
"I mean, I see how they did it. I just ain't gettin' the why." Spozavik went on, still going on about the chandelier. If the IBGV ever attacked the place, the first thing they would do would be to neutralize the power grid, and a hovering chandelier without power would stop hovering and fall and crush people underneath it. So, it was a good thing for the IBGV if more human establishments had hovering chandeliers, so they could fall and crush more people underneath them.
Around them were humans in all sorts of attires, fashionable ones too, he could tell (because IBGV training included detailed files on human fashion, in order to blend into human conversations and thus better able to insult insecure humans with self-image issues on their choice of clothing, for such was the inferiority and superficiality of vain human concepts, and also because stupid clothes made humans burn easier in nuclear fire). Based on their clothings, he identified several subspecies of humans, such as Frenches and what he presumed to be opium-addicted Tianguomen. There were also Moxli prowling around, one of them was tapping his toe-claw impatiently, perhaps waiting for his date. A Kipakt was seated with some humans, which made for an awkward scene since the Kipakt was a huge dinosaurianoid while the puny humans were puny, and human. The Kipakt's soup bowl was large enough for humans to bathe in. It also had living fishies which the Kipakt slurped up and savored with lip-smacking delight. The Kipakt was also fashionably dressed.
"These adorable humans and dinosaurians have the most beautiful dresses." Gryza said, then she looked down at her own dress - a freonic blouse made out of lightweight bulletproof fibers and with some nice embroidery, along with a plain flakproof skirt. She beamed. "And so do I. How 'bout that?"
"Yeah, well, just be careful. We cheated Badger out of good money to buy that frippery, and you're supposed to make me look respectable." Spozavik joked. Badger was one of his few friends in the Bragulan Embassy at Altacar, with a black-and-white fur scheme similar to Agent Bragga's (though Badger was born that way, and didn't have his hair strangely change color all of a sudden like Bragga), and thanks to him and his inferiority in Koprulu Zone Rules poker, Spozavik ended up with enough Altacarian pounds to buy some commodities when they were preparing for their trip to Umeria.
"Yes, sir, Mister Dryznyl Shpechtight-Pants." Gryza shot back flippantly. "Oh, hey, there's Dr. Chernov!"
"Where?" Spozavik looked around. It was hard to find him, all the humans looked the same to him! If only Chernov had a sash to denote lordhood, it would've done a good job.
"Over there." Gryza pointed, discreetly, since pointing directly was rude to humans since to a puny human a pointing Bragulan looked too much like a Bragulan trying to strike with its paws to maim someone's face off.
"Ah, yes, there." Spozavik finally spotted him. Dr. Chernov was grayer than the rest of the humans.
"Yes, there." Gryza nodded. "Let's go over."
---
"A toast to our distinguished guests and new friends, from the Koprulu Zone." Dr. Chernov raised his glass, and everyone toasted, clanging glasses together and so forth. The sound of glass hitting glass made a terrible noise for Spozavik, but it was a human tradition or custom and so for politeness' sake, he did so too.
Ever the gracious host, Dr. Maxim Chernov welcomed the two Bragulans and introduced them to the humans with them at their table. Though they could not be any more out of place, Spozavik and Gryza nonetheless greeted the assembled humans and then made themselves comfortable. Spozavik couldn't remember all the human names, they sounded so strange and alien, with difficult to pronounce words like 'John' and 'Bob' and so on. At least 'Maxim Chernov' was easier on the Bragulan tongue. It didn't help that the other humans also looked all the same, and only Dr. Chernov's grayness and oldness stood out, so Spozavik only paid attention to the Doctor and pretty much didn't mind the others too much.
The humans didn't seem to be eager to strike up a conversation either. Perhaps the other humans were not quite as smooth elocutors as Dr. Chernov, who was after all the chief diplomat in a nation with a government system primarily based on academic meritocracy (which meant that Chernov probably got to his post through actual ability, rather than through the fatness which most humans tended to rely on). Possibly, they might have gotten whiff of the Bragulan's reputation of being quite a grizzly nation, exceptional even by the standard of the Koprulu Zone, and that made them averse to talking to a representative of such a regime. Or maybe unlike Dr. Chernov, with his extensive diplomatic background and general cool demeanor, the other humans were discomfited by having two enormous bear-aliens (actually one huge brown bear alien, and another smaller red panda-ish alien) around with them for dinner. Somehow, for some reason, Spozavik slightly suspected that Bragulans made humans a little bit uneasy in their presence, but it was only a hunch.
Meanwhile, bronto-steaks arrived. Many of the humans had ordered French cuisine, being better suited to their palates. But Spozavik himself had ordered the bronto-steaks, having enjoyed the bronto-burgers he had earlier in the Xenu Spacelines space plane. Now he savored the meats, and it was even better. Even
greater
. A truly worthy dinosaurianoids. He told the snooty human waiter of the French subspecies, the maître d' if he recalled the term right, to send his compliments to the chef. That seemed to irk the snooty French waiter, for Spozavik did not know that the kitchen was run by two staffs, the French ones who made the salads and the cheeses, and a small crack-team of moxli velociraptorian dinosauroid cooks who specialized in prpearing the meats. Their culinarily carnivorous carnosaurian natures made them most able to bring out the very best in meat dishes, with their secret food preparation techniques that even the arrogant French top chefs coveted jealously (while they squirmed in fear at their velociraptorian wormkates).
As they ate, Spozavik ended up pretty much continuing his previous discussion with Dr. Chernov.
"So, Dr. Chernov, there was one thing I had meant to mention earlier, but did not get round to. As we explained, we would like to set up a Bragulan embassy in Umeria." Spozavik mentioned this off-handedly, but it was in fact quite an important issue. His assessment of the Umerians in general, their society and government as a whole, led him to believe that they were sensible humans all-around, mild-mannered quite like the Altacarians. They relied on their keenly developed sciences and logics, which made them fairly understandable even to the literally inhuman minds of the Bragulans. If they were understandable, they were workable with. If they were far, far away from Bragulan territory, that even made them more workable with. Ironically, despite being un-Bragulan in every sort of way, the Umerians seemed to be one of the least offensive human nations in the galaxy. Strangely, the Shepistanis were very Bragulan in almost every sort of way, and yet
also
seemed to be the least offensive human nation in the galaxy by virtue of being the
most
offensive nation to the other humans. Both Umeria and Shepistan were neighbors, and both were rivals. It was a paradox, a conundrum, a mystery wrapped in an enigma.
"Yes, and we will be happy to receive your embassy." Dr. Chernov gave a not-creepy smile. But still, Spozavik was creeped out. Because while Dr. Chernov was being non-creepy, the rest of the humans seemed to have forgotten the memo and at that good news, they also smiled at the Braguans but in doing so bared their human fangs. Perhaps it was the awkwardness of sitting with the Bragulans that made the other humans smile even bigger. No matter. Spozavik smiled as well and bared his fangs. The bronto steak was medium rare, and was quite bloody, so there was a reddish tinge to the rows of canines and bicuspids in his jaws.
"There is, however, one problem." Spozavik continued after the other humans were made uncomfortable at the sight of a bear with bloodstained fangs. Dr. Chernov, who despite being a puny human seemed to have a not-puny brain, looked like he actually got the gist of what was going on. He looked amused at the exchange of smiles and seemed to be at ease, despite the apparent discomfort of the others.
He, Chernov, raised one of his eyebrows. Spozavik had another irrelevant thought:
Strange that an unusually hairless example of a ridiculously hairless race would have such thickly furred eyebrows. What are they for?
But the Technarch asked Spozavik a simple question. "Yes?"
"Our embassies tend to be... exceptionally well-fortified." Spozavik explained. The embassies were, after all, homes away from home for Bragulan agents, and thus were well-fortified to resemble Bragule - which was the well-fortified home of the Bragulan species, the reinforced armor bosom from whence they all came from. The bosom of Bragule would never be made to bleed, and the Bragulan race would never be weaned of its nourishing warmth.
"As on Altacar?" Dr. Chernov inquired.
"That is a minimalist example, yes." The Altacarians had denied permission to convert an unused mountain range into a fortress-embassy, citing some lame reasons such as 'ecological nature preserve' or some such. So they merely settled to have the Bragulans build an armored pyramid citadel in the middle of a desolate desert. For quite some time now, that fortress had been Spozavik's home.
Chernov's other eyebrow went up. "Ah, exactly how much territory would a
non
-minimalist example cover?"
"It would depend on how much you are willing to make available. However, I am not a qualified planner of fortress-embassies; perhaps that can be left up to the permanent delegation?" The haggling over the precise details of fortress-embassies would be best left to the qualified planners. So if something went wrong, or if the Bragulan superiors were dissatisfied because the settlement reached was lesser than a mountain-fortress, then it would not be Spozavik's tail on the line.
"Yes. Though on a preliminary basis, I'd say... no antiship weapons, no high-energy weapons in or near urban areas, and if you want real estate for a large installation, you'll likely have to pay for it." Chernov answered tentatively.
Spozavik thought that over. It seemed fair; no logical nation would want alien foreigners constructing an installation loaded down with heavy weapons in the middle of their space. Or to simply give them enormous tracts of valuable land.
Perhaps we can construct a full fortress-embassy on some more remote Umerian planet, while building a mere pillbox-consulate in the capital to stay in touch with the government...
That would have the advantage of allowing Bragule to maintain a useful presence in the Spin Zone, while at the same time keeping them in a position to have the full necessary degree of limited foreign interaction with the host nation.
But this was a complicated issue. He decided the question was best left to the permanent delegation.
Spozavik nodded to be polite. "Very well. The question is best left to the permanent delegation, I think."
There was some more amiable chit-chat, the Umerians mostly talking about things about which he knew little and cared less. Spozavik considered making a few remarks to his own aides, especially lovely Gryza. But that might not be such a good idea: it was beyond imagining that the Umerians would not have surveillance systems in place capable of picking up their conversation and translating it from the Bragulan. Anything important they said could be used against them!
Spozavik was still trying to think of a safe topic for a conversation with Gryza when one of the humans at the middle of the table turned to Spozavik. He was an unusually large human, almost Bragulan-sized, though it was obvious that much of that bulk was made of copious deposits of blubber. This was somewhat unusual, as most Umerians were reasonably fit by the standards of a nation of technobureaucrats- admittedly, not high standards, but still.
"So, it's a pleasure to meet you, Mr. Shpectkov; I'm from the Bureau of Armaments. I'll be discussing the missile deal in a bit more depth tomorrow, if you don't mind, but I was wondering... could we get a look at one of those new gunstars you're building for the Shepistanis?" The tubby human winked. Was that a joke? Spozavik decided to play it straight, because he couldn't doublethink his way through the possibilities fast enough to answer in time to be polite. Sometimes it was necessary to just speak the truth, or at least the official version of the truth..
"That would violate our nondisclosure agreements with the Shepistanis, I'm afraid. I hope it won't be a problem for our trade relationship?"
Dr. Chernov shook his head back and forth, the human gesture of negation. "Not at all. If we were to refuse to deal with every nation with Shepistan, we'd never get anything done. Why, we'd have to refuse to trade with
ourselves
!"
The notion of a nation refusing to trade with itself was... actually interesting as a feat of doublethink, for a non-Bragulan. Spozavik needed to know more, though, so he probed deeper. "Some nations would not be happy trading with someone who sells weapons to their rivals."
"The situation here is not without tension, but we're not in the constant state of low-level warfare you see in the Koprulu Sector. Why, we'd consider building gunstars for the Shepistanis ourselves!"
Spozavik blinked in confusion at that; that sounded like an impossible level of peaceability given what he'd heard about the region. But Chernov was still talking. "Of course, good luck finding all the backdoors in the fire control software afterwards..."
Everyone around the table started laughing. One of the military officers pretended to speak into a handset. "Transmit authentication code Nu Kappa Iota Epsilon, order friendlies to concentrate fire on battlestar
Nowhereville.
"
Of course!
Now
that
made sense! To sell an enemy ships programmed to shoot at his other ships... that was truly canny and devious. Perhaps Chernov would make a good Bragulan. Or at least a useful one. A useful not-idiot. Spozavik barked out a laugh.
"Ho-ho! Very clever of you!"
Spozavik chuckled to himself once again. These Umerians technocraticos might think themselves very clever to imagine such a ploy. But if they were shopping for Bragulan missiles, it would just go to show that they were not so clever as they thought. For the great Byzon was already many years ahead of them in devising this trick!
One of the less-known secrets of Bragulan weapons technology was that the export versions of all Bragulan spacecraft and space weapons, such as Spuds, missileguns, gunmissiles, missilemissiles, and the ever-popular gungun contained surprisingly complex IBF (Identify: Bragulan or Foe) hardware. Against human forces, the weapons would perform exactly as their makers intended: with lethal effect, destroying as many humans as possible.
But when fired against
Bragulan
forces, they would
still
perform exactly as their makers intended: with lethal effect, destroying as many humans as possible! In the event of treachery, the missiles were programmed to launch from their tubes, fly around in a circle, and blow up the humans' own ships. For it was as the great Imperator had said, on the day that he first declared that Bragule would begin exporting its mighty weapons to the galaxy: "
The humans will buy from us the rope they will use to hang themselves!
"
Spozavik would be willing to wager much that even these oh-so-tricksy Umerians would be unable to find the hidden circuitry. Granted, it was obviously most unlikely that such a remote and seemingly peaceable band of humans would seek to wage war on the glourious Imperator. But it was, as always, amusing to imagine the carnage that would result among their own forces should they attempt such treachery.
Spozavik leaned back, his reinforced chair creaking slightly. He felt most relieved and happy at this thought, as was always the case when, dealing with foreigners, he found cause to remind himself of the true order of the universe: the superiority of the Bragulan people!
---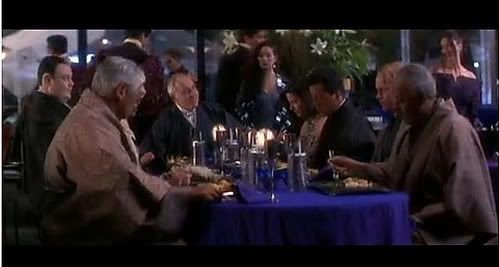 Soon, all the humans had finished their dinner. Chernov clapped his hands. "If everyone is done with the main course, then it is time for dessert!" He tapped an unobtrusive device set into the edge of the table. Soon, a waiter arrived with a tray of covered platters.
"In honor of our respected guests from the Rimward Edge, tonight we shall dine on Sichuan honeycakes!"
Mmm... honeycakes.
Spozavik salivated about that prospects and reminisced about his time in the Byzon Youth, when they went to Spevik Ansils on a camping trip. He remembered how he climbed atop a great and terrible Bannerskullspikewood tree (originally planted by Byzantine nun-pilgrims, who were killed when Byzon claimed the world for mighty Bragule) to get some honey. He had gotten the bee hive and tasted the most succulent honeys, but the most delicious honeys were also made by the most dreaded Bragfricanized jollibees, deadly red-and-yellow jacketed insectoids with multiple barbed stingers like scorpiontails. He remembered how the jollibees swarmed and swarmed him, and how he jumped off the tree, had his fall softened by a rock, and how he ran for his life screaming and crying as he did so.
Ah the joys of yesteryear.
He put himself back into the present.
"So, Dr. Chernov, I hear your people have been having some trouble with the Germanoid Prussians."
Chernov waved his hand. "A minor issue. The League annexed the planet Volksland about a month ago. It is a minor, backward world with some loathsome habits, and we would normally not care, but it lies very close to our main trade route toward the Rim."
Ah
. This was a problem with which Spozavik and the Bragulan Star Empire were all too familiar. There were many such worthless shitworlds in Wild Space, too useless to be of real value except as strip-mines to feed the Bragulan war machine, but too strategico-tactically positioned to be abandoned to the Sovereignty or Imperium. Like Majella and Jenova. So long as no one moved in to control them they could be ignored, but as soon as someone got involved, their rivals would have to respond, often with mighty fleets that would otherwise be wasted on such a shitworld. Worlds like this were often the cause of games of "Tannhauser Tango," and were a valuable source of live-fire training for the Bragulan fleet.
"So, you think the Prussians made this move to provoke Umeria, to test your resolve? Or perhaps just a gesture of badwill towards Umeria?"
"Honestly? No. I think they made this move without considering the consequences. They are prone to acting rashly, and without paying attention to the response of other nations. In my opinion, it is not a question of what the Prussians were thinking, Comrade Shpechtkov; it is a question of
if
the Prussians were thinking."
Was that another joke? Maybe not! But if the Technarch was not joking, then he truly had a problem. For the thought of having to live next door to a bunch of such exceptionally brainless and illogical humans was alarming. The Bragulans' human neighbors might be degenerates, but at least they made sense. The Imperium was kind of like a sort of twisted mirror image of Bragulanity, as humans might try to ape it in their apelike hominid ways. The Sovereignty was much stranger, but it was mostly ruled by computers with brains the size of planetoids, so you could usually count on them to do something that wasn't totally foolish.
But what would it be like to deal with a neighbor that did things like conquering planets
without any intentions at all
, hostile or friendly? That did not even consider the possibility that you might know or care what they were doing until they had already done it? You could not teach them to fear your wrath, for they would be too stupid to fear anything! They would keep provoking your wrath, time and again, for they would be too unimaginative to even recognize that your wrath might exist!
That could make for a difficult neighbor.
"Hmm. It sounds like they can make difficult neighbors."
"Indeed. This new... Hoffman government, it is impossible to say what they will decide to do left to their own devices. To make matters worse, it is questionable whether they even control their own nation's policy. One day they assure us they will not annex Volksland, the next their 'parliament' decides
to
annex Volksland. There is no warning, no way to be sure that you are speaking to someone with the authority to make promises or with the personal sense of honor to admit that they
cannot
make promises."
Hmm. Perhaps this was a weakness in the Umerians? That they would tend to assume other nations would stand by their agreements, even when it would be inexpedient to do so? But on the other hand, it was also a potential problem in deals with them. One might pointlessly anger Umerians by
casually
violating an agreement, and have to deal with their displeasure without getting anything of value from breaking one's promise. That would be bad.
"I see. If that is so, how do you deal with them at all?"
"I am beginning to think the secret is to lead them by the nose. To use... well, my colleague Dr. Warren-Marshall calls it "stimulus-response." It is like dealing with an amoeba. Poke them
here
, they twitch
there
. With the right stimulus, one may be able to convince them that they actually need to consult with their neighbors before doing anything rash in the future. Though I do not hold out much hope for teaching them such a lesson in the long term, I think we can at least bring them to the table over the matter of Volksland."
"Leverage..." This was an opportunity to gain more insight! "...what sort of leverage would you use in response to such a provocation as this?"
"Well, some of my brighter assistants have made interesting suggestions along the lines of using, say, a division of battlecruisers."
HA!
Going from what he remembered from
Jayne's
a Umerian battlecruiser division was not an especially powerful fleet unit, but it was certainly not to be despised by the standards of any single world's defenses. Especially not given the Umerians' suicidal indifference to armor protection on the battlecruiser: from the numbers, they would be easy to kill in a large scale fight, but easy to
be killed by
, as well. As a beating stick for de-educating foolish neighbors without provoking general war... he could imagine the Empire doing much the same.
Intriguing.
"Hmm. Battlecruisers, eh? I see we were correct to take a direct flight and gate to Reisenburg directly, instead of passing through Prussia."
"Indeed. It is best to avoid going to Prussia, if it is not necessary to do so. It is a silly place."