Andrew Joshua Talon wrote:
The length of the time for my reply is summed up thusly: "It take longer to come up with the truth than to spout a lie."
Actually, it's much easier to come up with a response when you
don't
have to carefully embellish the facts. That's why I can rattle these responses off the top of my head. But go ahead, continue trying to make your tardiness into a virtue. Everyone knows it takes this long because you run to Darkstar looking for advice, not because you have an actual life.
Quote:
Besides, I had the SAT to study for. Bite me, Wong Harem Members. I'm here to bitch slap your leader with a dose of reason.
You honestly think you're winning, don't you? You couldn't find a half-hour in two weeks to make a response?
Quote:
The mockery of fools no longer bothers me.
Yes, your confidence is quite obvious. Not that confidence means anything; Hitler giddily planned victory celebrations in his bunker while Allied shells rained down on Berlin, and the Iraqis were quite convinced that there were no Americans in Baghdad.
Quote:
A "canon" source which is regarded only as canon as the EU continuity (that is, not at all).
According to you. Not according to Lucasfilm. And Lucasfilm overrides you. Moreover, your argument on canonicity (or perhaps I should say "Darkstar's argument", since you have no real arguments of your own) hoists you by your own petard. If a single line from the series creator outweighs official statements from the corporation, then Gene Roddenberry's "It isn't Star Trek until I say it's Star Trek" line makes all of Star Trek past about the 5th or 6th season of TNG non-canon. Better yet, his preface to the ST:TMP novelization makes all of TOS non-canon "exaggeration" too. Whoops!
Quote:
Besides that, the ICS author made "educated guesses" towards the specs of the ships and vehicles he drew, none of which was seen in the films (which are maintained as the "primary canon"). How eagerly you accept outrageous figures if it helps your side in any way. Jackal.
How eagerly I accept figures which have been approved by Lucasfilm, you mean. And yes, those
officially approved
figures do help my side, which is precisely why you want to stick your fingers in your ears and ignore them.
Quote:
According to
http://dictionary.reference.com/search?q
=staff ) is that it is a stout object,even for the walking version . . . a slender walking-stick would be a cane, not a staff. Ie, something that's not supposed to be easily breakable and is NOT thin. And yet, a pissed-off woman bent it. Ouch, that would be such a chore.
Funny how that dictionary definition says nothing about the thickness of the staff, eh? Instead, it only says that it's stout, and if you made a staff out of a high-strength steel, it could be very thin while still retaining stoutness. Your endless semantics whoring avails you nothing; you have no diagrams or pictures of this staff, so you have constructed an argument based
entirely
on the word "staff", with an attendant assumption that "stout" = "thick".
Quote:
Oh yes, concrete walls and bulkheads made out of a material an emotional woman can bend. I'm shaking.
At the right thickness, an emotional woman swinging a staff could bend 4340 steel, dumb-ass. A staff is not a support pillar.
Quote:
What about Saavik's obliteration of a metallic pot in ST:VI? While not a particulary impressive display of power, it removes your false assumption about the idea that phasers cannot pierce metallic objects.
Since cooking pots are typically made of
aluminum
, an extremely light material that can actually catch fire, this doesn't prove much. Nor does it disprove the fact that phasers can't punch through the kind of metal you would use for armour, which is much denser.
Quote:
Keep in mind the fact that, in "The Arsenal of Freedom", Tasha notes that whatever melted the tritanium was "beyond our technology".
In other words, you concede that their weapons can't possibly damage the stuff that they use to construct their starship bulkheads. Thank you.
Quote:
Starfleet hulls and bulkheads are built of tritanium ("The Managerie" [TOS], "Threshold" [VGR]), an "exotic metallic alloy". An alloy that, combined with the ever popular duranium, would have to be pretty damn tough to take the kind of strains that would be found at FTL speeds.
Please quantify those strains. And while you're at it, since you use the TM as a source, remember that according to the TM, the E-D is so feeble that it sags in Earth-normal gravity without its "structural integrity field". If this is the standard for Trek material strength, you lose.
By the way, as long as we're on the subject, Imperial vessels are far larger, which requires far stronger materials. They can make planetfall with 700 metre long ships, remember?
Quote:
A single dust partical at 99.9999% of c alone has it's mass increased (thanks to Relativity) by roughly 66,000 times. Even with shields and deflectors, the hull materials have to be tough too in such an enviroment. It does not seem illogical to assume that the bulkhead materials of a starship are strong enough to absorb phaser blasts without any real trouble. In "Where Silence Has Lease (TNG)", Riker is scanning the walls of the duplicate USS Yamato when he comments "They're not tritanium". This means that tritanium IS in the bulkheads, so no argument for them being some other material cannot be made.
And since SW ships go even faster than ST ships, this argument avails you nothing. Moreover, it ignores the fundamental concept of the warp drive, which creates a localized region in which your velocity relative to local space is actually
not
superluminal, or even relativistic. The TM even talks about the advantages of avoiding relativistic travel because it would desynchronize clocks.
Quote:
However, in "Insurrection Alpha (VGR)", we did indeed see a door being blasted apart by Maquis rebel phasers (sure, it was a holographic simulation, but it was written by Tuvok, so it seems logical that he'd have been as accurate with the situation as possible). The doors might have been made of replicated wood for all we know, but it seems more likely they were simply made of thinner duranium, or a less dense alloy. In any event, it destroys your remark about phasers not being able to blow apart doors or other obstructions if put to the test.
Since the doors are holographic, you don't even know what they're supposed to be made of so you're reduced to idle speculation, and they're not even intended to serve as blast doors, this is just another waste of breath on your part.
Quote:
Quote:
Show me evidence of all this water vapour, which would cause severe burn injuries to everyone near the victim. Oh wait, you can't do that, can you?
And neither can you.
What kind of moronic retort is that? I crow that you can't produce evidence of vapourization and you retort that I can't either? Of course I can't, because no such evidence exists! That's the whole
point!
Quote:
However, considering that they HAVE mentioned on-air vaporizations with phasers, and the fact we've seen people "vanish" thanks to energy weapons, it seemed logical to assume that they were "vaporized". Perhaps so quickly that the vapor was reduced to lone particles-It's difficult to speculate on this.
You obviously don't know what "vapourized" means. If you vapourize something, there should be
vapour
, dumb-ass. But please, by all means, elabourate on this "lone particle" theory; I'm sure it will be most amusing.
Quote:
Quote:
Wrong again. I strongly suggest you look up the definition of "chain reaction". A conventional laser will not continue to heat a target after it's been shut off, whereas a chain reaction will.
Perhaps, but the effects of an energy weapon are never "instantaneous".
Actually, if the energy beam has shut off, then all of its energy
must
be already present in the target, and enough energy to vapourize a human being would have an explosive effect within milliseconds (which, at 24 frames per second for movies, might as well be instantaneous).
Quote:
Ergo, it is the reaction between the energy of the blast and the matter of the target. And yes, phaser do use nadion beams to disassemble molecules on the sub-atomic level-It still requires a great deal of energy to actually DO anything of the sort we've seen phasers do. Just because they're "purely" chain reaction weapons (as you implied) does not make them weak-It in fact makes them more powerful, if they can cause the structure of an object to simply fall apart.
Thanks for that boatload of unsupported, unquantified speculation. Got anything useful to add?
Quote:
Quote:
They can tear long gashes in starship bulkheads; you quoted that yourself. Show me evidence of a phaser doing the same.
Thanks, I already did ("Insurrection Alpha" VGR). BTW, that was with one shot to the door that cause it to blow apart, given by the fact that there was only one phaser leveled toward the door after the fact.
Mere repetition of your earlier claim that a holographic door is equivalent to a real bulkhead.
Quote:
The way you put it, yes. However, the majority of the firefights we've seen involved wanting to simply stun or kill opponents, not vaporize them (which requires more power). Would YOU want to waste your weapon on burning your way through everything, at full power, just so you'd be out of juice before reaching your primary objective?

Not even a Stormtrooper could be that dense. You use the minimum needed juice to take out an opponent: THat's the smart way to have maximum effectiveness.
Are you really this dense? I just showed how they are using
less
than the amount of juice they need to take out an opponent, otherwise they would turn it up to the point where they can eliminate their targets through the packing crates. So unless you can provide evidence of them being able to actually do this, you have nothing.
Quote:
And the fact we've never seen Stormtroopers try to blow through obstacles with sheer full powered-weapons blasts doesn't even cross your mind, right? And blowing open a door on the DS1 doesn't count: The door remained intact.
So this is a door which "remained intact", eh?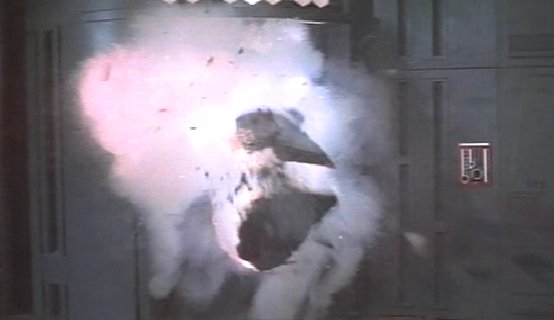 Looks to me like your definition of "intact" is drastically different from that found in the rest of the English-speaking world. And how about the quote from the ANH novelization? "
Several troopers had tried coming through the elevator, only to be crisped one after another by Chewbacca. Disdaining the elevators, they had blasted a gaping hole through a wall.
" And how about "
Kenobi turned his attention to the sandcrawler. He pointed out where single weapons' bursts had blasted away portals, treads, and support beams.
"?
Quote:
I have, thanks. THis simply goes to your claim that phasers couldn't blow through any kind of obstacle a blaster "could". Duh, rock is easier to blow up than metal. It's called a logical FOUNDATION for an argument, Wong,. Try it sometime.
Of course it's a logical foundation for an argument. Unfortunately for you, it's a logical foundation for
my
argument, not yours. Phasers have never demonstrated effectiveness against dense material, and the only time they
are
consistently effective is against rock ... which has similar density to aluminum cooking pots.
Quote:
Quote:
You have not established that they vapourize people. Show me the evidence of the necessary vapour.
Gee Wong, I wonder: If they "vanished" when they were shot, where did they go? The land of pink fuzzy distortions? Phasers have been said to be able to "vaporize" things. The fact they've made things vanish kind of supports the fact that they vaporized them. The mechanics of the vaporization process, we can only guess at, but it seems logical to assume if they "vanished" and ceased to be cohesive, solid matter, they were vaporized.
So transporters vapourize things? The Iconian stargate vapourizes things? The Rutian subspace transporter vapourizes things? Ben Kenobi vapourized himself? "Vapourize" means "turn into vapour", dumb-ass. No vapour, no vapourization.
Quote:
Quote:
You can't honestly be this dense. Nuclear ICBM silos are dug into the ground too; does this mean the silos are made of dirt?
ICBM silos are reinforced with steel, concrete, and various other materials to make them stronger and survive the launch of the missile they hold. In the Star Wars Universe, wherein they use repulsorlifts (which, I might add, have not shown they produce ANY backwash or exhaust that could damage nearby structures or affect anyone nearby), there is no real need to reinforce docking ports from hot thruster exhaust. Therefore, no need for exotic materials to keep the structure together. It's little more than DIRT and cement. Your statement not only holds no merit; it's completely idiotic. Try something else.
This is astounding. You
still
insist that the walls of Docking Bay 94 were made of dirt? Here's a hint: dirt does not look like this: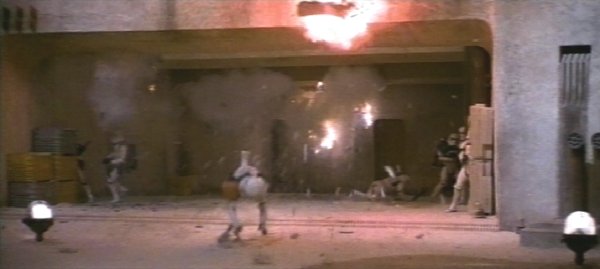 And no matter how hard you try to convince people that this is dirt, you will fail. It is obviously concrete. By the way, in case you have trouble with materials identification, I have provided a helpful picture for you: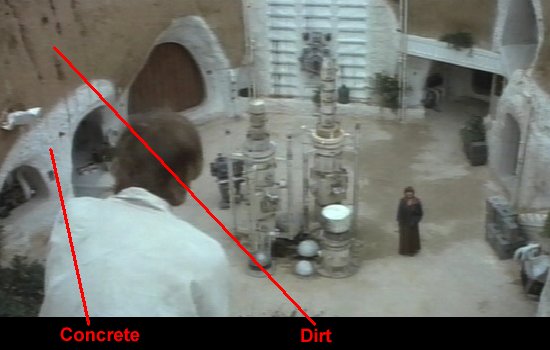 Please keep this in mind; someone may ask you to differentiate between dirt and concrete someday, and the knowledge might come in handy.
Quote:
Once again, you are trying to detract from the main issue. Blasters have NEVER shown the ability to vaporize a person, or anything else of consequence, to be completely honest.
Oh no, they can only blow through walls according to the ANH novelization, take down battledroids with inch-thick chest armour, take down sandcrawlers the size of apartment buildings, etc.
Quote:
They have also never demonstrated greater power than a phaser, no matter the methods of the weapons in doing what they're supposed to do. Best they have shown themselves capable of are blowing up windows (gee, glass: I'm shaking), cement, setting fire to clothing, and peircing one-inch thick armor. Armor that has not demonstrated any particular resilience to ANYTHING.
So you figure that a lightweight Star Trek "shhh" door is impressive, but one-inch thick armour, concrete, and support struts for apartment building-sized sandcrawlers are flimsy and pathetic? It's always amusing to watch someone spiral into the depths of self-delusion.
Quote:
If by the assumption that phasers are more powerful than blasters (which they have shown themselves to be), Stormie's not going to stand a chance.
Nonsense. Even if we assume that both sides' weapons are lethal to the other side, the stormies will take it easily. They have combined-arms tactics, heavy squad-level weapons which can punch a hole through the hull of a starship, light armour support (and possibly heavy armour for a large force), repulsorlift recon vehicles, and NBC protection. And don't tell me you wax poetic over the superior marksmanship of Starfleet troopers who couldn't hit
this
guy as he casually strolled across the hallway: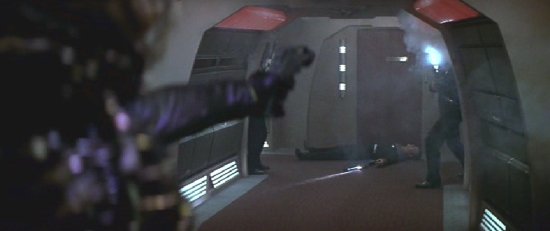 That's a range of about
five
metres at most, pal. That's what we normally call "spitting distance". And the guy not only sauntered across the hallway, but he even took a few seconds to stand still at the entrance to the crawlspace and
glare at Riker with contempt
before diving in! Clearly, the Alpha Quadrant powers are in awe of the marksmanship (not to mention fictitious auto-aiming systems) of the mighty Federation's soldiers. And these were two of their best people: Worf and Riker!
Quote:
Quote:
Something other than a laser. According to the ICS2, it's some kind of exotic massless particle beam. But the point remains that you were wrong about it being a laser.
Sue me.
Interesting way of conceding the point.
Quote:
Quote:
Please stop trying to pretend you're winning. My rebuttal applies to both blasters and turbolasers equally; neither of them act like modern lasers. Or are you honestly so dense that you don't realize this?
Again, sue me. When something's called a laser, it seems logical to assume it's based upon the modern-day laser. And don't try your "ICBM silo" stunt again: Semantics get you nothing but time.
Let me get this straight: you're basing your entire argument off the word "staff" and "laser", and you think I'm the one appealing to semantics for attempting to use an
analogy?
I can't see you doing too well on those SAT tests, kid. You don't even know what semantics are.
Quote:
Gee, I've just presented surefire evidence that phasers can throw around more power than blasters, and all you can come up with is an insult to my intelligence. Whose pretending?
Your "surefire evidence" is your assumption that Trek materials are far stronger than Imperial materials even though the Feds can't make a 600m long ship which won't sag like Joan Rivers' wrinkled tits in Earth gravity (TM pg. 19) while 700m Acclamators can easily take off and land on Coruscant. Nice of you to simply ignore all of my counterpoints and pretend that insulting you is all I had to offer, though.
Quote:
Quote:
By appealing to the "variable-yield" catchall excuse, even though they could easily win all of those "shoot 'n duck" firefights if they just turned up the power according to you. I guess they don't do it because they're just suicidal.
No-Though my argument should include that, since we've never seen Stormtroopers or Rebels (or anyone else, for that matter) try what you suggest, this doesn't hold much water.
Since nobody hides behind anything as insubstantial as a packing crate in SW firefights, this "rebuttal" is rather wide of the mark.
Quote:
Meaning that you're implying Federation troopers are better trained that Imperial ones?
Observation contradicts that speculation on your part.
Quote:
As for the scopes: Since we only saw them on phaser rifles (which logically should possess more range), it seems likely that auto-aim systems on phaser rifles weren't thought to be needed (or not needed as much). Handheld phasers are the ones that are harder to aim accurately (comparitively speaking), so an auto-aim system would be handy for such a weapon.
So you're saying they only use this "auto-aim" system at very close range, where accuracy is not much of an issue anyway. Thanks for rendering your entire line of attack utterly useless.
Quote:
Has it occured to you that the auto-aiming system might have an "off" switch? Training, in this case, would be increasing your natural skills so that, in a firefight WITH the auto-aim on, you have even better aim.

Thanks for helping me out.
Then explain why he couldn't hit a man standing 5 metres away in Nemesis, wise-ass. You can practice your witty bon mots all day long, but when a simple picture proves all of your bullshit wrong, you still lose. And if hand phasers have an auto-aiming system that rifles don't, then why do they use rifles during boarding actions, where all of the fighting takes place at pistol range? Only an idiot would deliberately turn off an auto-aiming system which would make his fire far more accurate, or choose a weapon which lacks said system when he has obviously shitty marksmanship and intends to engage in close-quarters fighting. It would be suicide.
Quote:
Let me repeat slowly for you: "O-F-F-S-W-I-T-C-H".
Let me repeat slowly for you: "S-U-I-C-I-D-E".
Quote:
(sigh) You're pathetic. You draw out the semantics of every argument to try and stall the primary subject. Maybe you should have been a lawyer.
Pot calling the kettle black. I'm talking to someone who bases his entire argument on the use of the words "staff" and "laser", and who ignores photographic evidence.
Quote:
Oh, and BTW: I HAVE explained, thank you.
I hate to break it to you, but Darkstar's habit of telling people he's already done something when he hasn't is one of his weakest tactics. In fact, it's one of the things people love to make fun of.
Quote:
Quote:
You're obviously a youngster, so I will try to speak to you as a student: given a system with initial energy state A, final energy state B, and energy input C, how do you think you determine the energy input? Note that you cannot simply infer or assume energy state B; you must measure it.
And I have. The day you teach me anything more than how to attempt to insult someone in order to manipulate a debate is the day I check outside for the Four Horsemen of the Apocalypse.
So much arrogance, so little intelligence. The fact is that I
am
actually qualified to teach you, you little high-school dipshit. And you have quite obviously not bothered reading that paragraph before answering it, because you have
not
explained how one would go about measuring the energy state B of the system. How did you evaluate the enthalpy of the resulting mass, hmmmm?
Quote:
Once again, trying to draw the debate off subject. Let's try this again:

Starfleet troops, mostly engineers and scientists to determine how to work the Dominion comm system. Add five months of hunger, sleep deprivation, and wracked nerves because of the Houdini mines and Jem'Hadar raids. And they didn't have a machine gun, though it sure as hell would have come in handy.
Concession accepted: an automatic weapon such as a machine gun or an E-Web would have annihilated the entire Jem'Hadar charge, therefore a squad of stormtroopers is much more dangerous than a Federation squad. So sorry, but you just conceded the whole argument.
Quote:
Phasers are a bit too narrow-field of fire.
A bullet travels on a pretty straight line too, dumb-ass.
Quote:
Finally, THEY WEREN'T MARINES. They weren't a well-trained security detachment: They were basically thrown together to try and make use of a vital strategic resource. They don't have any bearing on the general compentence or ability of true Federation troops.
Oh yes, of course. When you send troops into hostile enemy territory to secure a vital strategic target, you send completely combat-incapable techies
Quote:
Yes, the Dominion troops ran in as a screaming mass. However, there comes a point where there are simply too many troops rushing against your position to stop them. The reasons for this in the above paragraph support my claim.
You have already conceded that a single machine gun would have stopped them, so an E-Web would have done the same. For that matter, a superbattledroid opening up on full-auto would have done it.
Quote:
And phasers can do both ("Insurrection Alpha (VGR)". And I have already gone over the vaporization aspect. It seems that this is just too complex for YOU to grasp.
See earlier rebuttal.
Quote:
Yes, and a little pansy like you could bend the "staff" (which is thick, as I said, and NOT supposed to bend easily!). And I never said impossible: Nice try on the semantics card, but no cigar.
You're the one basing your whole argument on the words "staff" and "laser", dumb-ass. By the way, it is perhaps the weakest tactic in all of debating to denigrate your opponent's physical strength, particularly since you have no way of knowing whether he is actually stronger than you.
Quote:
Quote:
I see you have decided to emulate Darkstar's technique of pontificating about the superiority of your debate techniques while ducking the scientific issues and major points.
No, I've emulated his technique of sticking to the facts. YOU are the one who dodges the scientific issues and tries to lead the debate toward something totally unrelated to the subject at hand. It is YOUR lying, bullying, and falsification that has led to this debate.
Tu Quoque fallacy. I have given
examples
of where you have lied, and where the photographic evidence clearly disproves your bullshit. You retort by simply saying "no, YOU'RE doing it!". That's kindergarten-level debating, kiddo.
Quote:
Quote:
Perhaps you hope to emulate his success in fooling people who are too casual or too gullible to notice how you put so much more effort into your style than your substance. I, for one, choose to aim higher.
And who is the one around here insulting your opponent's intelligence and trying to discredit them with language dripping "superiority complex", while dodging the important issues?
Still hurling empty accusations, eh? Name one important issue which I've "dodged". I'm the one citing real evidence, while you're desperately grasping at vague connotations from dictionary definitions of words.
Quote:
You aim for nothing but your own selfish motives, and have brainwashed your brood to follow the same line without any logic. You disgust me.
Your neurotic hatred and heightened emotional state are quite obvious without you having to point them out, thanks.
These exchanges are growing to unwieldy length, so I will summarize for the benefit of viewers:
Debate Summary
Debate Summary:
AJT feels that Darkstar canon policy overrides Lucasfilm canon policy.

AJT feels that the word "staff" automatically means "large circumference". Perhaps he's been watching too much gay porn.

AJT feels that ST ships are made of much stronger material than SW ships because they can travel at FTL. The fact that SW ships also travel at FTL, and at much greater velocities, is apparently lost on him.

AJT feels that wrecking a huge sandcrawler, punching through inch-thick armour plate, or blowing through a DS1 door or wall are all far less impressive than taking out a holographic door.

AJT does not know how to visually distinguish dirt from concrete.

AJT believes that if something disappears without any effect on its environment, it must have turned into vapour.

AJT believes that Federation weapons have all kinds of firepower and neat auto-aiming features which would have been really useful in combat, but they

choose

to turn them off.

AJT accidentally conceded the whole argument by admitting that a single machine gun (and by extension, a stormtrooper unit's E-Web) would have outperformed the entire Federation unit at AR-588.
And just for fun, here's a couple of pictures which might be interesting for our viewers. See if you can guess which of AJT's claims is completely demolished by these pictures.