SEPTEMBER 8
And so on into the sleeping giant. I've said since in conversation that Yellowstone was something of an anticlimax, but that's because I'd been spoiled by Yosemite and the Tetons already. Look back over these pictures, it's a fantastic place, but we really should have camped and done a few days of hiking to get the feel on the ground.
Inevitably, we gravitated to this:
..and walked around the entire basin, unconsciously timing it so we'd be within sight of Old Faithful every ninety minutes. Plenty of opportunities to get our geothermal on.
And the odd bit of wildlife, too.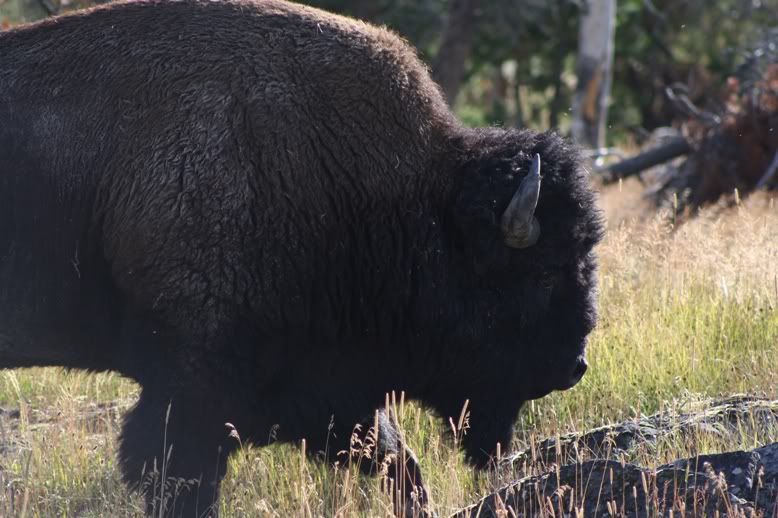 It was during this day that I tried two things you can't get in Australia. First was a Moon Pie, which I actually laughed out loud upon spotting('someone outta moon pie her'), and Red Bull Cola. The former I can't remember, but the latter, I reflect, what was the point?
So as it turned out, despite dad's assumption that out of peak season we'd be able to walk in and get a room wherever, Yellowstone was booked out. The entire park. Checking the maps, we fell upon a strategic decision to head over to Montana and the town of West Yellowstone, from which we would mount our second full day's expedition into the park.
West Yellowstone seems to exist to take advantage of people that couldn't get lodging within the park, but that's fair enough. We discovered that the happiest man in the world operates an RV park at one end of the town; he detailed WesYel's many attractions in what might be described as a penultimate intonation('...and you can see a film about bears at
the
I-MAa
aaaaaa
aaaa
aaaax
')
N.b, this sign cracked me up:
Dinner was chicken fried steak. I get it now. And it was delicious. But the experience was marred by the sad sight of an elderly couple who had been unable to secure lodgings in town, and were facing a 120 mile drive to the next place where there
might
be accommodation. It was already dark and no time for people with diminished eyesight to be on the road.
Beyond that thought, we hit a few of the local taverns, and played a few games of eight-ball against some townies who were so shitfaced they could barely hold their cues. The music was good and I'm pleased to say that Big Sky Brewing Co's Moose Drool is an enjoyable beer. All in all, a good day.