STALKERS
It was day, but it was dark. The monsoon clouds blacked the sun, it would be pouring soon. Right now, it was just dark –and the skies were illuminated by descending rocketbullets, their burning contrails lightning it up like raining fire. This was what the Connoltian advance used for cover fire, and right now – they weren't pulling any stops. They were going to kill us all.
It had gone to shit. The Legionnaires were running for their lives and from the green, more Cunts came. They were barking, howling and roaring like animals, a pack of savage dogs enticed at the prospect of running down their injured prey. Tracers streaked through the jungle, needlers sheared through foliage, harpoons were launched en masse, and trees were uprooted by airbursting rocketbullets.
Tacitus was already dead. Dead and deemed unfit by the gods for the Elysian Fields, they sent him to hell. He was dragged, his arm slung across Otho's back. His other hand pressed against his lorica – trying to stop the flow of black ooze from his insides. He tried to speak, but he only coughed out bile.
Gracchus was right behind them, he was worse than Tacitus – the lieutenant wasn't eviscerated, yet – and looked deathly pale. He was faltering. A tracer whizzed, tore through his knee, he fell and did not get back up.
Tacitus turned away. He gurgled, black stuff bubbling out of his mouth. Spasms, coughs spilled out more liquid. Screams filled the air. He looked at Otho and spoke weakly: "Go get Minimus' radio. Call for support."
"I can't, I have to get you out of here." Otho said desperately.
Tacitus' mouth was dripping with bile. He glared at Otho hard. "Just get it, call for support. I'll be with Gracchus."
"Sir-" Otho looked at him, then nodded. He let go.
Claude and Manius were slogging through the mud at quick pace, all round them were their squaddies, all in various state of near-death, all in panicked retreat. Across the warzone, rocketbullets detonated mud as the Cunts shot explosions at them – explosions that arced down from the fucking sky. A rocketbullet landed upon a Legionnaire, and the result was a shower of bones. Claudius brushed the remains off his face. None of them were gonna make it.
Suddenly, the rain of rocketbullets ceased, and both Claudius and Manius turned to see what had happened. They all did. From amidst the green, where the bombardment came, the Connoltian hoard grew quiet – and an unsettling silence came upon the warzone.
"Run!" someone shouted, and without question, both Claudius and Manius began running for their lives. They knew what came next – everyone did.
A Connoltian warrior emerged from the trees, smeared with symbolic warpaint, bare-chested, brandishing a mighty war axe and wrist magnums. He raised his axe and with his voice, he filled the entire jungle with wrathful indignation:
"
KILL 'EM ALL!
"
From the green, the Connoltians came.
All of them.
What they had seen on Glasgow was but a wave. What transpired now was an ocean. From the dense underbrush came forth the barbarian horde, Connoltian warriors and their vicious androgyne cohorts slogging through the mud at quick pace, barking and hissing in their profane tongues – for the Hellenes were on the retreat, and they smelled blood. Leading them was the Grand Axe, his scarred chest framed by mighty shoulder armor, holding with one hand an enormous war axe, and on his other blazed wrist cannons of obscene caliber. As his magnums discharged, tracers and spikes whizzed past him in a deadly fusillade that murdered whatever was left standing amidst the desolated killzone.
The Grand Axe issued forth another mighty bellow, a roar. And once more, from the green, burst forth two Connoltian riders upon steel mounts. With blinding speed that betrayed the size of their bikes, they rushed forth towards the retreating Hellenes. In a blur, one of the riders impaled a fleeing Legionnaire with his drill-spear, and as the Legionnaire flailed, he was spun wildly by the great drill until gore and entrails flew across the battlefield, adorning the hallowed fields of war with felled meat and intestines. The other rider had an equally glorious kill, for he vanquished a fleeing foe by plowing him to the mud with his drill-spear – digging a trench of blood and crushed human.
The two riders circled, giving distance to their quarries, who ran in cowardly fear. And when it seemed that the Hellenes were in safe distance, the riders fired the tubes mounted on the backs of their iron steeds, filling the air with stakes and harpoons.
At the horror of the Hellenes, the Grand Axe and his warband barked forth chuckles and roared laughter. The proud Connoltian warriors were coming forth in one final push, they were like a pack of wolves lunging forth at cornered prey. It was as though their feral eyes met that of their prey's, and in their prey's they saw a look of glazed fear. At this, the Grand Axe spread his arms and raised his axe to the air. A bullet from the Hellenes drove itself into him, but it was impotent, for he was mighty – his chest was scarred from proving rites where, by his own hand, he mutilated his own body and armored his very bones with boiling steel. At the pathetic injury, the Axe issued forth one last roar and forth his veins gushed the purest of steroids.
It was a good day to die. It was a better day to kill.
Head down, Otho rushed through the crossfire, evading harpoons and hiding under stumps of uprooted trees, running through the mud and dodging tracers, obliterated trees and explosions. Zigzagging, he ran to every straggling group of dying men, to every corpse that lay upon the mud, looking for the littlest of them all. Otho found the tankers; they were straggling behind and were almost murdered by the spike-drilled deathbikes. Brutus was missing a leg and was leaning on the other tanker, behind them was Minimus, shooting at the Cunts with his revolver.
"Minimus!" Otho cried out.
"What?!" shouted the little man as he threw his expended revolver and picked up a snubgun too large for him. He screamed hoarsely and unleashed a barrage of lead, sweeping his gun side to side while the recoil threatened to topple him.
Mud was flying everywhere. Otho had to shout: "The radio!"
Minimus one-handed the snubgun, rattling away at full auto as he procured something from his pocket. Tracers whizzed past the midget's head, invisible needlers carved through mud and water. He tossed the radio at Otho and continued shooting.
Otho caught it and immediately began spinning the dial, calling to the nearest outpost. As he did so, there was an unexplained explosion, his cue to run. As he did so, he placed the radio to his head, only to notice that most of his ear was dangling off the side of his head, hanging on with just a thread of bloody meat. Otho screamed in frustration and ripped it off.
As tracers and rocketbullets whizzed through the air, the four of them hunkered down underneath a large mangrove tree, whose roots proved to be good cover. Steve was the one to find it, and he called MacAdder, Claudius and Manius to his position. Right now, as bullets and spikes buried themselves in trees and splashed mud around, the four of them talked. Occasionally, one of them would fire at the approaching Cunts.
"Mates, I think this'll be a good spot to make a stand as any," Steve proclaimed. As he said so, a ball of spikes impaled itself on a fat root and exploded, showering them with harmless shrapnel and splinters. "Oy! See, that Cunt g'nade didn't get to us one bit."
"Aye," resigned MacAdder, who was all covered up in mud and blue Celtic warpaint. He raised a stolen Connoltian rifle-pistol. "Best t'die standing up rather then have our arses all shot up facing back, boyo. Let's tell these pissers to sod off, one more time."
"Well." Manius said as he rubbed sore muscles all over. The barks and snarls and shouts were growing ever closer, as did the roar of deathbike engines. "Here they come."
Claudius was getting up to a crouch and readying his longrifle when he noticed something. "Hey, Manius."
"What?"
"You've got a couple of pilium on your back."
Manius looked over his shoulder and then looked back to Claude with profound realization on his face. "So I have."
"Eh, you stupid git!" MacAdder growled, pointing to the very big mass that was coming out of the fog to kill them. "Then shoot yer bloody rockets at 'em!"
"Aye aye, cap!" Manius said as he handed one of the pillium spear-rockets to Claude. "You do that, you're always better at aiming them than me. My shoulders are too pumped up and-"
"Right," Claudius cut him off as he shouldered the long tube. He assumed the position and began targeting with his visor, as the others stayed clear of his back end, away from the exhaust of the shaft he cradled. Claudius took careful aim as the barbarian mob emerged from the mist, aimed for the face of the biggest, meanest, most fearsome one – the Grand Axe.
He squeezed the trigger.
The spearhead flew off, leaving a contrail of thick acrid smoke. There was little delay, the pilium was quick, and then there was an ear-shattering explosion. The detonation silenced the Connoltian horde and echoed through the jungle, blowing away the fog and replacing it with black smoke.
But like everything else, the brief silence died. The smoke blew away, and the Grand Axe stood there, implacable, his cold eyes meeting theirs.
"Shite!" MacAdder cried, just as the first harpoon impaled itself upon their lumber enclave. Right after that, a wave of fire from the spikeguns, rocket cannons, pistol-rifles, swordguns, rifle-pistols, machine rifles, harpoon guns, fragpistols and needlers all descended upon them, bombarding them with such obsceneties such as spikes, stakes, rocketbullets, harpoons, monolecular needles, tracers, and exploding bullets. Before MacAdder could even throw himself to the mud, half of their cover was literally deforested – swiftly derooting their tree. "Shoot back, sod it!"
With that obviousity in mind, Claudius and Manius returned fire with their longrifles, shooting without even bothering to aim, too busy burying their faces into the mud to line up their sights. Lead was ejaculated, feeble and impotent against the oncoming ocean of steroidified death.
MacAdder gritted his teeth and activated his rifle-pistol, which caused a big blade to pop out of nowhere, thus transformulating it into a swordgun. With pistol-rifle-sword on one hand and machine-pistol on another, MacAdder joined Claude and Manius in returning fire. As he did so, he began screaming profanities in Victorian – spoken with an accent that made it as incomprehensible as any barbarian tongue uttered by the Connoltians. Likewise, so too did Steve as he entered the fray shooting with his procured needler.
No need to aim now, as their reciprocal fusillade was met by that of the Connoltian horde – less of a horde now that the vast majority of them had decided to pass by the Hellenes' fortified tree. They were taking a detour, moving on to strike a Hellenes' outpost elsewhere and leaving but a few to handle the ones here.
"Shite!" MacAdder cursed upon noticing the significantly decreased volume of firepower. The deathbikes whizzed past and sprayed them with mud. "Those fuckers are moving to the forward base!"
"Crickey!" Steve yelped, who was nearly tagged by a harpoon as he threw his expended needler and pulled out his shotgun. "We better go warn 'em then."
"How?!"
But before that question could be answered, a very big rocketbullet embedded itself into the fattest root of their fortified tree. The impaled missile began spewing copious amounts smoke.
The four squaddies looked at each other before Claudius shouted: "Run!"
They did, and just as the last of them leaped dramatically out of the tree, there was an explosion. As if logged by a lumberjack, the mangrove tree fell to the ground with a loud thud. Bark and leaves, mud and water flew to the air.
Manius was beside Claudius, lying on the mud and gasping out his lungs. "Timber, eh, Claude?"
Claudius nodded dumbly and looked around. Several Cunts were crushed beneath the felled tree; some were screaming and flailing under the branches as the log sank deeper into the mud; while others, in steroidified death-rage, shot at the air as they died. MacAdder, who was beside Claudius, cursed as he slapped Claude's shoulder and pointed at something.
The Grand Axe, who was unscathed from the pillium, stood before them along with his warband – two Connoltian warriors bearing monstrous belted machinecannons, an androgyne cohort who wielded a needler and wore a shrieking mask of steel, and a grotesque mutaloid that was none other than a cannibalistic Morlock that dwelled within inbreeding pits. The warband looked at them, and the Grand Axe smiled.
It began to rain.
As the downpour began, the trio stood their ground against the barbarian horde. Otho pulled a discus from a felled Legionnaire and hurled it. The disc sailed through the air and detonated amidst a Connoltian formation, but before the blast could be heard, all sound was drowned by bloodcurdling screaming. There was a rageful roar, and from the blanket of rain whizzed tracers. Otho gritted his teeth and ducked behind a trunk.
From far off, a Connoltian came from behind a tree and launched a harpoon, but before he could return to cover, Minimus offed him with a snubgun. Despite the distance, the exploding brains could still be seen. The midget ex-tank commander ducked behind a tree stump, just in time as another Cunt sprayed them with a machinerifle. As exploding mud and wood showered them, Grippa returned fire with his own machinerifle, filling air with steel.
"Still got your flask, Otho?" Grippa asked as he ducked back and reloaded a drum. Out of nowhere, a harpoon flew into his tree, punched through wood and gouged into his hip. He collapsed with but a yelp.
"Shite, a Cunt tagged him!" Minimus shouted. He got out of his tree stump and ran to Grippa, his hurried pace marked by exploding mud and water as the Connoltians did their best to tag the little man.
"In my arse, too!" Grippa replied with a pained voice and a bleeding butt. "Otho, when are they coming?!"
"Uhh…"
"Now!" cried Brutus, who was missing a leg and armed only with a pistol. He was lying on the mud and was madly waving at the sky, where a glinting form circled the bleeding heavens.
"They can't see us!"
"Smoke, someone get a smoke grenade."
"They can't see smoke in the rain," Grippa groaned. There was a hiss, bullets passed close by. The snap of a ricochet off his lorica. The pop of exploding bark. He shouldered his snubgun and returned fire despite his bleeding ass.
"Flares!" shouted Minimus.
In the black clouds lightning flashed and thunder boomed, and amidst the sky and water was a lone skychariot, circling the rainy clouds in search pattern. Wind and rain churned the Harpy like a trireme in a stormy ocean. In the bird was a squad of the Cosmic Host's finest, the Metallian Brigades.
In the red-lit interior of the gunship, the pilot said to the captain, a bald man with a scarred brow: "Sir, we've spotted the torch. It's them."
The captain turned to his men, eying them with a gaze of steel. "We've found the Legionnaires and they need our help. The Cunts' asses were too hard for them to kick so we'll have to do it for them. The barbarians are at the five-yard line, they're coming in fast and they're coming in hard, but we're taking them down before they hit the nine-yard line. Urrah?"
"Urrah," the men grunted.
"If those hairy dicks think they can just come in our shithole jungles, dig holes with spikes in 'em, take a shit, and then hope our boys'll step in 'em, we'll show them what's what, won't we, boys?"
"Urrah," the men grunted.
"They think they can come here and kick our asses, well, they don't know who we are, do they boys?"
"No suh!" came the chorus.
"We'll tell them who we are, won't we?"
"Yes suh!" came the chorus.
"And who are we, boys?"
"We are the gods-damned Metallians, suh!" the men hollered.
"Damned right we are!" the captain barked. "And it's time to unleash hell!"
"URRAH!"
The captain put on his helm, obscuring his face with the visor and respirator. He walked to the side and opened the door, flooding the interior with turbulent wind and rain. Lines dropped from the wings and the men hooked themselves on.
"Looks pretty bad," one of the Metallians commented.
"Right down our alley," another replied.
The captain walked to them, cocked his drummed autocarbine and locked on the rappel. "Feet first to hell!"
As they descended, their tattered longcapes billowed in the wind and rain, and as the earth neared, they unloaded their autocarbines, filling the air with descending hyphens of illuminated lead. For one brief moment, muzzle flash and lightning was one, both a kind of wrath from the heavens, as though hurled by Zeupiter himself. Mid-air, some of the Metallians even launched pilium one-handed, tracing fingers of contrail through the rain that terminated in magenta blossoms. Their landing was heralded by the death-screams and rage-roars of Connoltians, and just before they hit ground, they cut their rappels and landed dramatically with capes fluttering like wings.
The first Metallian was bifurcated by a Connoltian with a swordgun.
The second's head exploded in a shower of glass and faceplate, shot in the face by a spikegun.
The third was the captain, his helm emblazoned with an eagle. The Connoltian with a swordgun came and swung his bloodied blade at him. The Metallian captain blocked it with his carbine and slammed the butt violently against the Cunt's ridged forehead. After a hard boot, he unloaded his autocarbine on the steroided barbarian, killing it dead as the rest of the Metallians landed without casualty.
Immediately upon setting foot on the earth, the Connoltians were upon them, drowning them with their obscene weaponries. The unnamed captain screamed: "Steadfast!" and with this command, the Metallian men went to formation, got down to a knee, and opened fire. Their autocarbines ejaculated blinding flashes, loudly barked hundreds of leadened rounds. Reflex targeters and cool aim ensured few misses as the Harpy skychariot swooped down and unleashed its own strafe guns.
Once more, the jungle was ablaze.
As the firefight continued on with the Metallians, Minimus resigned himself and sat on a corpse. Corpses, actually, for they were both of a Connoltian and a Legionnaire, both killed at the same time, in their last moments whilst still trying to kill each other. He pulled out a cigarillo, looked for a light, found none, then placed the cigarillo in his mouth anyway. Beside him was footless Brutus, he looked very exsanguinated. They sat there listening to the sounds of battle, gunfire that was calm now that they were no longer the ones shooting. The Metallians were fighting mere feet away, but felt as distant as the faraway boom of exploding artillery.
In front of them, they beheld Otho, who had long ago thrown away his radiobox into the mud. Now he was scrounging corpses, looking for a flask perhaps.
He found no flask. Instead, with a triumphant roar, he uncovered a bloodstained carbine from a halved Metallian. With a quick jerk, he cocked the rifle and went to war. He was wet with rain, streams of dripping water sliding down his bloodied visage, cleaning him as he contorted his face into a mask of roaring anger – anger that was joined with ecstaticment, for he once more felt the rhythmic jolt of rifle recoil like the eager thrusts of a nubile man-lover. He was barely able to stand, let alone accept the violent motions of the newfound weapon he cradled with his arms, but after such a seemingly long time unarmed, the mere touch of gun and smell of powder, the clinking of spent casing and the smooth gun grease, the electricity of it all – it made Otho alive again.
As Metallians and Otho traded fire with the remaining barbarians, the skychariot was heard peeling off the warzone to intercept the massed Connoltian horde, the one stampeding to the Legion forward base. For a moment, the wail of engines drowned out the sound of gunfire. But, as always, with a steroidified war cry, the drums of war beat on.
The captain removed his helm and walked to the ex-tankers, careful not to step on the corpses.
"Perfect timing, captain," said Minimus.
"Not too late to back you up, I hope," the captain replied, lowering his hand to shake Minimus'. "Metallians are always at the five-yard line. I'd hate for us to miss the party."
"We've got some injured," Minimus said, pointing to footless Brutus. Then he gestured at the entire place. "And a lot of dead."
"We'll evac as soon as the place is cleared. Shouldn't be long…" the captain nodded. He motioned to Otho. "He's the last Legionnaire left?"
"Yeah," Minimus sighed. "All dead."
"How 'bout those four?" asked Brutus. His eyes were rolling back, revealing most of the whites. Yet, despite this, he was pointing something at their far side.
The bunch of them turned to look.
"Well, I'll be damned!"
Claudius ran. He nearly fell on a severed limb, but Manius helped him up. They staggered for a second, almost fell into a pool of mudblood, but still kept on going – running was more important then the maintenance of balance. MacAdder was far ahead of them, his kilt making running far easier. Of course, Steve outran them all, being quicker then a dingodile and all.
"Shit, Manius!" cried Claudius. "We're all gonna die!"
"Just keep on running, Claude. Keep on going. Breathe. Keep the rhythm," Manius encouraged. "Attaboy. Attaboy. Oh shit!"
"Oh gods!"
They nearly fell on a dying Legionnaire. It was Gracchus, his guts were all out now. They saw him and he saw them. He reached his arm out.
Claudius cursed and kicked him away. They ran. Gracchus was behind them now and they could hear him give out the beginnings of a scream. It was silenced before it could become any more.
Both of them turned their heads back. They saw nothing. Gracchus was just a bloody smear on the mud, half-buried and half flattened. From where his body was half-buried, his arms and legs stuck out at odd angles.
The next moment, they saw the corpse right in front of Gracchus explode bloodily. They could hear the sick sound of popping, bones crunching. Guts spewed out of the corpse's mouth as if they were squeezed out.
Claudius looked away, but he looked back.
The rain. They could see something in the rain. In normal day, Claudius guessed it would be unseen. A shadow in twilight. but when the rain came, when the drops splashed against its form, when the water flowed around the shadow, they could see it, a liquid silhouette.
It was moving.
It was coming for them.
Claudius screamed. "Stalker!"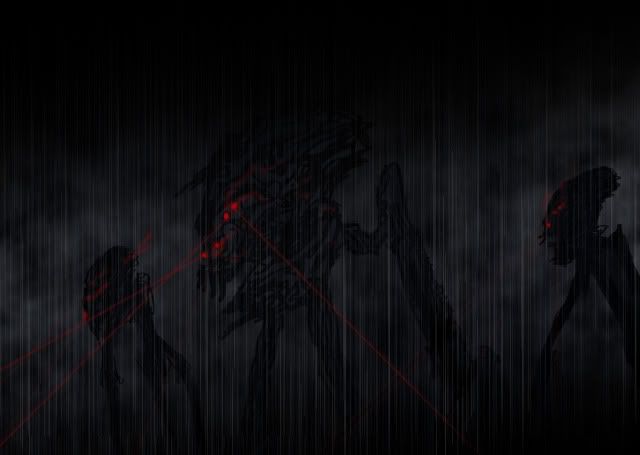 It came.
Laser light slashed through the air, red and visible, as the falling rain refracted their spectrums. The beams scanned and swept, looking through all corners of the jungle. It was as if the lines of blood light came from thin air, but truly they came from one focal point. It glowed, just barely, like a flashing eye of a cyclopean thing that was both seen and unseen at the same time. A blood red eye that both flashed and winked. Malicious and with malevolence it looked. And picked.
A sudden sharp hiss filled the air and the rain was joined with a stream of monolecular needles. There was no scream. The Metallians aiming the pilium had his upper torso turned to liquid. The needle stream, like the laser bloodlight, made a sweeping motion, going from one side to the next. Two poor others were caught in it, but there was no precision in their deaths, and so they died screaming as melted portions of themselves joined the mud and water.
Another flurry of needles. Some took cover in the trees, others ducked in craters, one was caught as he ran. He fell to the ground and flailed, liquefied flesh flying off his thrashing body.
The needles ceased. The eye once more glowed of faintly bloodlight, once more laser strobes scanned the air. The eye faded, the lasers winked off, and the shooting resumed.
Claudius and Manius threw themselves behind the felled tree, they pressed themselves against the mud and held each other in fear. They hunkered down low as the air above them hissed, thousands of invisible needles liquefying perhaps some poor human being in its way. They could hear the hiss intensify as the monolecular stream swept past their way. They sighed in relief when it was gone.
Claudius turned to his right and was shocked to see Minimus down by their felled tree's stump. Minimus placed a finger against his lips, telling them to shut up. Beside Minimus was one of the Metallians, he was bald and held a radiophone to his mouth. He was whispering.
"It can hear you," Mimimus whispered.
From far off, they could hear screaming as yet another man was flayed alive by the Stalker. But this time, they also heard return fire. Claudius dared to take a peek and he saw steadfast Metallians shouldering their rifles, firing at the air while scattering to different directions, forcing the invisible assailant to shoot at multiple vectors. A Metallian's head disappeared while the other one nearest to him had his side partially disintegrated in a way that caused him to literally slide apart. The furthest from them threw a hand grenade that exploded apparently near the Stalker, causing a slight revelation of its form. The silhouette darkened – the thing was tall. Before the silhouette faded, they could see the tall thing move forward in a sort of slithering walk. The grenader screamed as he was crushed underfoot of the invisible thing, picked up and then –
But before the doomed Metallian could be liquefied midair, there was a deafening blast and a shower of sparks as the Harpy skychariot swooped down from the heavens, called forth from its interception of the Connoltian horde by the Metallian captain. The Harpy unloaded with its slaughtercannons, shooting explosions at its invisible enemy. And indeed, it shot explosions, explosions that rendered the once-invisible foe now corporeal and tangible to sight.
The thing, the Stalker, was covered in sparks as the blasts tore away its invisibility field. Now, it could clearly be seen that the black thing was of a disturbing insectile look. Multiple bloodlit eyes like those of an arachnid's adorned its malevolent visage of steel. And from protrusions of its armor were sharpened guns, clearly like the needlers used by the androgynous Connoltian cohorts. From the black hull of the thing came three legs, segmented and rigid.
But as the Harpy swooped overhead and maneuvered for another gun run, the Stalker's segmented legs grew un-rigid, now more like tentacles than legs, and the machine moved liquidly with a half-slithering writhing walk.
With inhuman intelligence, it positioned itself and unleashed its needlers at the Harpy. The skychariot's tail was torn off and the craft quickly spun out of control, black smoke gushing from its rear, and from the air it plunged to the ground, crashing into the soft mud.
The first thing the Harpy pilot saw outside the cockpit when he awoke from his short crash-induced slumber was the Stalker. The machine had bent down in front of the Harpy and the pilot could only scream as the thing's insectile eyes narrowed maliciously at him. The co-pilot too could not help screaming, but a single needler burst quickly silenced him and removed most of his face.
At this, the pilot screamed further, for he could no longer scream when the Stalker bent down directly over him and vivisected him with a chin-mounted laser. He flailed as he was cooked alive, the beam sweeping from one side of his midsection to another in many quick, jerking movements, like a cutter or scanner. The Stalker then punched through the glass with a tentacular leg, pulled the pilot out and threw him at the spectating Metallians. The body flew, but midway the body broke into two and the entrails slid out and fell to the ground.
The silent killer turned back to its prey, Metallians who were fleeing while the Stalker performed its sadistic dissection of the Harpy pilot.
Claudius turned to Manius. "Give me your pilium."
"What? Why?" Manius sputtered. "Are you insane? That thing will kill you!"
"It'll kill us all anyway!" Claudius spat back. "Now give me the gods damned rocket!"
"Here, take it!" Manius said as he shoved the spear-missile to Claudius' hands. He sighed. "We're all fucked…"
Claudius took the pilium and ran to the Stalker, which was looking at the other direction, to the Metallians who were fleeing. It was visible now, it had no fields. Claudius slid down his visor and the reticule turned red – the thing was now a big, ugly target. He shouldered his pilium, steadied it and squeezed the trigger.
The spearhead flew off and exploded on the Stalker's side. Sparks erupted from a wound on its hull and the thing staggered sideways as though punched. But it did not fall. Instead, it turned around and regarded Claudius with its blood red eyes. They narrowed.
Claudius ran for his life as the ground behind his feet was melted by the stream of needles. He screamed, but his screams were drowned out by the ear-splitting hiss of monolecular steel. He did not even look back, he ran for the trees that would give him nominal cover. He ran to the trees and went low, crawling under the high roots of a few giant mangrove trees – like the ones Steve and they used for cover a while ago. But tree after tree was uprooted, trunks were liquefied and plant matter flew everywhere as the Stalker silently made its way to him. Claudius crawled under the roots, clawing at the mud and grime, the muck and dirty water. But it was all for naught as the tree he was under was uprooted by the Stalker.
The thing bent low and looked at Claudius. Claudius turned around and looked back. He panted, his lungs were on fire. His neck was still hurting from the choking he received. He tried his best not to shit himself looking at the monster-machine, trying not to shit while his legs slowly pushed him away from the thing.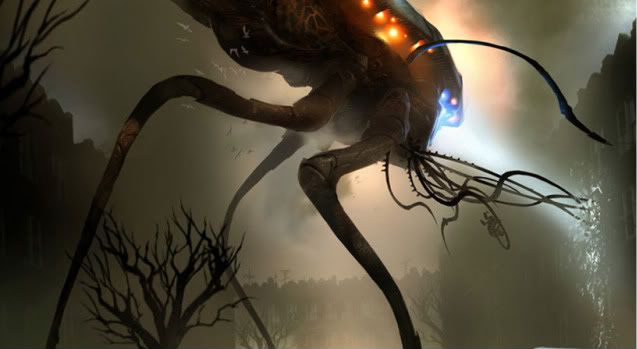 Slowly. Slowly the Stalker's insectile eyes narrowed and a tentacular appendage slid out from beneath it, long and slithering. It neared Claudius leg, probably to clamp on him and pull him to the air to have the thing flay him alive in front of his comrades.
Suddenly, the leg withdrew and the Stalker looked at something behind Claudius.
Claudius turned his head.
It was Manius. On his shoulder was a Metallian's pilium.
The Stalker's insectile eyes of glowing red narrowed. Then its face exploded.
It fell to the mud, finally dead. Claudius gasped for breath and was pulled up by Manius. He slapped Manius' back. Claudius shook his head in disbelief.
"Attaboy, Mannie."