For reasons I cannot figure out, LDD won't connect to the Internet, even though I am (obviously) online. Very annoying, especially because this, my latest effort, could be upload and bought!
EDIT: Of course, ten minutes after I post this, LDD now gets online.
The price of the model, as designed (with the modifactions from the images as noted below) would cost me...USD$97.95!
EDIT2: For comparison, the official Lego Prisoner Transport set costs... '
Sorry, item is not available in this country: United States.
' Oh well...
Anyway, I was redoing my police van, to make the front end and the wheel base look more like the current crop of official Lego City Police vehicles. Specifically, the
Prisoner Transport
. While I was at it, I came up with a new lightbar scheme, also based loosely on official products. It ended up being a complete redesign in the end!
For the initial view: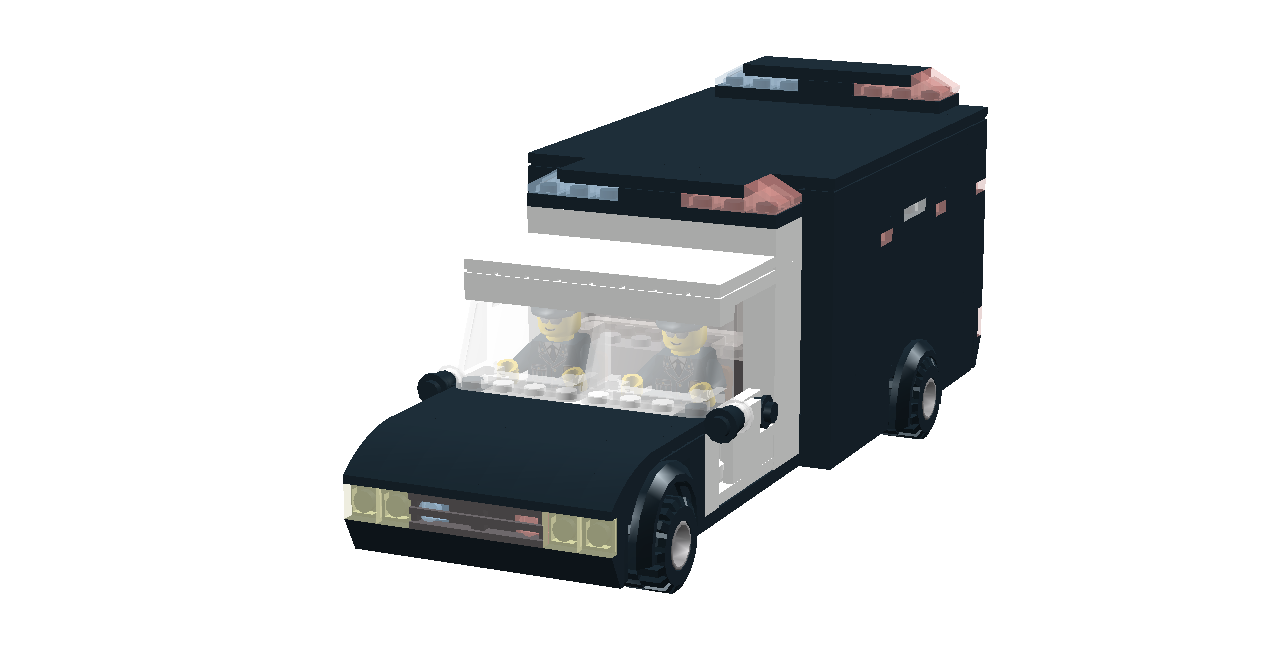 Initially, I did what the official model did: used angular bricks for the front hood. But I wasn't a fan of that, so I went and used the bow bricks as I did the police car. It ended up looking better, and now the windshield sits on the 'hood' instead of being one brick lower like it used to be. I really like the new front end design, loosely based off official products, though as you can see I put roof tiles angled up on the bottom, instead of having lights right on the end. It was interesting, as I used two transparent blue angles, and then a red transparent flat tile, but I decided I wanted more of a bumper along the bottom.
The other side: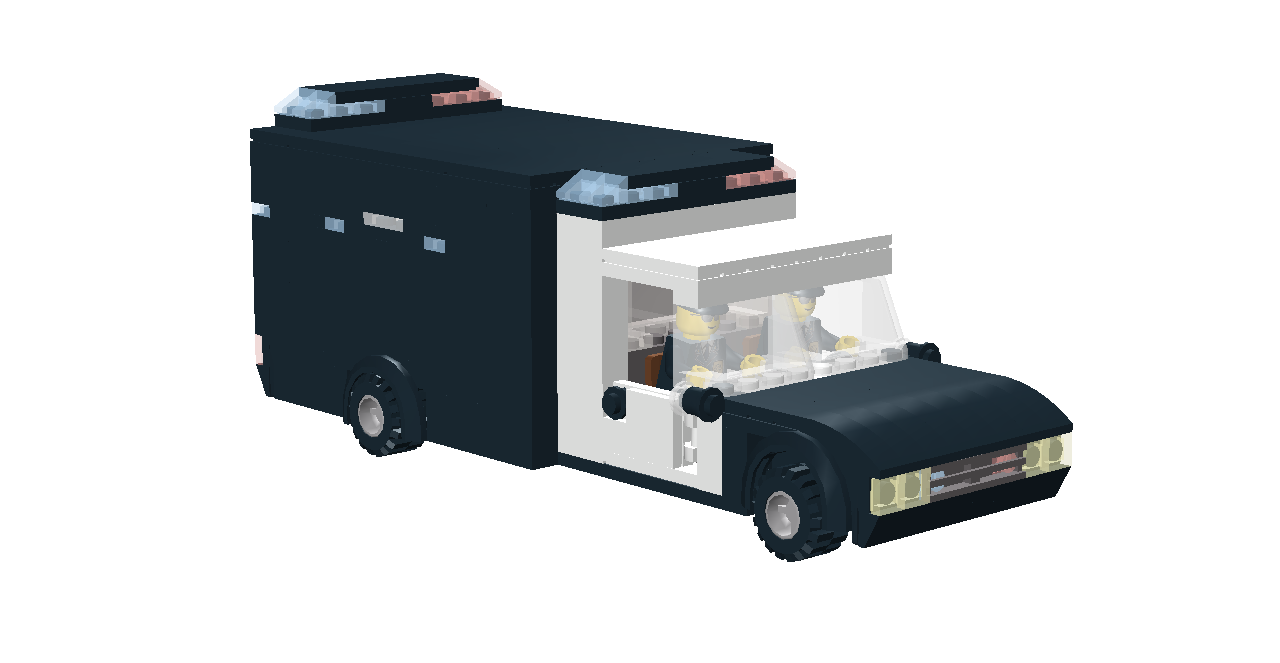 The only real comment I'll make here is that I added that 1x2 clear tile just so it'd have those side lights you see on ambulances and SWAT trucks.
A front view: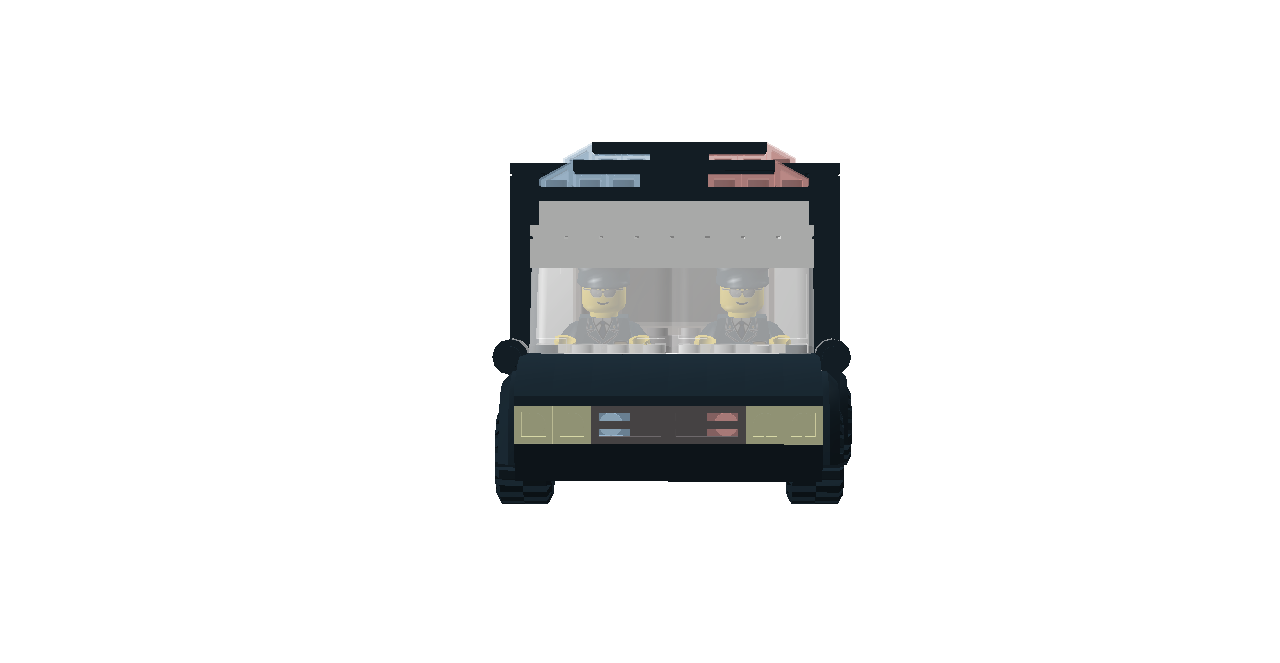 For the grille lights, flat tiles look better, but there isn't one for transparent blue in LDD. Were I to buy it, I'm sure I have trans-blue flat 1x1s somewhere and would likely replace it.
Rear view:
I have no idea what the official model's rear bumper looks like, so I winged it. It is sort of like the front bumper, though I added backup lights and a license plate. I like the license plate for the fact it's recessed into the bumper a bit, something fairly common among vans and trucks that I've seen. Also, the rear bumper makes a nice little step into the rear compartment. An actual minifig would be on "tip toes" trying to climb it, but as anyone who has enough Lego experience knows, trying to scale to those little bastards is simply making it "good enough" rather than absolute.
The rear compartment opened: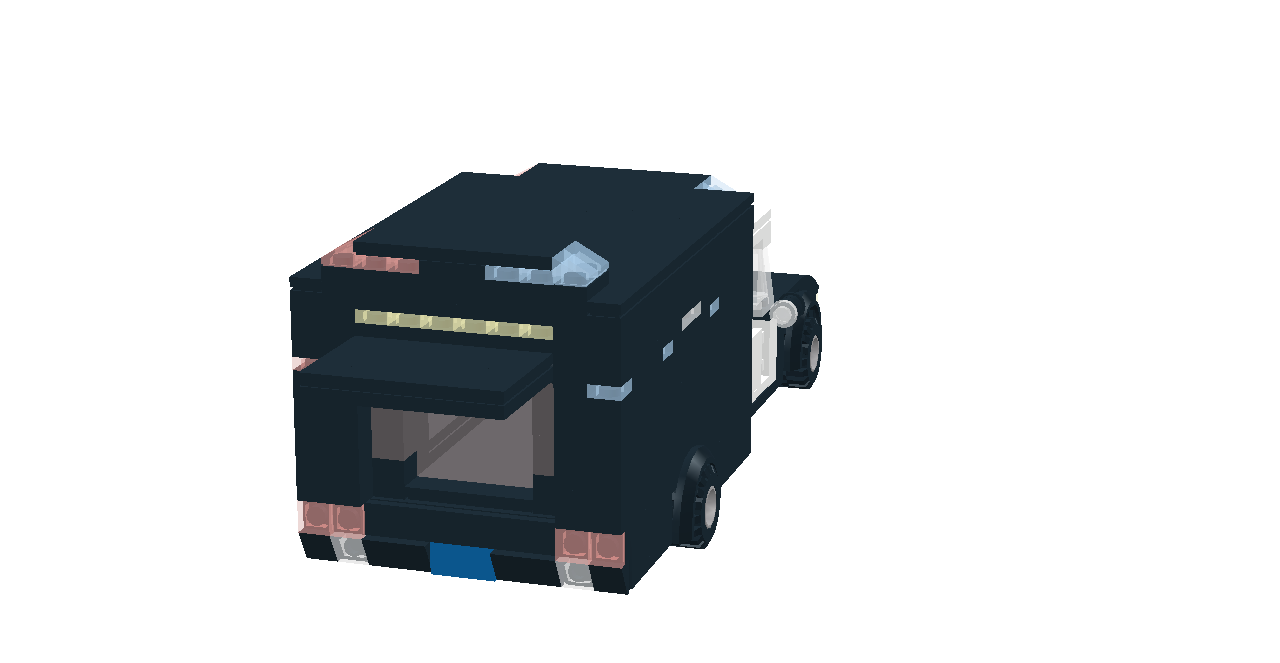 That's the extent it'll open to, and when closed because of the columns on either side, it'll only close to being reasonably flush. Which is, of course, how I wanted it. Whether it'd be perfectly straight in real life I don't know. And of course there is the question of how to open it without the hinge tool: I figure I'll replace one of the flat 1x6 tiles with a pair of 1x2, and in the center the connector with one 'stud' on top, then use those little circle thingys as a handle. Good enough to get your finger open and lift, anyway.
Since the idea only just came to me as I was posting this, I went back into LDD and did it. It doesn't look too bad. I'm doing an ambulance in this design, which is basically a repaint job with some modifications, so if/when I post that you'll see the knob. I just don't feel like uploading new pics.
A better angle inside the compartment: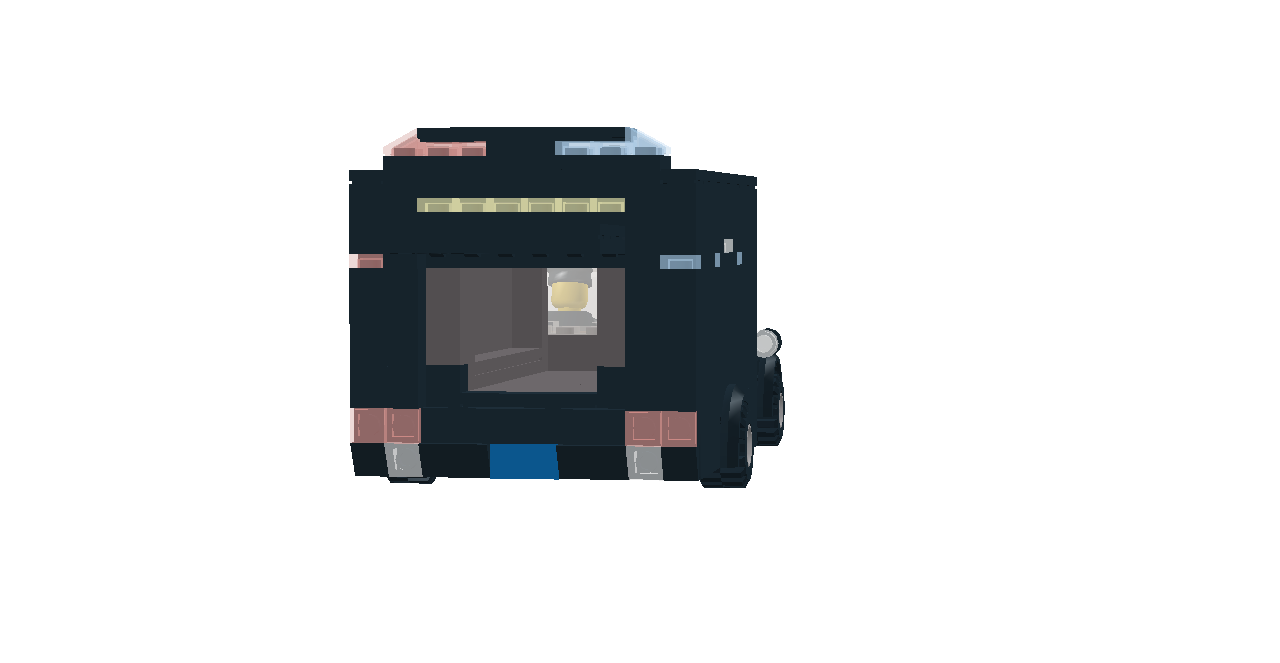 You can see the little half benches, the dour gray, and the window so the officers can see what's happening in the back, while still being safely isolated from the Bad Guys. This was present in the old version as well.
All in all it's a semi-multipurpose design. You could use it as a SWAT truck (obviously the guys inside could open it, or just use it for gear storage, but that's a difference you can't model in Lego mode), an ambulance (as I did with a "version 1" of this design already) or anything else that's some funky van/truck combo.
I'm working on redesigning the police car with this style bumper. I already have the front bumper done (and is where I had the inspiration to make the bottom row into roof tiles and retain the grille lights) but the rear bumper is more of a pain, because of needing to work around the trunk. But I'll keep at it and see what I get.
And, naturally,
whore out
show off here.
---

"How can I wait unknowing?
This is the price of war,
We rise with noble intentions,
And we risk all that is pure..." - Angela & Jeff van Dyck,

Forever (Rome: Total War)



"On and on, through the years,
The war continues on..." - Angela & Jeff van Dyck,

We Are All One (Medieval 2: Total War)




"Courage is not the absence of fear, but rather the judgment that something else is more important than fear." - Ambrose Redmoon

"You either die a hero, or you live long enough to see yourself become the villain." - Harvey Dent,

The Dark Knight