More photochronicles from 1993: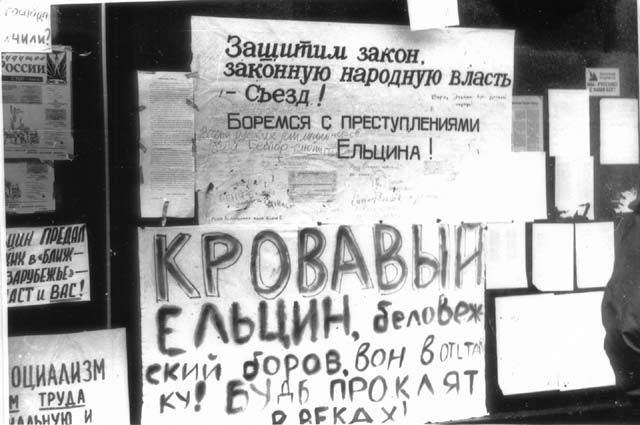 Posters on the House of Soviets:
"We defend the Law, and the power of the People! - the Deputees."
"Bloody Yelsin, the fat pig of Belovezha (referring to the Belovezha accords where Yeltsin's clique decided to dismember the USSR - SB), be impeached! Damned shall you be in all ages!"
"Yeltsin has betrayed russians in our "neighbor states" (the CIS - SB), just as he betrays you!"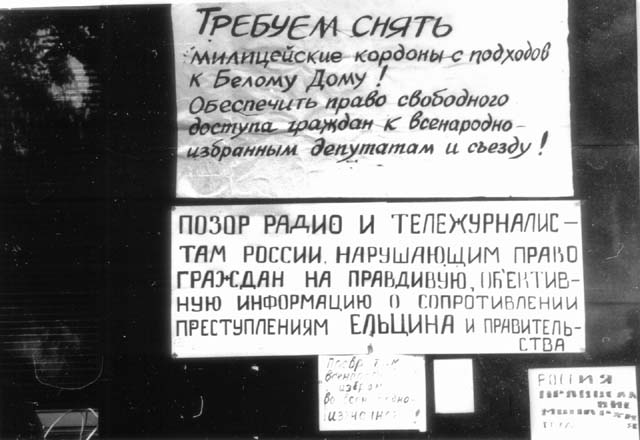 "We demand that the cordones around the White House be lifted! To allow the citizens to freely contact the nation-elected deputees!"
"Shame to the citizens and journalists who cover up, break the right of Russian citizens to objective and truthful information about the resistance to Yeltsin's crimes".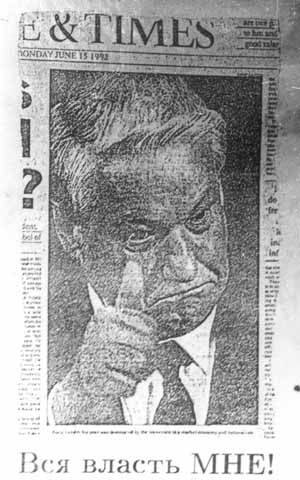 "All Power be MINE!"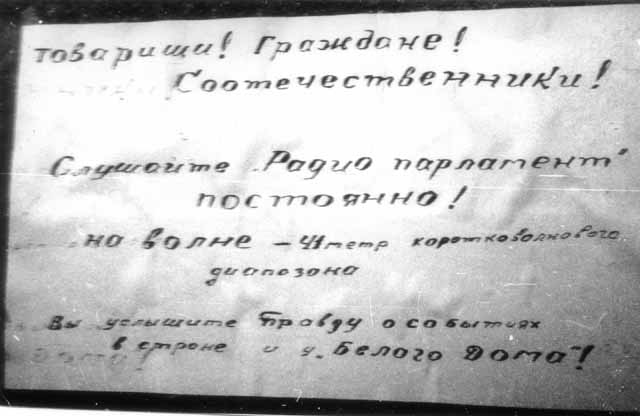 "Comrades! Citizens! People of the nation! Listen to the Parliament on the Radio constantly, on the 41 short-meter wavelength! You will hear the truth about the events in the country and in the White House!"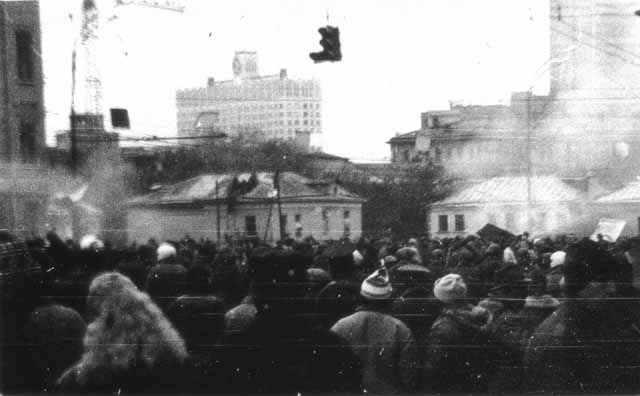 A glimpse at the meetings.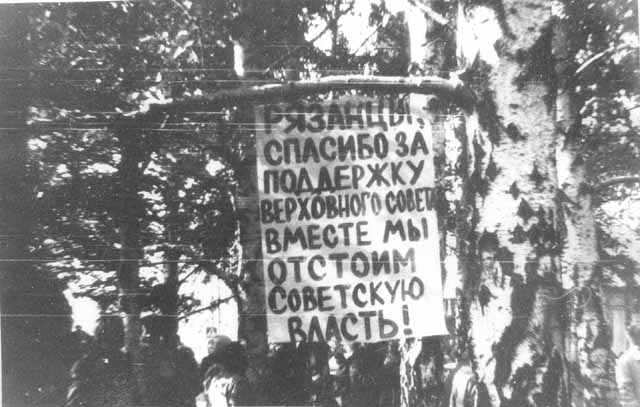 "People of Ryazan! Thank you for your support! Together we will defend the Soviet power!" - a thank you poster for the people who came from faraway cities to take part in the defense of the White House.
Rioteers want access to the White House which is cordoned for days.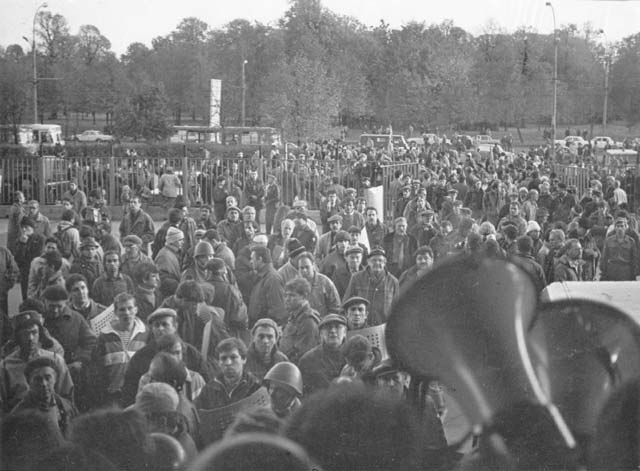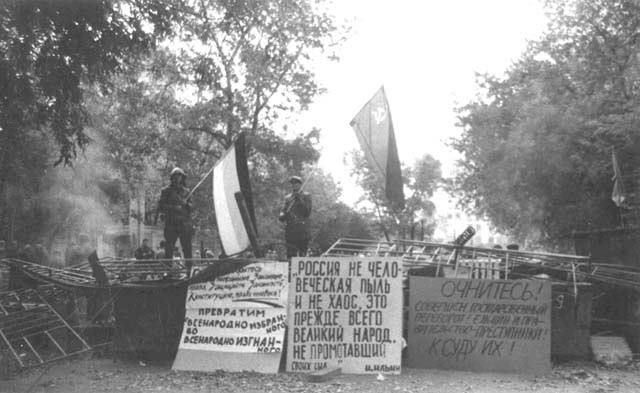 People on this barricade were the first defenders of the White House to die from the thousands of murdered.
The Constitution burns. The Parliament burns. All power shall be his...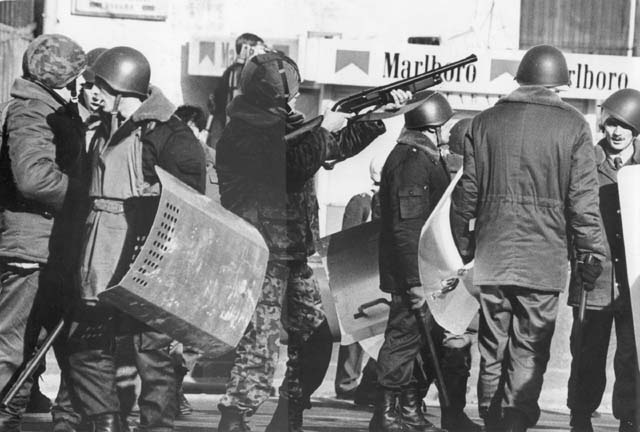 They murdered the demonstrants.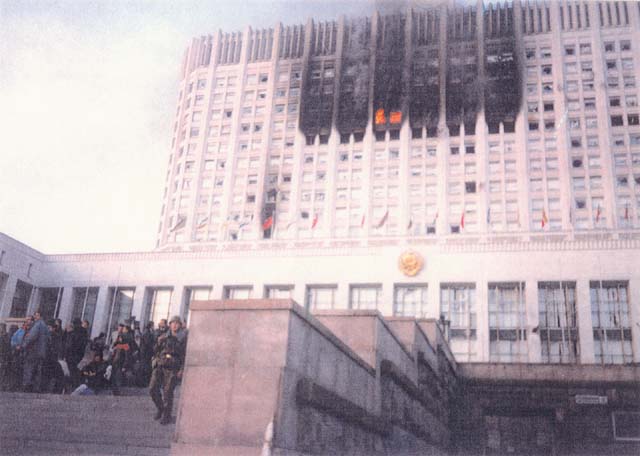 Deputees and defenders of the White House are being captured and led out of the building.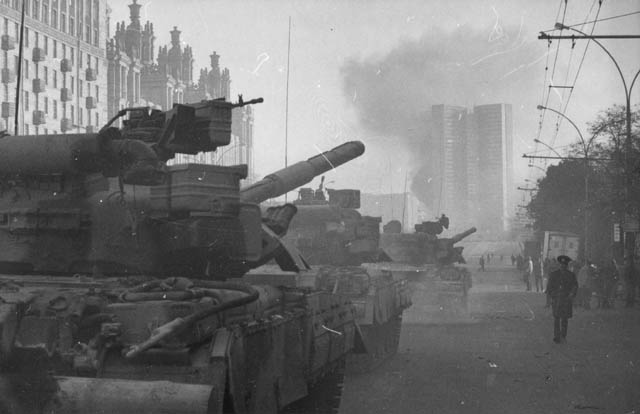 Tanks versus people.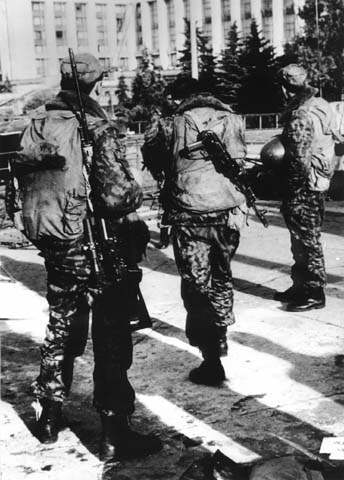 After the shelling. A sniper with SVD is clearly seen here. Soldiers shy from photos. Yeltsin said he wasn't using snipers against the White House defenders - another lie.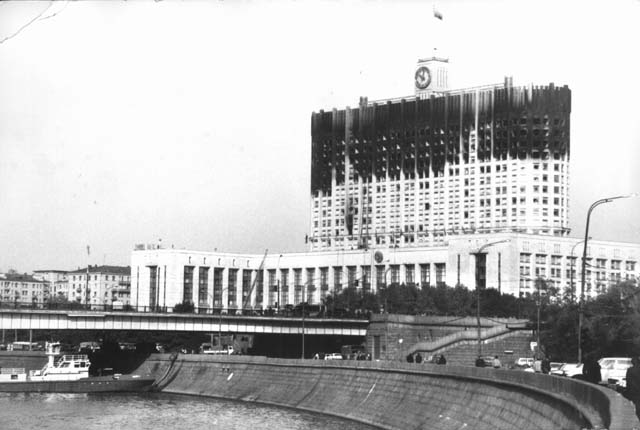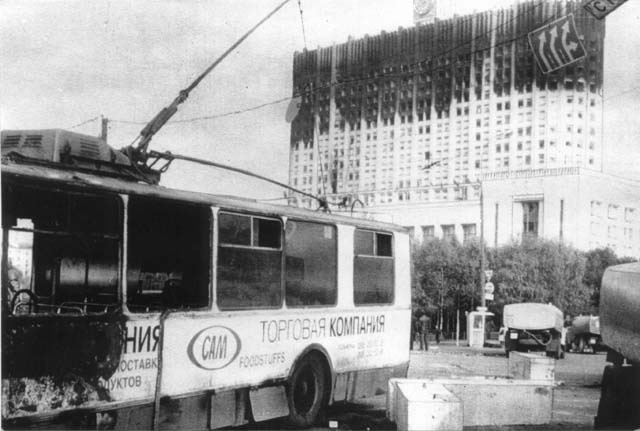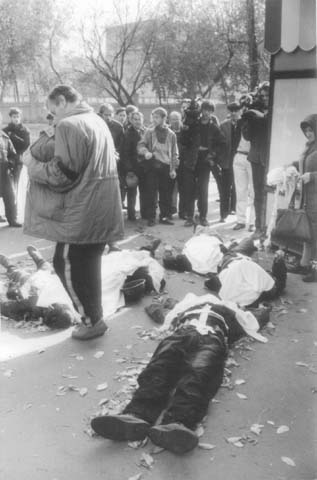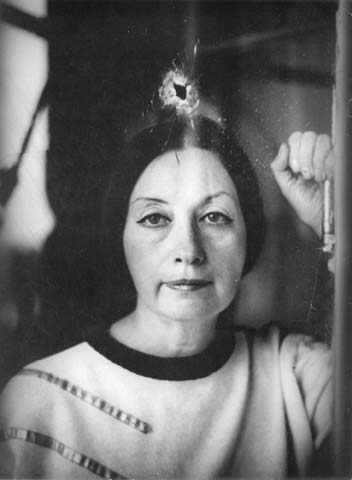 They shot on windows of nearby houses.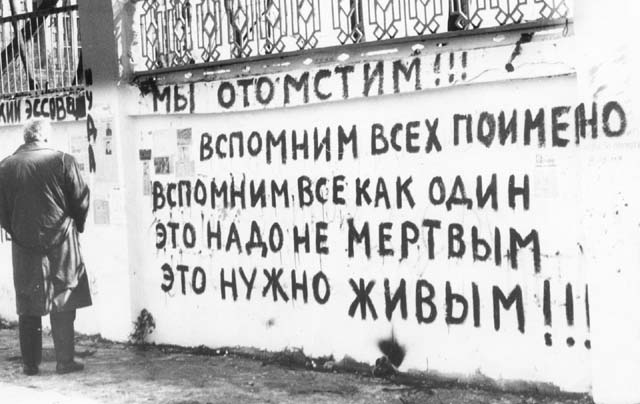 Stadium "Krasnaya Presnya". A memorial to the dead. "We shall remember all those killed".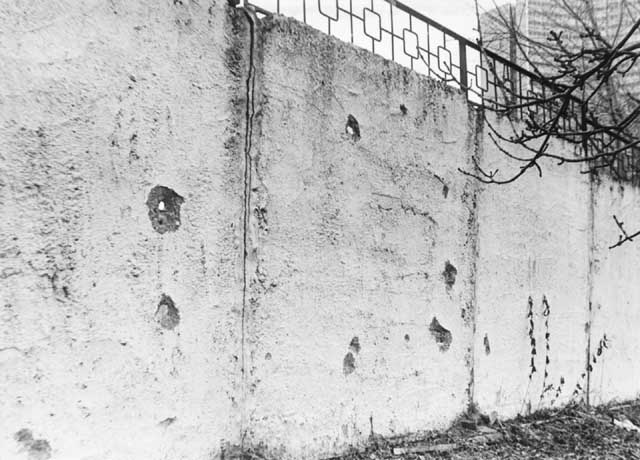 Wall of the stadium which was also shelled.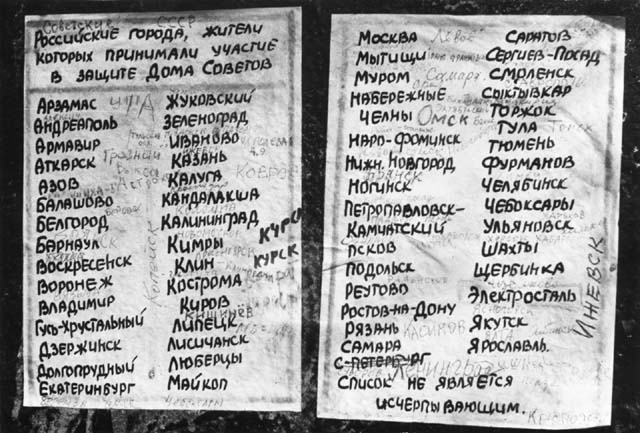 List of cities from which people took part in defense of House of Soviets. After the shelling on the Krasnaya Presnya.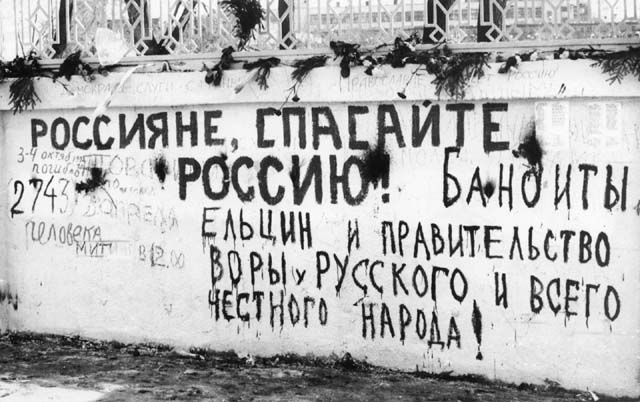 "Russians, please, save Russia! Bandits, Yeltsin and the government are thieves who steal from the people!"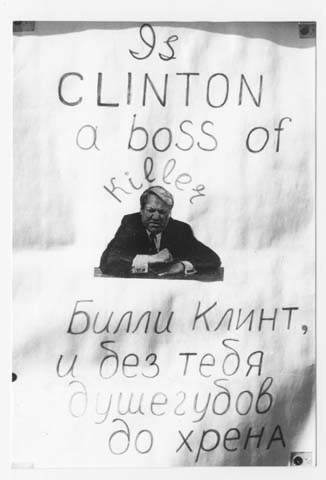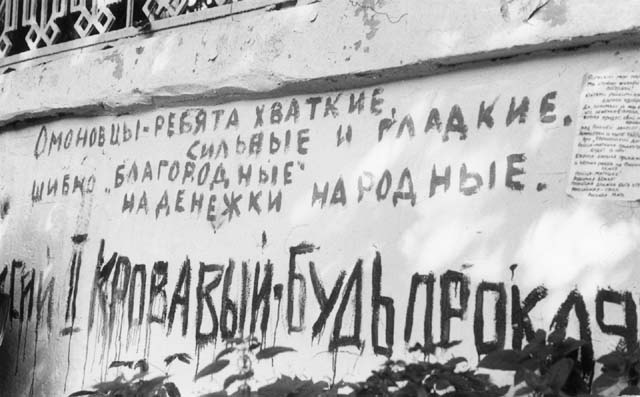 "Yelsin IInd the Bloody, thy shall be damned!"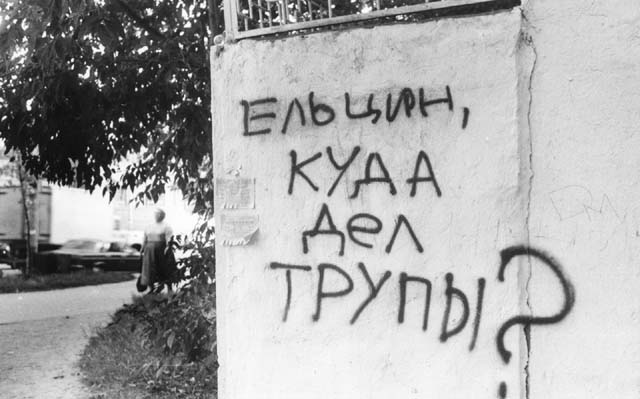 "Yeltsin what have you done to the bodies?!"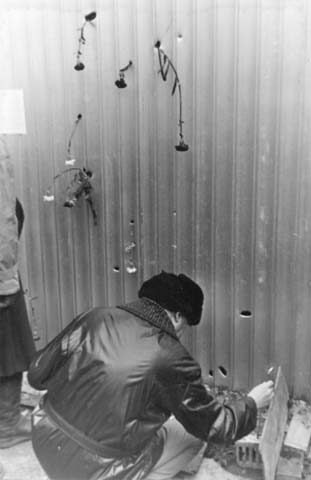 The gunned-down walls of the Stadium. Flowers are put into holes by people.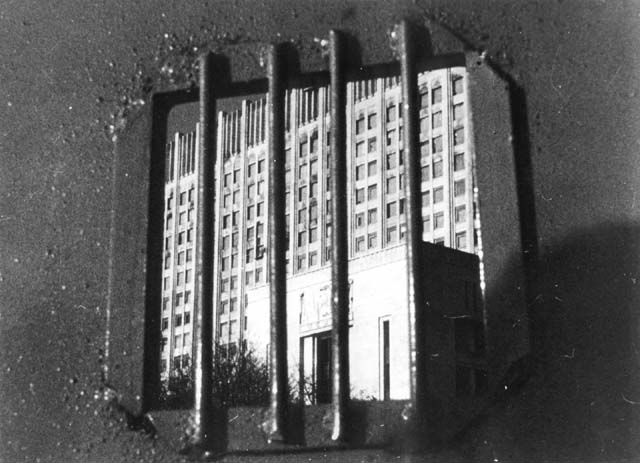 November 1993. The House of Soviets is surrounded by a complete steel fence. No one is allowed.