"There are those who believe that life here began out there, far across the universe, with tribes of humans who may have been the forefathers of the Egyptians, or the Toltecs, or the Mayans. Some believe, that somewhere beyond the heavens there may yet be brothers of man who even now fight to survive..."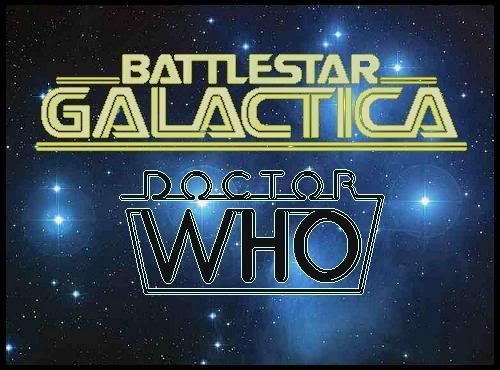 THE DOOMSDAY PLANET
Part One: An Unexpected Encounter
Somewhere in the depths of space a small blue and green like planet stood in its orbit, its inhabitants were scared, all their cities were suffering a global power loss, and something terrible was coming to their world. A dark shadow loomed over the planet as another but slightly larger planet approached ominously, within moments the smaller planet seas began to dry up, and the plant life began to die the planet itself disintegrated, all that was left was a rocky field of debris.
Somewhere on the drifting planet, in a dimly lit chamber, mechanical figures observed emotionless, a human hand operated some controls.
"Planet-14--Has Been--Destroyed--No Survivors--We Will Survive--We Will Survive---" an electronic voice rasped… The unknown planet continued its deadly journey...
Sometime later, the mighty Batttlestar Galactica led the Colonial Fleet into an uncharted solar system. On board Commander Adama sat in his quarters.
"It is now exactly one yahren since the destruction of the colonies, we have encountered a new ally, a proud reptilian race called Draconians. After helping them deal with Morok
Space Pirates, explaining our own plight, they have offered us protection as we travel through their territory. These noble creatures, thought highly arrogant and somewhat dogmatic, have also given us supplies and information regarding what little they know of Earth, which to say the least is not a lot, save a distant image of the planet we are looking for. Adding to what we have already learned. A blue and white planet in a system of nine, orbiting a yellow star. Our analysts are trying to enhance the image, however there could be thousands of such planets across the galaxy, I cannot help wonder if the Book of the Word speaks the whole truth about the 13 colonies as we have already encountered many more worlds inhabited by Humans than what's told of, most notably the planet Terra. As we near the edge of the Draconian Empire, their ambassador, who has just left us, has directed us to a nearby planet who might have more information..."
As Adama concluded his journal, the comline then buzzed.
"Sir, it's Tigh, we've just left Draconian Space, we have a problem, the planet the Draconians told us about in this sector, isn't here, just a massive asteroid field which will be nearly impossible to navigate the fleet through, we could blast our way through...but" reported Colonel Tigh anxiously as the stood on the command deck.
"But we don't know what's out there, very well send out a Viper recon probe, I doubt our Draconian friends would have lied to us, but still, we have a missing planet to find" Adama replied…
Moments later Starbuck, Apollo and Sheba launched their Vipers, as they flew through the asteroids they talked about recent events.
"God, That Draconian Ambassador!" exclaimed Sheba irritably.
"Don't worry about it, I'm sure he didn't mean to treat you and Athena as second class beings, not everyone is as enlightened about female rights as us" laughed Starbuck.
"Are you getting any readings?" asked Apollo.
"Nope, not a thing, other than these rocks" replied Sheba.
"Me nether, I think the Galactica can blast her way through" confirmed Starbuck.
"Hang on, I'm picking up something... odd, I'm going to investigate"" realized Apollo sweeping on. Pulling up side-by-side Sheba and Starbuck looked at each other with concern.
Apollo's puzzled voice spoke though their comlines. "You're not going to believe this..."
Apollo couldn't believe his eyes, all his years as a pilot, he'd seen some of the weirdest things out there but this was off the scales weird. A tall blue box with a flashing light spun just ahead of him, it didn't look dangerous, however Apollo know all to well how appearances could deceive. Drawing closer he could make out some of signage on the object "POLICE PUBLIC CALL BOX", he read "A Police Call Box?" Wondered Apollo to himself "Could be some sort of marker I suppose". Just then he heard a strange eerie sound, a sort of pleasing wheezing "ka-vorping" sound unlike anything he'd ever heard before, the mysterious box then faded out of existence as did the sound.
"So what was it?" questioned Starbuck as Apollo rejoined them.
"Buddy, you wouldn't believe me if I told you" replied Apollo.
"Do you think it's dangerous?" asked Sheba.
"Well I doubt it, besides it's... gone now," replied Apollo.
The Vipers Pilots then continued their investigation, their ships then began to tremble as an unseen energy struck them.
"We're in trouble, something is pulling our ships!" realized Starbuck.
"Hold on!" cried Apollo.
The Vipers then went dead in space...
Back on board the Galactica, out of nowhere, the mysterious blue box materialized corner of the Launch Chamber, one of its doors opens and a tall figure stepped out, the man wore a heavy Burgundy coat and an incredibly long scarf, he also had a mop of brown curly hair and piercing blue eyes.
"I wonder where you've taken us to this time" he mused, surveying the chamber, luckily no one was about, the stranger then spied the Viper "ahh Impressive" walking over to it.
"It's just like the one we saw in the asteroid field," said a well-spoken woman's voice from within the box.
"Indeed, Romana? You know you don't have to use the viewer to look, it's perfectly safe out here," The strange man pointed out.
A blond young looking woman popped her head out of the door of the Police Box
"I'm just recalibrating the dimensional stabilizers, K-9's helping me so it won't take long," she then returned to what she was doing, the strange man shrugged indignantly, he pulled out a silver rod like device and continue to inspect the Viper.
At that moment Boomer walked into the Launch Chamber and spotted the strange man, who was now crouched, with his back to them, looking into an opened hatch in the underbelly of the Viper, the two Viper pilots looked at each other in puzzlement then whipped out his laser pistol.
"Ok pal, hold it right there, stand up slowly, hands raised and turn around, slowly" demanded Boomer, the strange man did as he was told "now drop that thing in your hand" continued Boomer, the man then dropped the silver rod to the floor.
"It's just a screwdriver, perfectly harmless I can assure you," protested the stranger innocently.
"Who the hell are you and what are you doing here? This is a restricted zone," said Boomer cautiously
"I'm the Doctor and I was just admiring the workmanship of your starfighter" the stranger replied beaming a toothy grin.
Meanwhile inside the Police Box which was considerably larger than the outside, the in a brightly lit many sided room, the blond woman, Romana, stood by a mushroom shaped control console, she watched in concern what was going on, on a large viewer, she knelt down to a metallic gray robotic dog.
"K-9, the Doctor is in trouble again," she told her mechanical friend.
"Understood Mistress" K-9 replied, as the robotic dog trundled outside.
"You better come with me, the Commander would want to talk to you" insisted Boomer forcefully.
"Certainly, there's no need to be aggressive" replied the Doctor, tired of being questioned, just then Boomer heard a noise behind him and he spun round as K-9 positioned himself before them and extended a tube from his snout.
"What! Are the Cylons making daggits now?" exclaimed Boomer in surprise, before they could react K-9 fired a red beam at them, the Viper pilot then collapsed unconscious.
"Hostile element have been neutralized" K-9 noted.
"Was that really necessary?" scorned the Doctor half-heartedly.
"He is merely stunned, Master" replied K-9.
Romana came out of the Police Box and trotted over to the Doctor and K-9, why were the lights dimming? She wondered to herself aloud.
"So much for the welcoming committee, I don't recognize the uniform. Do you know who they are?" Romana sighed looking at the pilot.
But the Doctor wasn't listening he was looking at his out stretched hand that was trembling
"Something's wrong, can you feel it Romana? I've felt this before" he realized, suddenly the whole ship shuddered violently.
The effect was as if a massive ripple across the entire Galactica, passengers and crew steadied themselves, there was much confusion it the command centre.
"What has happened?" Adama exclaimed.
"I don't know sir, something's pulling the ship and the fleet off course and into the asteroids," replied Tigh.
"Have Apollo, Starbuck and Sheba returned yet?" he then asked Athena.
"No they haven't returned yet" she replied.
Back in the launch chamber, the Doctor and Romana picked themselves up
"What was that?" questioned Romana dusting herself off.
"I think this ship in terrible danger" said the Doctor, "Romana look after those two, K-9 your with me, I've a bad feeling about all this" he continued, marching off to find the ship's bridge, followed by K-9, Romana smiled warily as she carefully removed the Viper pilots weapons.
Council Security Officer Reese sat, hunched against the bulkhead, he had a nasty gash on is forehead and he felt concussed, his vision blurred as a figure entered a corridor and swept over to him.
"Easy there old chap, that's a nasty bump to your head there" said the Doctor reassuringly in his warm deep voice.
"I better get you to your sickbay, here have a jelly baby," he added offering the officer a red coloured jelly sweet from a paper bag, Reese looked uncertain.
"It'll help with the shock," he continued, Reese took the sweet and popped it into his mouth, and then the Doctor helped him to his feet "K-9 locate the nearest medical facility" he requested.
K-9 went over to a nearby computer terminal and extended eye probe.
"Medical facility located, it is not far from here" K-9 informed them as he headed off.
"th-thanks" said Reese as the Doctor dragged him along, following K-9...
The three Vipers that were in space drifted limply, "what the frack was that!" cried Sheba as the pilots rectified their craft.
"I don't know, but it's pulling the fleet into the asteroids," replied Apollo.
"Well at least we can tell them they can blast their way through but it's going be hell of a bumpy ride" Starbuck pointed out, as they headed back to the Galactica.
At the Command Centre, Rigel informed Commander Tigh, that the Vipers that had been sent out, were now returning.
"Sir Apollo says it's safe to blast through" she then told Adama.,