As a general rule an army wants it's people to be in good physical shape, a healthy soldier can perform better than an unhealthy one in marching, working and fighting. It's a simple fact that you can easily intuit. For this reason it would come as a shock that during WW-2 these were a common part of all US military K-Ration packs.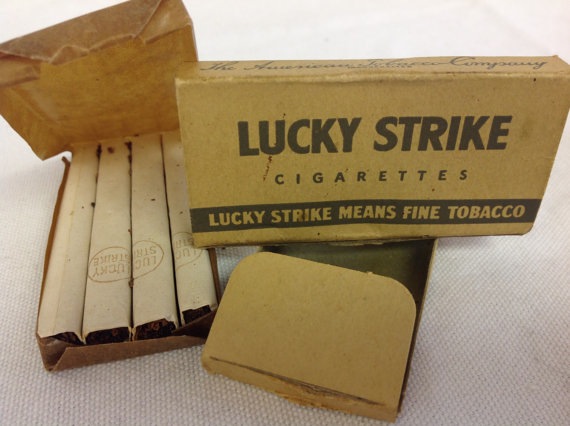 A measure which comes across to modern eyes as being a highly self destructive one: spending time, money and resources to distribute materials which only serve to make soldiers weaker, more vulnerable to detection and night, put them on edge when they would inevitably have to go without them for a time and increase the risk of fires and explosive accidents. But one must consider the time-frame: the full effects of Tobacco were not well known at the time. The link between Lung Cancer and Tobacco Use was first identified in 1939 by a
doctor living in Nazi Germany
, which would not be confirmed by Non-Nazi sources until 1950 (and latter Vehemently denied by the Tobacco Lobby and their stooges despite everything) and so tobacco usage was more common. But the bigger issue was a matter of marketing.
We'll start in the Great War various companies on all sides sought to capitalize on the nationalistic spirit being stirred up and show that they supported their troops by sending items to help the troops, appearing patriotic and hoping to hook the victorious soldiers on their products post war. Tobacco companies were no exceptions to this, selling cigarettes to the military to sell to soldiers through quartermasters and encouraging people to send cigarettes to the troops to show their support for the war effort.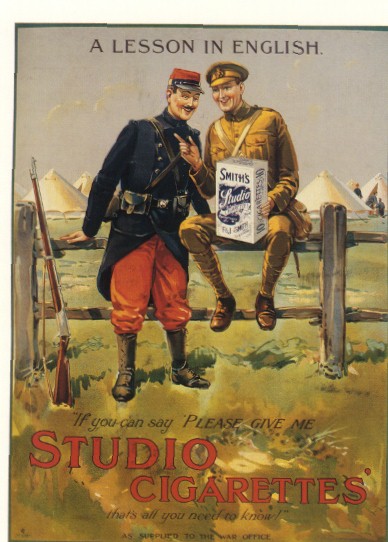 Smoking was sold to soldiers as a "way to relieve stress" and they endeavored to use the smoking soldier as a strong masculine symbol to sell their products, an image which managed to survive the war and came back in force. During WWII this policy had spiked to the point where they'd convinced the US Army to provide cigarettes to soldiers as part of their standard ration packs.
This move would survive the Second World War and continue, as would the cultural idea that Smoking was something that soldiers should do. In a display of remarkable bad judgement, a common thing that many drill instructors would do was allow short breaks in the training of soldiers short breaks if they had cigarettes and smoked them while having the rest of the soldiers continue on with exercises "Smoke em' if you got em, everyone else does pushups": a policy which went out out of their way to incentivize compromising behavior. It was only in 1975 that the US Military realized the stupidity of this policy and cut cigarettes from MCI ration packs.
There was push-back by the Tobacco Lobby attempting to defend "The Right To Smoke" through the 1980s, including attempts to provide soldiers with cigarettes in the gulf war, though fortunately they were driven back. There is still some lingering effects of these old campaigns in the military, with tobacco use being higher than civilian use, even with authorities discouraging this destructive habbit.
Zor