We all know that in the 19th century Steam Power was a big deal for transportation. It meant that you could build trains and steamships and could go faster than 20km/h. Even so, you might have wondered looking back "Why did they not that engine on a train, shrink it down and put it on a vehicle with a steering wheel to make a free roving vehicle?" Well it was not for want of trying.
Road going steam vehicles (which i'm going to call Roadsteamers for sake of simplicity) actually predate steam trains. This was a fairly logical path of development as while rail lines were at that point mostly limited to mines while there were plenty of (admittedly by modern standards pretty crappy) roads about for use by carriages and wagons. The first Steam Train was made in 1804 by Richard Trevithick while the first first attempt at a roadsteamer was made in France in 1769 by Joseph Cugnot with this thing which he figured could be useful for towing about cannons.
It worked, in the sense that when fired up it would move under its own power and could be steered about. Even so it was in no way a practical machine. It slow with a top speed of 3.6km/h (for contrast most people can walk at 5 km/h) on top of a bunch of other issues such as having a poor firebox and boiler system which needed to be restarted regularly, being front heavy and a lack of brakes. The last of which brought this project to a crashing end.
In 1801 Richard Trevithick experimented with steam road powered vehicles including the Puffing Devil (a recreation of which was made by some historians)...
An all around better design than Cugnot's, but still with numerous deficiencies such as a lack of suspension and the fact that it was uncomfortable to drive. Moreover the orginal destroyed itself when he went out to the pub one day and kept it running while parked which caused pressure to built up. Even so he was undaunted by this and in 1802 refined his work into the
London Steam Carriage
.
Now we've gotten into something which, while a bit wonky, actually looks vaguely serviceable in the capacity of a road vehicle that you'd want to ride. It has suspension, bra. It could also make a decent 13 km/h. Of course it still had problems. It's engine was still pretty damn inefficient and could only make 3 hp (which is less than what a pair of horses could provide) and it needed a horse drawn tender of coal to keep it stoked on trips of any length. Nifty as it was, it was not economical to run and a crash did it in. This did little to encourage confidence in investors in these road going contraptions.
Even so 19th century progressed steam engine technology became more widely applied and generally improved, becoming more powerful, more efficient and far less likely to blow up in the user's face. Among the areas in which they manifested themselves were in railways, which were more economical for transporting goods than small, slow road vehicles, each one requiring it's own mechanics and technicians and so forth. Despite this there was an area in which free range steam vehicles manifested themselves economically by the 1860s in a roundabout way, that of Steam Tractors. At the time a large amount of mechanically powered farm equipment to do things such thresh grain began to appear while things like rotary saws began to proliferate. To power these machines a number of portable steam engines were contrived that could be pulled about by horses to where they were needed. Eventually people got the idea to rig up these machines so that they could not only provide mechanical power, but also could be configured to move from point A to point B on their own and pull carts and similar. Aveling and Porter began manufacturing Steam Tractors in 1865 and soon people were doing the same in the United States and elsewhere.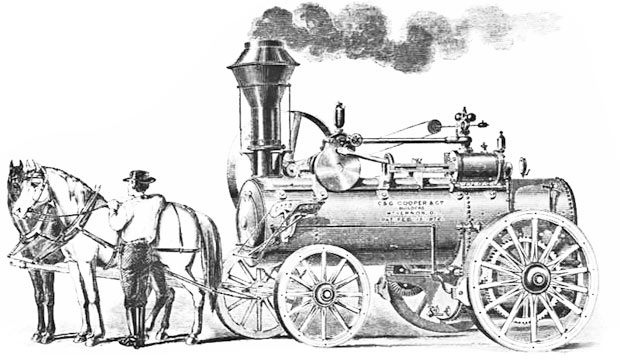 Such machines were expensive and slow, but they soon became economical. There was also some resistance to the idea of steam powered vehicles puttering around city centers making everything dirty(er) with their soot and fears of out of control.
This manifested itself most notably in Britain with the Road Locomotive Act of 1865, which stipulated that Roadsteamers could not exceed speeds of 6.4km an hour (and half that in cities) which put a severe hold on development in that field for the next four decades in the UK. Work would continue however in the United States (done by the likes of Sylvester H. Roper in 1863)...
...and in France (such as with this Steam Bus made in 1873 by Amédée Bollée called called
L'Obéissante
).
By the 1870s Roadsteamers had advanced by leaps and bounds from where they were at the dawn of the Age of Steam. The
L'Obéissante
could reach speeds of up to 42 km/h, had a 20 hp engine, and had myriad mechanical improvements in pretty much every field and Bollée would continue to improve on his designs. Other technologies were beginning to show up at this time such as rubber tires which improve the performance of any roadgoing vehicle considerably. They were finally coming close to practicality. Even so they soon faced distinct competition. In 1886 Karl Benz made the Benz Patent Motorwagen, the first internal combustion powered car.
While it's little early engine could not even produce one Horsepower, IC engines had a better power to weight ratio than steam engines, better fuel efficiency and had the advantage in that they could be turned on very quickly while a steam engine had to build up speed (which usually took about half an hour). Even so there was an explosion in the number of both types of vehicles and for about three decades Steam Cars were to some degree competitive with
IC engine powered cars.
Steam powered trucks endured for a bit longer in some narrow applications, but production of them ended in the 1930s.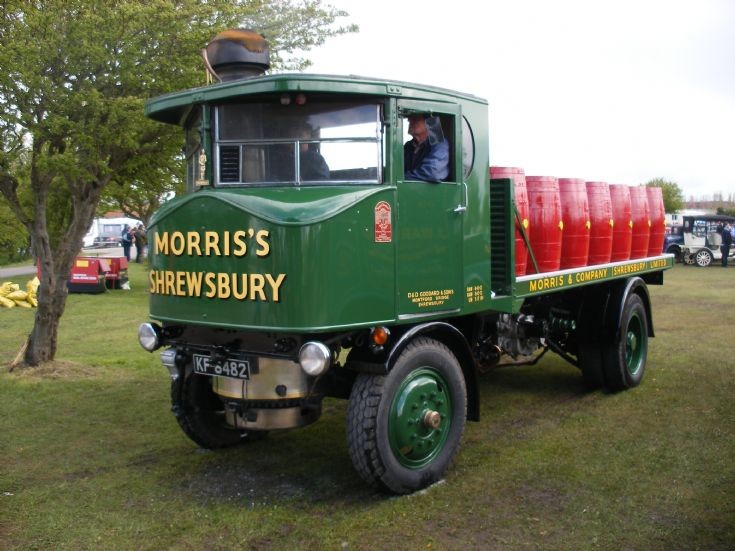 Zor