TES-3
Application
: Semi-Mobile Nuclear Power Plant
Country
: Soviet Union
Status
Actual prototypes built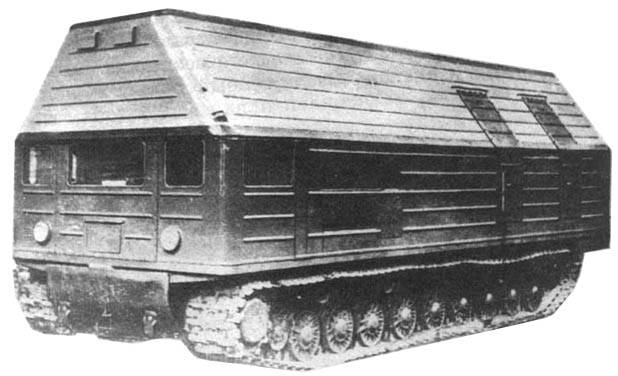 Photograph of TES-3 caterpillar unit
Page 1 of Russian Language Pub on TES-3
Page 2 of Russian Language Pub on TES-3
Page 3 of Russian Language Pub on TES-3
Page 4 of Russian Language Pub on TES-3
Page 5 of Russian Language Pub on TES-3
Page 6 of Russian Language Pub on TES-3
Source 1: From scientific search to atomic industry : modern problems of atomic science and technology in the USSR. By: AM Petros'iants
In the Soviet Union problems are studied regarding the use of small-size nuclear power plants for remote regions—regions located far from the power supply systems. Some examples are the areas of the Far North, dense forest corners of Siberia and the Far East. In these places, Diesel-type or thermal power plants are usually erected which are fired by transported liquid or solid fuel.
There are great difficulties connected with delivery of fuel to these regions. Therefore, for these regions small nuclear power plants could be expedient even today.
In the years 1961 through 1963 two small-size nuclear power plants were constructed: the TEhS-3, with a water-cooled and water-moderated reactor, and the ARBUS nuclear power unit, with an organic-cooled and organic-moderated reactor.
TEhS-3 transportable nuclear power plant
The TEhS-3 nuclear power plant, assembled with a large unit and with a water-cooled and water-moderated reactor of 1,500-kw capacity, was put into operation in 1961 in Obninsk.
It is very important that the construction and mounting operations for the nuclear power plants intended for use in remote areas be minimum at the place of operation. In this respect the TEhS-3 plant serves as an example: it was supplied from the manufacturing plant in a state ready for operation.
Practically all the equipment of the TEhS-3 plant is completed in four large units and positioned on four self-driven caterpillar platforms with heated car-type bodies. This makes it possible to operate the TEhS-3 plant without constructing special buildings, and preparation of the construction site is reduced mainly to the arrangement of the biological shielding. The total weight of the TEhS-3 plant equipment is 210 t (Table 5-1).
The weight and dimensions of the self-driven power units faciliates transportation by rail. The operation of the TEhS-3 plant since 1961 has confirmed its reliability, good controlability and easy servicing.
At present the transportable nuclear power plant is used as a research base for creating plants of a similar type.
Table 5-1. Performance of TEhS-3 portable nuclear power plant
Thermal power:
8,800 kw
Electrical power:
1,500 kw
Thermal efficiency:
17 per cent
Coolant:
Ordinary water
Coolant flow rate:
1,000 m3/hr
Coolant pressure:
130 atm
Coolant temperature at reactor inlet:
270° C
Coolant temperature at reactor outlet:
300°C
Steam parameters - pressure:
20 atm
Steam parameters - temperature:
280°C
Fuel lifetime:
250 days