With Curiosity rover making important geological discoveries on Mars, I done some browsing on the internet about Mars in general. While at it, I managed dig up this study called "Project Deimos".
This project, thought up originally by Philip Bono of the Douglas Aircraft Company in 1964 (FYI, they designed and manufactured many space-launch vehicles, like the S-IVB rocket used in the Saturn Rocket system), the idea of the "Deimos Project" was to design a space-mission and vehicle that could reach Mars under one spaceship, similar to the SASSTO (Saturn Applications Single Stage To Orbit) project the same company had came up with earlier, and the thing is said to be a modified ROMBUS (Reusable Orbital Module-Booster & Utility Shuttle) with a habitat ring and a landing module bolted on for good measure.
The Deimos ship could, in the scenario presented in the study, liftoff to Earth orbit with a crew of six in 1986, where it would top off its fuel tanks and then sent off to Mars. Upon reaching the red planet, the landing module, which looked rather like an oversized Apollo command module, would leave the mother ship and land for a twenty day recce of the surface before the crew used the ascent module in the nose of the lander to return to the mother ship and then back to Earth 830 days after departure. The mothership is reusable, by the way.
For more information, here's the entry on Encyclopedia Astronautica:
http://www.astronautix.com/craft/proeimos.htm
And some pictures: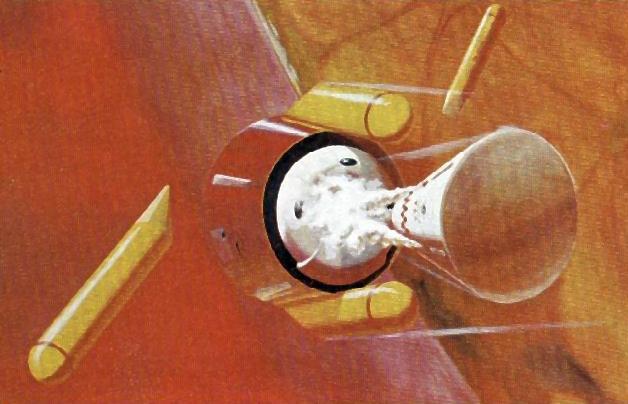 SASSTO and ROMBUS:
http://en.wikipedia.org/wiki/Douglas_SASSTO
Naturally, being more than 30 years old and came before even the Moon landings occurred, it never got off the paper. How is it?