I'm sure you can figure out which person in this picture is me and which is Mrs. Johnson (I usually addressed her as Mrs. Johnson, even though she said she didn't mind Evelyn or Mama Bird). If I recall correctly, she was around 95 in this photo. I hope I look that good at
80
, nevermind 90 or 95: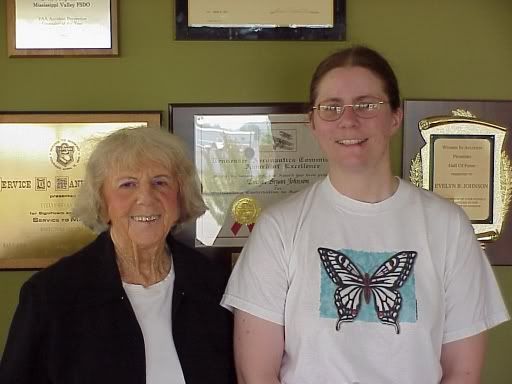 When you walked into the Morristown airport FBO what you saw was a rather ordinary lounge area, a desk for doing business, and as often as not an old lady on the couch watching
Wheel of Fortune
or something (
Wheel
was definitely her favorite game show). You also saw an incredible number of plaques and awards on the wall (some visible behind us, of course). They were, of course, Mrs. Johnson's. I don't recall her ever pointing them out to someone spontaneously, or talking much about them, but they were there. That's sort of how she treated the whole business about fame and accomplishment - there, if you commented on it she'd be happy to talk about it, but she didn't normally start the conversation. She was proud of what she had done over the years but she didn't rub peoples' faces in it.
Here I am renting an airplane from the FBO and simultaneously taking advantage of Mrs. Johnson's expertise and advice: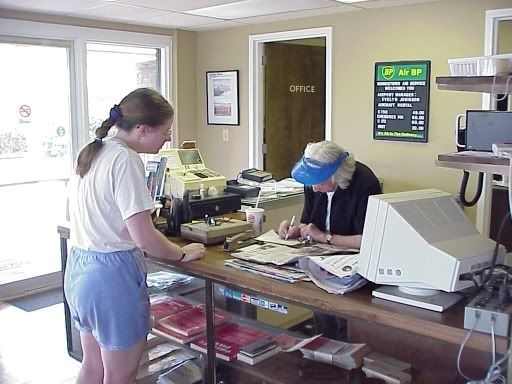 This was my first time renting an airplane in Morristown. Morristown is at a higher elevation than my home area, and is set amid the Appalachian mountains rather than the Great Plains. Not knowing just
who
the airport manager was there I went in with my logbook and stated my desire to check out on an airplane there, and immediately followed up with stating I was a flat lands pilot who probably didn't know enough to know what I didn't know and I'd like to speak with someone familiar with the area regarding hazards and things I should be aware of when flying in the general area. The kindly old lady behind the counter gave me a smile and said she'd been flying herself in the area for some time now and would be happy to give me some pointers.
And that's when my spouse, having been occupying himself in the background while the family pilot did the pilot stuff, came up and asked the kindly old lady if she was the same Evelyn Johnson on all those plaques and telling me "Hey, that's Mama Bird!"
Oh.
Well, yes, I guess she
did
have some pointers to give me. Yes, yes she said, playing the modest Southern Belle, she was Mama Bird. Then proceeded to quiz me on my flying experience, where/what conditions I'd flown in, the type of airplanes, and if I had anything in mind for flying around the area. Her questions were precise and efficient. I said I had plans to take the in-laws up for a flight in the next day or so and would welcome any suggestions for routes that would be interesting for flight seeing.
A word about checking out in an airplane - when you rent an airplane they do ask to see your license, and also your logbook (hence, I was carrying mine) but they will also insist on you taking one of the local instructors along for a 15-20 minute flight during which you demonstrate you actually have the skills you claim. In this case, it was also to familiarize me with local conditions. Since Morristown's elevation was several thousand feet higher than my home base the air was thinner, enough to affect airplane performance. It would take a longer distance to take off, and longer to finish the roll out on landing. In addition, the the Morristown runway was flat, but it wasn't exactly level - one end was at a slightly higher elevation than the other, sometime not terribly uncommon in mountain areas but largely unknown where I came from. It wasn't extreme, but she cautioned that it would be enough for me to notice and would probably bother me the first time even though she said anyone with a license should be able to handle it with no problem. More important, she said, was to understand that wind conditions were much different in Tennesee than Illinois or Indiana. Out on the plains high winds (relatively speaking) had few obstacles and would usually blow in a steady manner. You could have high wind without turbulence. In the mountains the landscape was much more likely, practically certain, to stir up turbulence in windy conditions. While I might fly a Cessna 172 (what I was renting on that occasion) in 20-25 knot winds around Chicago, around Morristown I would find even a 15 knot wind much more challenging due to the turbulence involved. She really strongly suggested I not fly in winds over 15 knots in the area, and really keep to 10 and under. She also pointed out that wind speeds also tended to be much, much lower around Morristown than around Chicago so that wasn't as limiting as it might sound. (Note that those speeds are as best I recall the conversation - I didn't write this down and it was some years ago).
Between the two of us we worked out a route for the local area that would be safe, incorporate some nice scenery, and had some good visual landmarks for navigation. The plan was to fly that as a check out ride, and as a dress rehearsal for flying the in-laws. I was cautioned about wind currents over local mountains (keeping in mind these weren't the Rockies or some snow covered peaks, they are still high points in the landscape and capable of generating effects like mountain waves and so forth that can be hazardous to airplanes), flying into valleys, particularly the hazards of flying up-valley, and how to execute an emergency landing on uneven landscapes dominated by trees rather than flat farmfields. Just in case.
As it happened, Mrs. Johson was already scheduled to fly with someone else that day, so my check-out ride was with a local instructor recently retired from the airlines. She reminded him that a C-172 was not the B-747's he was accustomed to, and that flaring at 50 feet on landing was not appropriate. She told him to let me handle the approach to landing ("she actually has more two-seat and four seat Cessna time than you do, young man" - the young man being 60 years old) unless I was obviously screwing up, but that he should definitely be on guard during my required full-flap go-around. Mrs. Johnson required "flat land" pilots to demonstrate a full-flap go-around emergency procedure on check out rides. Some people resist this, because quite a few people don't normally use full flaps on a small Cessna, and with thinner air it requires better management skills. Of course, that's why she required it - her reasoning was that if a flatlander could properly execute a full-flap Cessna landing at Morristown they had a proper understanding of conditions and full control of the airplane. I really can't argue with that. Of course, it was also one of the more likely places for the flatlander to not quite come up to standards, hence her reminder to the guy in the right seat.
I handled it quite fine, as it turned out. Most people do. The point, of course, is that you'd want to catch those who can't when there was someone there to salvage a poor maneuver.
And that was my first meeting with Mrs. Johnson. I did find her advice on flight planning extremely useful, and the next day I took my mother-in-law for a very enjoyable flight. When I told Mrs. Johnson I'd flown almost entirely around Chicago she immediately knew how what I was accustomed to differed from where we were and quickly gave me a run-down on the differences in a friendly, conversational manner. No lecturing, not a lot of "you should", and I appreciated that she maximized my bang for the buck and helped me tailor the flying to what I wanted. This is not a universal approach, there are plenty of people who lecture and try to direct you to what they think you should want rather than your actual goals.