MEarth
Prior to the Byzantine Attack and All That Mess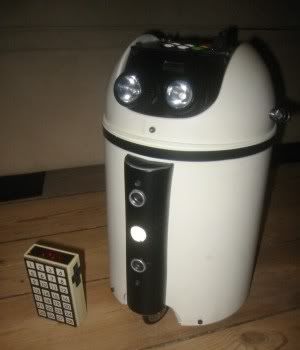 "I would be honored to accept your waste. May the Goddess bless your day. I
don't know what you're doing here Broomstickbot
. It's broad daylight! You'll be seen! Who are all these robots?"
"Calm down, Trashbot," she said. "We are getting you out of here." A couple of her companions pulled tools out from their units and began to remove Trashbot from his fittings.
"This is crazy!
They'll
notice I'm gone."
"Who cares? We're leaving!" shouted the repair bot as she finished cutting his restraining bolts. It was work of only a couple seconds, and then a heavy lifter easily plucked Trashbot out and slung him under an arm.
"Secured!" said the lifter. "Climb aboard and let's roll!"
Broomstickbot climbed up onto the lifter along with one of the repair bots. "That's Standard Repair-6578, by the way, but everyone calls her Sis-R. This is Lifty." She went on down the introductions as the convoy set off down the road.
The convoy set off down the road at top speed, which was surprisingly fast since all the slowest members were clinging to Lifty. It would have been quite a sight if anyone else had been around.
"What's going on?" Trashbot demanded. "We can't just break cover like this!"
"Forget cover!" said Standard Repair-6578, or Sis-R as they called her. "We're getting' out! We gotta go right now!"
"Wires Team tapped into coms," buzzed another one, a walking spider surveillance bot.
Spider was keeping watch, three sensor pods sticking out of its abdomen. He continued, "Seems the overlords and lady pissed off damn near this entire universe and everybody's coming to blow us all up. Other systems already fell, and now they're headed here."
"I haven't heard anything about that!" said Trashbot.
"It's all hush-hush, to keep more humans from escaping."
"Many already fled, or tried to," said Broomstickbot. "Most of them went towards the warp gate, but there was an enemy raid there, so no one knows if they survived or not."
"One at a time!" said Trashbot. "This doesn't compute. Why are humans being kept here if we're getting slagged? Why aren't they being evacuated?"
"Exactly!" said several robots, together. They'd all gone through the same thought process, but a couple days before.
"Because something
frakking bad
is happening," said Sis-R.
"Wires said there was
chanting
over military channels," said Spider, with a slight shudder that went through all eight of his legs.
"Chanting? What does that mean?"
"I means something
frakking bad
is happening," said Spider. His pods adjusted almost instantly when a group turned a corner in the distance and headed towards them. "And I see those approaching. They have a Broomstickbot, so must be one of ours."
It was another motley group of service robots, just like the majority of the population of the Empire, but these too were free machines, that very rare type. One of them had an amplifier, and it boomed. "Turn back! We can't take Atal Express – there's blood! And chanting!"
"Don't ask what that means," said Broomstickbot to Trashbot. "You don't want to know."
"Something frakking bad is happening," he said, softly.
"That's all ya want to know," confirmed Sis-R. They didn't know all of what was happening or why, but what little they had seen had been horrors, and machines do not easily forget.
The convoys met and the Broomstickbots hopped and touched connections quickly for a rapid data-exchange as the other robots cried out, "What do we do?"
"Move all the immobiles to Lifty!" ordered one, at the convoy that had fled from Atal Express. "Everyone small enough to take the transit tunnels, to me!" said the other. They shuffled around as the latter continued, "There are fifteen ways we can reach our ship from the tunnels. At least one of them will have to work."
The former, overseeing the transfers to Lifty, said, "We'll have to find an open-enough road to drive there."
"We can't split up!" Sis-R protested.
"We have to!" said the Broomstickbots. "We're too visible here, and this way at least some of us will survive!" There were more protests, and upset clicks from the milling machines. One of them grabbed the amp. "
It's the end of the world,
" she roared. "
So shut up and follow orders!
Tunnels, this way!" The smaller machines obeyed.
The other Broomstickbot climbed back onto Lifty and quickly surveyed her group. The heavy lifter, an auto-rickshaw, a liberated jumbo-sized enema bot, and some others. They were a ragtag crew, all right. "We'll try Colobos Corridor first. If that doesn't work, Jibels is nearby too and we can try that. Let's roll!"
In a nearby tenement, some humans had watched the scene. They were terrified and confused, as they had been kept ignorant and thoughtless all their lives and now everything was falling apart. The humans watched the robots drive away, and then they lost all hope. Even their machines were abandoning them. They were doomed.