The lights went out, and a picture was projected onto the wall. The picture showed a desolate lunar landscape...but not just that. The gathered men gasped in shock.

"Gentlemen..." the general began. "There is a great threat to our world. To all our nations, to every man, woman and child. I am here to tell you all about it."

They listened. They listened and were eerily quiet. Before long, they knew what action had to be taken. They knew very well indeed.
And now...the conclusion!
MSS

Saint Pagan
The band was playing with vigour and pomp, the air was crisp and salty, and the massive killcarrier's flight deck was hard, rigid and full of seamen. Seamen gathered here just for one purpose - to listen to their Great Leader and his speechifying. The military mangs aboard the massive ship were totally excited: the Sovereignest Citizen himself would come and announce their mission was now accomplished! (They knew because the crew had spent the last week hanging up banners saying so, and also repainting the entire ship for the visit). So they could go home, back to glourious Murca, and enjoy the perfect new free society built for them by the Sovereign Citizens while they were off freedomizing other nations.
They have probably been at sea for far too long.
Anyways, today was the day. The seamen gathered on the deck in crisp formations, their cute white uniforms making blotches and stains of them glisten in the hot Ayraki sun.They waited and waited, but when the band started playing, they knew the Sovereignest was close.
And he was! An airplane swooped down from the skies, slamming into the deck like a huge hand slapping a footbal player's butt after a good game. The plane skid to a halt, tenderly grasped by the arresting cables, and from its cockpit emerged The Man himself.
Gorge VW. Shrubya, the beloved Sovereignest Citizen himself.
"Golly, that was a hard landing, fellas! I might be a little rusty!" he joked in a distinguished manner, before hopping down to the deck. He waved to the seamen... oh, those nice and burly seamen in their boyish uniforms, yes... and took his spot at the podium. The band stopped. Everyone would listen to The Words.
"Admiral Kelly, Captain Card, officers and sailors of the MSS Saint Pagan, my fellow Murcans: Major combat operations in Ayrak have ended. In the Battle of Ayrak, Murca has prevailed. And now our coalition is engaged in securing and reconstructing that country.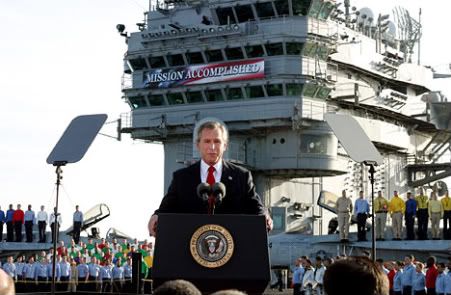 In this battle, we have fought for the cause of liberty, and for the peace of the world. Our nation and our coalition are proud of this accomplishment — yet it is you, the members of the Murcan military, who achieved it. Your courage — your willingness to face danger for your country and for each other — made this day possible. Because of you, our nation is more secure. Because of you, the tyrant has fallen, and Ayrak is free.
Operation Ayraki Freedom was carried out with a combination of precision, and speed..."
Shrubya noticed the seamen and sailors suddenly look up, pointing at something in the sky. He looked up himself, but couldn't see anything in the glare of the Ayraki sun. What was it? Why were people running? Why were there klaxons and sirens, and why was the deck suddenly shifting to the right and hey are the SS men running towards him oh hey there's something in the...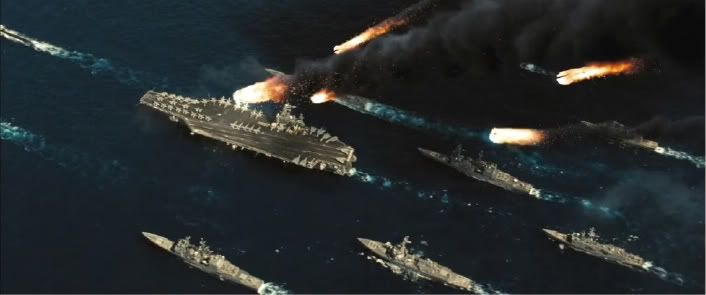 Missiles struck the deck of the carrier at an impossible angle, almost from straight up. They punched right through the relatively flimsy flight deck and exploded, ripping huge chunks out of the vessel, starting fires and spurting weird chemicals which ate at the innards.
More missiles descended, covered in balls of fire and red-hot after their passage through the atmosphere. The
Pagan's
escorts managed to fire off some of their SAMs and even struck one or two projectiles, but their radars and fire control systems were overwhelmed by tremendous amounts of radiation of all sorts. Additional missiles struck these ships, too, breaking them in half. Terrified sailors screamed in horror as their vessels were torn apart. Their fuel bunkers ruptured, covering the water with thick fuel. Soon, these oil slicks caught fire, immolating many of the survivors. In the middle of this carnage, the MSS
Saint Pagan
slowly slid beneath the waves, taking six thousand people with it.
Chinnyenne Mountain
Continental Unified National Territorial Command (CUNTCOM)
Sergeant Jim Bob Lee Jethro Kurtsner resented his assignment. He never spent a shift without complaining how stupid his job was, sitting on a chair in front of some dumbass computer watching some stupid radar plots. He didn't understand the importance of his work, or even how the equipment worked: all he knew was that he was to sit in the chair and watch the screen. A screen built by some stupid nerds, who obviously didn't even play football.
Everybody else who still worked at the facility after the Murcan army was completely privatized felt the same way. They'd all much rather go freedomize sand digger children with machetes, or UCAVs like those guys sitting topside, who spent their days shooting missiles at schools. Stupid screens. Dumbass advanced technological air defence network, the goddamned nerds couldn't even build it tough enough not to need maintenance!
Which was a pretty big problem: since most of the lieberal nerds who could maintain the radars and computer networks that composed CUNTCOM were shot years ago, Murca's air defence network was barely working.
In fact, it was working so poorly, that sergeant Jim Bob Lee Jethro Kurtsner's first hint that something was wrong was a phone call from Falcon Tactical Bombing Solutions.
"This is CUNTCOM, defending your skies! How may I be of assistance?", he said into the receiver, just like he was trained to do by the sales department. The call was crackly and barely audible.
"...attack...enemy...nowhere...most assets...destroyed...need help...full alert!"
"Excuse me sir, but I cannot understand you. Are you under attack?"
"Yes! Scramble all...."
"Ah, excellent, sir! Please provide me with your account number, and I can see if one of our interceptors can provide coverage for you!"
The headset buzzed and crackled, "...stupid fucker! We're dying out here!"
"I am sorry sir, but if you do not have a company account with us, we cannot help you."
There was a terrified scream, and the line suddenly went dead.
"Huh", the sergeant muttered to himself, "How rude."
Suddenly, every other phone in the control center began to ring.
"Huh. Weird."
The sergeant realized everyone was out to lunch, so he put up a proper automated greeting and left himself. It was a stupid job anyways, the customers could wait. It wouldn't kill them.
Freedom Base
Near Washingtoff, Murca
The colonel in command of Buttwater Tacticool's main airbase in Murca was coughing and wheezing, while holding the phone to his ear. Most of the base was on fire, strange green flames throwing up thick smoke loaded with various contaminants. Secondary ammo explosions rocked the command bunker from time to time. Screams of the dying penetrated even in the hardened door that was designed to withstand any possible attack.
"Please hold. All our consultants are busy at the moment. Your call is important to us. Please hold."
"Sir! They're coming in for another pass! All our defences are destroyed, we need backup, now!"
"I'm trying, jeebus! The line's busy!"
"Please hold. All our consultants are busy at the moment. Your call is important to us. Please hold."
The colonel wanted to curse, but before he managed to do so, a strangely shaped aircraft dropped a massive bomb directly on the bunker. The colonel's voice was drowned out by the roar of a nuclear detonation.
Washingtoff, Murca
The Hill
Everything was perfect in the world.
The people lived in unity, unconstrained by the terrible, unfeeling mechanisms of state control. They voluntarily engaged in mutually beneficial contracts, forming the basis of a free, modern nation. The invisible hand of the free market kept the economy balanced, prices low and employment high as demand and supply balanced each other perfectly due to actions of well-informed consumers, voting with their money.

Professional security companies kept the peace, and were in turn kept in check by private for-profit ranking organizations and press, the marketplace forcing them to deliver excellent service at an affordable price. Every citizen owned a gun and when outside threats arose, he spontaneously formed a professional militia with his compatriots, rebuffing any attacker from the land. God ruled supreme, anyone opposing the one true faith suppressed or brought back into the fold without mercy. Women worked diligently to support their men.

Everyone

worked, for only work could provide sustenance. No parasites were allowed. No welfare was given. The citizens were encouraged not to support such welfare queens. Charity would suffice to those who couldn't work: the average citizen would never give a penny to those who did not deserve it. Babies were banned because they did not generate money, and their dependence on other people's hard-earned marks was disgusting and filthy - like the miserable parasitic socialist welfare queens they were.

Freedom spread far and wide, brought forth upon bayonet and bullet. Tyranny was destroyed utterly with the cleansing light of Freedom's soldiers. Those who would oppose the march of Freedom were euthanized, for the good of all mankind. The weak, the lazy, the ungodly were immolated and their ashes scattered to the four winds, their bodies buried in mass graves so that they would never know Jeebus' light. Dissidents and opponents of this new order were shot outright after sentencing by public opinion, under free market rules. They'd never poison anyone with their vile ideas and irrational hatred.

It was perfection.
Two men entered Thick Chinny's office while he slumbered on his desk, dreaming of the brave new world. Both of them nervous, stealing a glance from time to time at the massive firestorm and several mushroom clouds rising on the horizon.
"No! Jeebus, is he...?" the older man asked in a hushed tone. He approached Chinny's limp body slowly. The other man was bolder, though his hands were shaking uncontrollably. He no longer feared the Almost Sovereignest Citizen: not after what he saw just minutes ago, not after what he heard about the
Pagan
and the Sovereignest Citizen.
The National Security Advisor leaner over Thick Chinny's desk and tried to take the man's pulse. He tried several times, at different spots, and found none. After a moment of solemn silence, he straightened himself out and looked at his colleague.
"Mr. Secretary, I am afraid the Almost Sovereignest citizen is dead. Since the Speaker of the House was executed two days ago along with president of the Senate...you are next in line."
"No! It cannot be!", the Secretary of State was terrified. Sure, he always had political ambitions, but...not like this! Not on a day like this, with Murca under attack!
"I am afraid it is. I will call in witnesses, and you will be sworn in immediately. We must have a Sovereignest Citizen..."
The National Security Advisor didn't finish. The two men were so focused on the situation that they didn't notice Thick Chinny sitting up. But Thick Chinny most certainly noticed them talking treason.
"NO!" the Almost Sovereignest screamed out, extracting a shotgun from below his desk. "THERE CAN ONLY BE ONE! THE OFFICE IS
MINE!
"
The National Security Advisor didn't waste time and leapt for the door, seeing the shotgun's muzzle level. He didn't make it. The blast shoved him into the wall, splattering a crimson pattern upon the expensive wooden panels.
The Secretary Of State didn't run, but tried to explain. Chinny's eyes flashed red upon seeing this display of cowardice.
"Traitor!" he
growled
and shot the SecState in the face. He had plenty of practice.
SS men burst inside not a second afterwards, waving guns around. Their commander saw the carnage and asked what happened.
Chinny laughed. He
fucking laughed
.
"The free market has finally rewarded me! I have been chosen by the Invisible Hand! I AM SOVEREIGNEST!"
The ground shook with another distant detonation. This one was closer than the others, though, as the blastwave washed over The Hill seconds later, blowing out all the remaining windows.
"I understand the filthy lieberals came to destroy Murca at last?" Chinny asked, not shaken in the slightest. "Then lead me to my mountain fortress, and I shall rebuff them! They will yet know the wrath of Chinny!"
"I am afraid the helicopters don't work anymore, sir," the SS man in charge explained. "The company we paid for servicing them took the money and disappeared... you will have to command from the War Room."
"That will do, then! To the War Room!" Chinny yelled, and raised his fist in victory. At least he would reveal himself. At last he would have...revengeance.
Roach City Motel
Oho, Murca
The motel collapsed like a cheap house of cards the moment the ground shook. It was never built to code, and never maintained to code (since building codes were abolished and burned down), so when the first tremors resulting from distant nuclear detonations arrived in Oho, the entire structure came crashing down.
Fortunately, having been constructed of plywood, plaster and duct tape, the collapse didn't seriously injure anyone.
Well, physically anyways.
"My money! NO! My money!", Joey Jojo yelled and leapt back into the ruins after barely making it out. He ignored his wife, still weak from her Godly Birth, and the children who were standing on the sidewalk, barefoot and only wearing their pyjamas.
"Joey!", Mary Jane yelled after her husband, "Forget the damn money! We need to know what happened!"
Somebody ran past the slowly growing crowd of the motel's tenants, yelling that the end of the world has come. The man was waving a rifle.
"JOEY!"
"Daddy, I'm scared!" Billy Lee whimpered. A little down the street, the man with the rifle was shooting at people leaving their homes. Someone shot back. Bullets started ricocheting off the crooked pavement. A fire was starting.
Joey seemed oblivious to all that. He threw aside a particularly large piece of plaster and yelled back, "Shut up, woman! Help me dig!"
Mary Jane clenched her fists. Here she was, half-naked, with her barely clothed, barefoot children, and the bastard demanded they help him dig to find his money. That's all he cared about. And it was always like that, something inside her head told her. He never cared. During all those years she learned to be meek and submissive, or face beatings. She almost convinced herself there was no other option, that this was how things were supposed to be.
But now, with her husband turning away from his family in time of need... with the world finally taking the final plunge into insanity... something snapped inside Mary Jane.
She walked up to Joey's truck and grabbed a tire iron from the toolbox. She moved towards Joey with a strange sense of determination. Her children watched.
None of them said a word as Mary Jane hit her husband with the tire iron, in the head and back. The man collapsed with a surprised yell, and before he lost consciousness, he could feel someone ruffling through his pockets.
"Get in the truck, children." Mary Jane said, opening the door with her husband's car keys, "We're leavin'."
"What about daddy?" little Leeroy asked.
"He's not our real daddy" Billy Lee explained. His voice sounded serious. "If he was our real dad, he'd never have sold Betty Sue."
Leeroy looked like he was about to cry - it was hard to say if he remembered his older sister, or perhaps just couldn't understand why Dad had to stay behind. Either way, he got into the truck, showing just how well his father trained him to obey. The rest of the children piled in as well, Billy Lee holding his tiny newborn brother tightly to his chest. There was more than enough space in the back seat of the gargantuan vehicle for everyone to fit comfortably.
Mary Jane struggled with the starter for a bit, but finally managed to fire up the engine.She pulled out of the parking lot and gunned it... into the city.
"Mom, where are we going?", Billy Lee asked. He was old enough to understand they should flee the city instead of driving into the densest parts of it.
"To get your sister back", Mary Jane answered coolly. There was no going back now. If she was found driving without her husband's written permission, the Sovereign Citizens would certainly execute her and sell the children. She hoped they'd be too busy dealing with aftereffects of the earthquake to bother with the truck, at least for a while.
The Sovereign Citizens were busy all right.
Technicals surrounded the biggest electronics store still operating in Oho. Their crews were cheerfully looting the place after having shot the owner. All around them, the people who were supposed to be under their care and protection were excercising their second amendment rights, robbing bystanders, breaking windows and overturning cars.
One of them suddenly rose before the truck and yelled something, but Mary Jane just gunned the engine. The absurdly high bumper hit the man's head and took it clean off. The huge pickup weaved its way through the streets, between people going all out for themselves in a display of true self-reliance and entrepreneurial spirit.
For a moment, Mary Jane thought she heard someone yelling that the governor should call in the army to restore order. He was struck with a brick almost immediately, and then shot by a passing Sovereign Citizen, who even put down his looted Degenatron console to lecture the dead body about the evils of government interventionism.
There was very little damage to buildings in the city centre, which Mary Jane found weird. If the city was practically untouched, why was everybody rioting?
She turned on the radio, looking for the news.
"This is Hard Hitting Super Gruesome Megaspecial News, live from Oho! We have incredible, world-changing and extremely important news to our listeners! But first, a word from our sponsors!"
Mary Jane groaned. She had to concentrate on the road for a while, trying to avoid a massive crowd marching down a street she wanted to take. Thus, she didn't really listen to the twenty minute ad block full of Buttwater recruitment and BeefBoy formula ads.
"Welcome back, listeners!" the DJ finally came back on air "As I said before, I have this mind-blowing news for you: Murca has been invaded! A terrifying and powerful enemy has began an all-out attack against military installations throughout the nation! More after these commercials..."
Mary Jane's eyes shot wide open. Attacked? By whom? The Sovereign Citizens always said Murca was impossible to conquer, since everyone had guns. Who would dare attack this nation? Who would even have the means to?
Well, she would have to wait about twenty minutes to find out, and she didn't have twenty minutes. They were just coming up on the strip mall where Mary Jane gave birth to her youngest not ten days ago. She rammed the barrier with her truck and raced towards the clinic, before she noticed something. There were flashing red-and-blue lights there! There was police, and that meant she'd be safe.
Or not. Mary Jane's heart plunged into despair upon seeing the logo on the armored SUVs that were parked in a half-circle around the entrance to the mall's grocery store. She remembered the terrible massacre these vehicles inflicted upon the innocent audience and players at the Oho Home School Away From Home football game.
They were FriendlyPol.
"HALT, CITIZEN!", the nearest SUV blared through its loudspeaker. Half a dozen searchlights focused on Mary Jane's truck, blinding her, "THIS AREA IS OFF LIMITS TO CIVILIANS! LEAVE IMMEDIATELY!"
Mary Jane tried to comply, but she couldn't see a thing. She accidentally stepped on the gas, the truck surged forward.
"YOU HAVE VIOLATED A DIRECT ORDER FROM A FRIENDLYPOL OFFICER. WE WILL NOW USE DEADLY FORCE." Mary Jane felt something slimy crawl up her throat, as she desperately tried to turn around. Her children were screaming in fear on the back seat "REMEMBER: WE SERVE AND PROTECT WITH A..."
The expected roar of a Mama Goose machine gun never came. Instead, a sudden and inexplicable gunfight erupted within the FriendlyPol perimeter.
Just moments ago...
Seven Lawman Stoogal stood in the middle of the large grocery store and surveyed his men as they carted out huge cardboard boxes full of steak and pork chops and just pure raw meat. Canned meat, frozen meat, fresh meat, raw & dripping barely butchered meat, pre-fried meat and powdered meat baby formula: the store had it all. And now FriendlyPol had it all, thanks to the small print in the store's contract and also their massive firepower.
FriendlyPol was the most professional security company in Oho - also the only one, since all the other upstarts had many mysterious accidents and terrorizer bombings happen to them in the last fiscal year. And hence, the company's logic went, since Murca had been attacked without mercy, they would profesionally secure all the necessities that their employees required, so that they may serve more customers in the future.
Seven Stoogal couldn't argue with that. A man had to eat to maintain his posture, after all.
A joyful voice of Blenn Geck brought Stoogal back into the here and now, "I am here with Oho's greatest and most beloved police officer, Seven L. Stoogal himself, currently bravely securing food and board from the less market-savvy, for use... could you tell us for what, Seven?"
Lieutenant Stoogal turned towards the camera and the journo, "For the sustenance of the glorious Murcan future, of course." He snapped back. "What else?"
"Ah, what a fine example of true patriotic Murcan spirit! Dear viewers, here were see the true superiority of the free market. You see, in some dirty Yurpan socialist hellhole, the food gathered at this store would be seized by the
government
," Geck said with utter disgust "Or worse yet, the
people
, who would in turn use it to irresponsibly satisfy their own biological urges without paying for it! Instead, we can observe here how FriendlyPol came into honest posession of these goods by a mutually beneficial agreement with the store's owner! Wouldn't you agree, Mr. Hodgerson?"
Geck turned to a small man standing in the corner, eyeing the heavily armed FriendlyPol officers nervously. The man jumped when Geck stuck a microphone under his nose.
"Uhh...not really, see..." the owner started and keeled over after being brutally clubbed in the chest with a frozen sausage by a snacking FriendlyPol officer, who proceeded to continue eating his salami after the owner started coughing out blood.
"We all know no means yes!" Geck laughed heartily. "Do not worry, it was just friendly horseplay. Our beloved FriendlyCops are so laid back!"
"Urk..." the owner grunted and clutched his bruised ribs, prompting Geck to lean over with his microphone again, "What? What is it?"
"This...this is a travesty... those thieves are... taking all the food..." the owner sputtered, heedless of the FriendlyPol officer brandishing his half-eaten sausage threateningly.
"Why yes, of course they are! They have entered into an honest and fair bargain for it, after all!"
"You don't understand!" the owner blurted out. "Ever since they started using BeefBoy to try and fertilize the farmlands, all the crops have died. There won't be any more food left after they take what little we've got here! The famine's coming, and we're all gonna be fu-"
"Oh... uh. Excuse me." Geck stepped aside from the camera, which panned away as the grocery store owner was beaten by a sausage-wielding officer. Geck walked over to Stoogal, who was busy watching his men gather the supplies they needed to survive the coming apocalypse. "Say, Seven. Did you remember to reserve some of those supplies for me?"
"Nope. I'm sorry, Blenn. It's every man for himself!" Stoogal said remorsefully, shaking his head.
"What? But we fought crime together!" Geck cried in disbelief.
"Yeah, so? I didn't see you waving your gun in the owner's face. We waved
our
guns, and only our guns, so the food is ours, asshole. What, are you trying to be a welfare queen? What did you do to earn a slice, huh? There ain't no such thing such as a free lunch, and from the looks of it there won't be any free breakfasts or dinners for you either." Stoogal laughed.
"You bastard! I shamelessly promoted your damn company with my show! I'm a shareholder! You
owe
me!" Geck stamped his feet impotently.
"Shareholder? Bah! Sharing's for communists!" Stoogal laughed some more.
"Yer calling me a communist?!" Geck was besides himself with rage. Nobody has every insulted him like that! "Me, Blenn Geck?!"
"Yeah, I am, you filthy little commie!" Stoogal waved his arms around and started imitating Geck's voice. "
Oh Seven, reserve some supplies for me 'cause I'm on welfare!
"
"Oh yeah?
You're
a commie! Nationalizing private foodstores! And you're so fat you barely fit in your body armor, you palooka! Hah!"
"Shut yer mouth! You shut yer damn dirty mouth right now, Geck!"
"Make me!" Geck stuck his tongue out.
Stoogal lunged at Geck. His face was red with rage as he tried to grasp the journalist by the throat. Geck yelped like a little girl and jumped back, reaching for his gun. Somewhere in the background, a loudspeaker blared at someone or another, but the two greatest icons of Murcanity were locked in mortal combat and paid it no heed.
Geck's news crew was already locked and cocked and suddenly opened fire on the FriendlyCops with automatic rifles and submachine guns and grenades. Stoogal dove for cover, allowing Geck to unload his chrome-plated Kult into his back.
"FUCK YOU, SEVEN! FUCK YOU!" he screamed amongst the chaos. A SUV parked outside began firing its Mama Goose into the store. The heavy rounds easily pierced walls and store shelves and bodies. Blood splattered on the floor and cans of BeefBoy baby formula exploderized, forming clouds of meat residue in the air. The combatants began to cough and wheeze, choking on the pure dried beef.
Stoogal leapt from the floor, to Geck's shock, and knocked the newsie's pistol out of his hand with a judo chop. The cop's body armor had somehow managed to withstand the almighty .45 bullet, which was superior to pussy 9mms and should've pierced the man through and continued down to the planet's core! It was an incredible bout of luck indeed!
"You washed out has-been!" Geck shouted as he threw a punch at Stoogal's fat face. However, the Lawman managed to counter with a jiujitsu arm-lock, causing Geck to scream in pain. Then Stoogal placed his hands around Geck's head, preparing to snap his neck -
When a newsie smashed his camera on Stoogal's back, which was already badly bruised after miraculously surviving Geck's .45 rounds. The newsie continued his assault, waving his camera like a sword and fending Stoogal away from Geck.
But then, a FriendlyPol deputy-squire threw something at Stoogal. The Lawman caught it and, in a flash, the camera-wielding newsie fell to the ground with most of his face missing. Stoogal raised his bloodied Nipponomohipopotamunese sumorai sword for all to see and fear.
"This is my way of the ninjer!" he declared as he cleaved another newsman into two and made his way towards Geck.
A pair of FriendlyCops picked Geck off the ground and held him, so that Stoogal could easily give Blenn a warrior's death by decapitation.
"Blenn, I will decaffeinate you." Stoogal stated matter-of-factly. Blenn Geck merely looked at him with eyes wide in fear. "Prepare to meet an honorable end. Geck-san."
Stoogal raised his sword high.
But then a civilian pickup truck came out of nowhere and ran over the two FriendlyCops, swerving and barely missing Geck - who managed to run for his life amidst the confusion.
"Dishonorable
mortal

human
gaijin!" Stoogal shrieked in rage as he chased down the deadliest game of all.
Geck ran as fast as he could, but already the terrifying Mama Gooses on top of all the various FriendlyPol vehicles were being trained on him, and him alone. In utter desperation, he ran straight at one of the SUVs, broke the bulletproof window with his bare hands and threw the first thing he could grab at Stoogal.
"GRENADE!" Someone yelled - for it was, indeed, a grenade. Unfortunately, it didn't land anywhere near the charging samiurai lawman: It rolled below an ammunition truck and exploded fiercely, tearing apart the gas tank and igniting the fumes.
Night became day, as the entire ammo supply of the FriendlyPol detachment went up in a giant fireball.
The huge pickup which so fortunately saved Geck from being eviscerated did not stop. Its jerky and panicked movements brought it right around the corner - and just in time, too. Mary Jane opened the door a second after the ammunition truck exploded and yelped in surprise. Pieces of flaming bodies and metal shrapnel started falling all around her, like leaves in the autumn.
"Mommy! Mommy, we're scared!" her children called. But she had one more thing to do, firefight or not. She reached into the glove compartment for her husband's Gluck.
"Stay in the car, children. Hush, mommy won't be long."
She cocked the pistol and went straight for the nearest door. The crooked and dirty sign above it read 'Godly Parenthood'.
Inside, the personnel of the clinic huddled in fear and total darkness. They heard her steps, and some of them ran. Others tried to ask who she was, but they were ignored. She was looking for one person in particular.
"Betty Sue!" she called out in the darkness "Betty Sue! It's me!"
There was no reply. Mary Jane went deeper into the winding, twisting corridors, stepping on toes, listening intently to the sound of women in labor. Suddenly, she heard the religious incantations from one of the delivery rooms, and her blood boiled.
She charged inside, hurting her bare feet on broken glass.
Billy Biscuit Graham was there, kneeling over a patient's bed.
"Oh young Murcan patriot! Come out with Jeebus! TESTIFY!"
The room was lighted only by white noise from a damaged TV, that normally blared various advertisements at the mother-to-be, but that was enough. Mary Jane recognized the girl kneeling in the corner, gathering pieces of broken glass.
"Betty Sue!" she yelled. The girl dropped the glass shards, startled by the familiar voice. "Mom?"
That was when Billy Biscuit noticed the intruder and boomed. "In the name of Jeebus, what are you doing here, harlot? These are not the sights for faint female hearts! Only men are allowed in here to do God's work!"
"Shut the hell up!" Mary Jane yelled and raised her Gluck, aiming it at the preacher. "I've come to get my daughter!"
"Now wait just a minute!" the pastor didn't seem to mind the gun at all. "That girl is bound to this place by law, both God and Man's! For it is written that pacts must be served, and thy slaves are to obey!"
"SHUT UP!" Mary Jane's voice was high pitched, and her pistol-holding hand was shaking "ON THE FLOOR!"
Again the preacher didn't move, the TV's white noise reflecting off his slicked white hair "Forsooth the Lord said, thine faith shall shield you from thine enemies, and also bullets and debt collectors!" Biscuit Graham's hand slowly reached for the instrument table, where his Shit & Blesson revolver was located. His fingers were inches away -
Mary Jane opened fire. Gunfire rang out in the delivery room, deafening everyone and stunning even Graham into silence. The bullet ricocheted off the Shit & Blesson revolver on the table, knocking it to the floor. In the low light conditions, no one noticed the reverend's pants turn into a darker shade.
"No bullshit! Give me my child back, you fucker!" she spat and brandished the weapon at his face.
"Yes... Of course. I shall give you your child back." Billy Biscuit Graham finally relented. He turned around to face Betty Sue, and continued to speak as he did so. "You shall have your child back. For in the garden of Caprica, as the Roslin tempted the Adama on the command of the Deebil, thus it is said that the only true child of the Roslins will be sin and sin alone! Behold the spawn of your cursed womb, woman!"
He spun around and threw an inexplicable rattlesnake at Mary Jane's face.
"Fuck you." Mary Jane caught the snake by its neck mid-flight and threw it right back at Billy Graham. Before the old preacher could even scream, the pit viper's venomous fangs were already sinking into his throat. He gurgled, keeled over and died.
"Come on, Betty Sue. We have to run, okay? Be very quiet now!"
"Yes, mom", the girl said in hushed voice and grasped Mary Jane's hand very tightly.
"Help... please..." the woman on the delivery table pleased feebly and stretched her hand out. Mary Jane froze, staring into her terrified eyes. She remembered this place, a room just like this one, only days ago. She remembered the humiliation, the pain she felt back then.
"Help me out here, honey, okay? We are going to help this nice lady."
She probably shouldn't do it. There were gun-happy FriendlyCops around, the clinic's own security might react to the gunshots, and she still had to drive herself and her family to safety, but Mary Jane just plain couldn't ignore things like these anymore.
She swore to herself this whole misogynistic bullshit had to end. And she'd start tonight.
They started to wheel the pregnant woman out of the delivery room.