Co-written with Shroomie!
ROBOT SURPRISE
That was when the sheer brilliance of this plan struck the bridge crew. The Wasp outmatched them ; But it was a Collector vessel, and they were known for their propensity to Collect various strange things... and perhaps, if the robotoid murdership decided Rygyvld Zybynv was worth Collecting, it would engage the

Bragnum Force

directly, board them... and get into direct melee combat, where Bragulan spirits and sheer brute strength might just even the odds, and give them enough time to last until the warcruiser

Today is Bragsday

's arrival.

Now, the only problem was to see if the Wasp would cooperate.

"Kapitan! The foul robotoids are moving in for another attack run!", the borderline panicked voice of Crewman Fukeseyev seemed to indicate otherwise.
Derevnya Gadyukino System
Severnaya Sector
Bragulan Star Empire
Unreal time
Compartment D1,

Bragnum Force

, infirmary/meat locker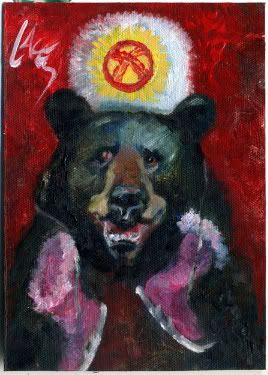 Robyodov Nefartnyi, Crewman Zero Class, had almost wet himself.
He realized immediately what the Commissar was doing, of course. He even approved of the plan, with only one small problem: if the robotoids decided to board, they would go straight for the infirmary. Yes, it was nice to stay here, right next to the medical equipment, the lifesaving medicine and collection of spare parts in the meat locker... except for the fact they were completely defenceless. Doctors had to be in one piece in order to do life saving surgery, after all. Considering, again, the pros and cons of his situation, Nefartnyi decided it was now much safer to be
somewhere else.
Ideally on the other side of the galaxy, but he'd take the other side of the ship in a pinch.
But what to do?
, he thought, regarding the Commissar - who was now awfully proud of himself, and adminstering a preventive stick-beating to the star of his show, that poor bastard Zybynv. Finally he decided on a plan.
"Commissar, sir?", he said, trying to hide the shaking of his paws, "Perhaps we should fortify the infirmary in preparation for our glourious last stand?"
"What?!", the Commissar gazed at Robyodov, obviously infuriated by something.
"I mean our glourious defensive struggle against foul robotoid murderbots, which will surely end in the triumph of Bragule!", Robyodov spat, very fast.
"I don't know why I tolerate your ideological impurities, Nefartnyi!", Tedostp growled, stomping on Zybynv with his steel-toed boot, "You are obviously slipping from the proper Byzonic path..."
Robyodov shuddered, "Perhaps I could make amends by fetching some weapons from the armory?"
There was a period of brief consideration, "Yes", the Commissar finally growled, "Do that and return immediately."
Robyodov nodded and left - very quickly - while trying really hard not to show just how glad he was to get away from the future site of a lot of murderkilling. Whichever side did the slaughtering mattered little to him, as long as he was someplace else while that happened.
Like compartment C3, on the other side of the ship. That was a good place to stay. Yes.
***
Bragnum Force

, bridge
"Brace for impact!", the officer of the watch screamed a bit too late, only a second before the knife missiles impacted again. The already badly beat up starship groaned, a hundred explosions blasting through its innards, spilling radioactive waste, rupturing power and oxygen lines and vaporizing crewmembers. Damage control boards lit up, crimson red flashes across all compartments indicating loss of primary function. Whatever crewbears were still standing, attempting to coordinate damage control, were thrown around like rag dolls.
"Damage report!", the captain bellowed for the hundreth time
Hearing no answer, he glanced at the chief engineer: the badly burned bear was slumped over his station. Two ensigns dragged him to the floor and looked at the various displays with dismay.
"Report!", the captain urged them onwards, trying not to see Fukeseyev's panicked movements at the sensor station.
"Everything is down, kapitan! Fires across all compartments! We're down to quinary and setentary systems!"
"Weapons!", maybe they could at least fire one last salvo before being vaporized by that damnable vessel.
"No go on all emplacements! I am getting feed failures for all K-Bolters and cycling errors for missile launchers! Missile magazines six through eight ruptured and open to space!"
That was it. The
Bragnum Force
could no longer fight back. For any other captain across the galaxy, that would be the time he'd order the crew to abandon ship: but the
Bragnum Force
was a ship of the Bragulan Fleet, and they would fight until the end, even if they had nothing but their claws and explosive-tipped entrenching tools! They didn't have any escape pods aboard, anyway, just in case some captain decided to save his crew or do some other foolish thing like that. Their only pods were REVENGEANCE PODS designed for ramming enemy ships, but those were a little too light to use against the small and maneuvering Wasp...
Though Captain Syegiel was sure he could think of something, eventually... if only the end wasn't so close.
The Wasp flipped around, easily avoiding the narrowed field of fire of the damaged K-bolters, and moved in for the kill
***
Compartment C3
"Pavel!", Robyodov exclaimed, bumping into one of his friends. He made real good time, crossing all the bulkheads into compartment C3 in a scant five minutes. C3 was the best protected compartment in the entire ship: for it housed the missile magazines and the armory. It was currently full of bears running around, hastily building barricades and shuffling damage control gear to various places - Pavel, amongst them. He was one of the chiefs, in charge of the missile magazines, and a good friend of Robyodov's: more than once had they been on the receiving end of a Commissarial investigation for many an unbyzonic infraction. It didn't seem like Pavel was in the mood for stories, though, busy as he was screaming commands and handing out armamentations to the crew.
Robyodov had to once again reconsider his decision to come here: if there was an officer around, he might end up drafted into a hastily assembled combat team, given a K-bolter and...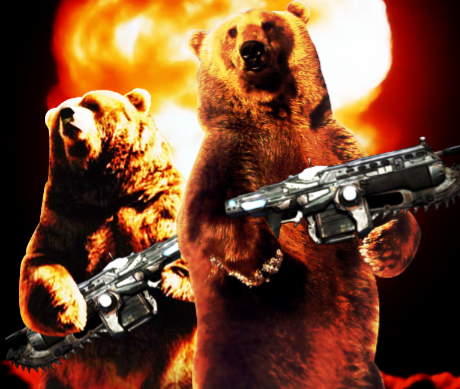 "Robyodov! Quick, here, take this!", Pavel shouted, having finally noticed him, and shoved a stubby boarding k-bolter into Robyodov's paws, "Join up with chief Sobvodor and his crew, you'll be defending approaches to the armory!"
"But...", Robyodov's feeble protests were drowned out by the sound of an explosion that shook the entire ship, throwing everyone around. Vacuum alarms started blaring and Nefartnyi realized with trepidation that throughout the battle he was so concerned with self-preservation that he failed to don a pressure suit. He looked around in panic, but there were no spares around.
Byzon save me...
, he thought in a rare moment of ideological devotion, before a knife missile hit some important piece of machinery nearby and made the entire corridor exploderize.
Bragnum Force

, Bridge
"Lights! Lights, Byzon-dammit!", Captain Syiegel yelled at his subordinates, having just dug himself out of the debris that came crashing down on the roll cage of his command chair. Remembering something, he switched on the intercom - the bridge crew all wore spacesuits and donned their helmets when the Wasp turned for its last attack run.
Red emergency lights came on with a tortured flicker, revealing scenes of massive carnage. A single knife missile penetrated even the hardened bridge walls, exploderizing right before the main telescreen and converting it into a truly enormous amount of shrapnel. Bragulan glass was famed for its resillience, usually being rated for impacts of up to 40mm APFSDNETBOOM rounds: the problem was that when it shattered, it became
shards
, shards of razor-sharp, steel-hard superglass. Normally this was good, when bomb-rigged telescreens detected ideological deviants in front of them and detonated, turning the shards into supersonic shrapnel directed
outwards
towards the enemy. But for ideologically pure crewmen in an exploderized bridge...
These shards were now all over the bridge, often embedded in crewbears, but more importantly - in the machinery used to control the ship. Though the captain wasn't sure if he still had a ship to control.
"Damage report!", he growled for the umpteenth time. It took a while for the surviving crewmembers, wandering the smoke-filled bridge, to piece together anything resembling an actual report.
"Kapitan, we lost communications to most compartments...we sent runners to ascertain operations of primary systems.", the officer of the watch began, taking in partial reports from ratings and crewmen going in and out of the bridge, "Life support is still partially operational, we lost helm, weapons, communications and attitude..."
"Why are we still in one piece?", Syiegel suddenly interrupted him.
"Well, Kapitan... it is obvious superior Bragulan engineering triumphed over the decadent robotoid archfiends and their feeble...", the officer started, trying to piece together an ideologically acceptable explanation, but the captain raised his paw to silence him.
"You! Fukeseyev!", he pointed to the sensor technician trying to reanimate his station, "Up peritelescope!"
The crewman sprang to his hind legs and manually raised the simple optical peritelescope - one of the many, many backup systems, like so many others found throughout this ship and others in the Bragulan Fleet. The captain walked up to the oculars and began sweeping the space around the gunskimmer. It only took him a few seconds to confirm his suspicions.
It was right there, right next to them. Like a predator slowly stalking its prey, the Wasp glided gracefully through space, maneuvering at what was - for space - paint-scraping distance. The captain adjusted a dial on the ocular, zooming in on the alien spacecraft. His brow furrowed, as he tried to make out the details of the alien craft... and then he saw it.
The murdership vomited forth a dozen or so black blobs, which drifted majestically across the gap separating both craft. They glistened ominously in the system's sunlight, and their surfaces seemed... almost fluid.
Then they disappeared from the peritelescope's field of view.
"The crazy bastard pulled it off...", Syiegel muttered to himself, thinking of the Commissar, "Down peritelescope! We are being boarded! Send runners to engineering, I want an organized defence there."
For some reason, the announcement they were being boarded seemed to lift the crew's spirits. They were already resigned to death - and now they unexpectedly got a second chance to fight their foul enemy.
With any luck, they might just last long enough for the cruiser to get to them.
The captain grinned viciously, even as the first shots rang out from deep inside the gunskimmer's hull.
***
Compartment C3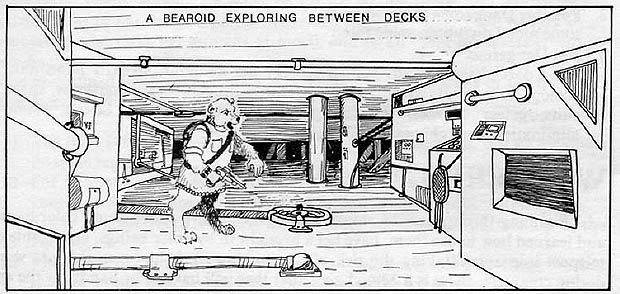 The corridor was obscured by torn cables and melted floor panels, radioactive steam venting from ruptured pipes and mist from vaporized flesh. Moans of injured crewmen filled the air along with stench of burnt flesh, vomit and blood. The very walls were buckled in by the explosion, with pressure alarms blaring, indicating atmosphere was venting out. Robyodov Nefartnyi, somehow still alive amongst the carnage, clutched his boarding k-bolter tightly... he wasn't sure when damage control bears would get to the compartment, or if there even were any damage control being done anymore, but he did hear strange, scraping mechanical noises coming from the far end of the corridor, so he decided to shoot the first thing that appeared. Since the ship hadn't exploderized yet, Robyodov rationalized his fear, it meant the commissar's plan had worked - and
that
meant there'd be robotoid murderbots roaming the corridors! And if it were rescuers he was hearing, they could always shout to him in Bragulan. Robyodov wasn't about to let any metal motherfuckers try and fuck him in the face with a death beam. No way. The faint sound of shooting and screams that carried through the buckled walls only strengthened that resolution.
So when the first hunched, shambling figure appeared in the corridor, he screamed at it and unloaded the entire magazine, shredding whatever was left of any working equipment and filling the air with a hail of acid-covered bullets. Seeing the figure still stand, he started pawing around amongst the incinerated and mangled bodies for another magazine, stealing a glance from time to time in order to see if the creature was still approaching. When it covered about half the distance, Robyodov noticed something odd...
"Pavel?", he asked, seeing bits and pieces of fur in the dim and intermittent lighting, "Is that you?"
The creature moaned in response. Robyodov managed to finally find a spare magazine and began loading it with trembling paws. Could it be that he shot a friend? But if he did, why didn't Pavel fall over?
He finally cocked the k-bolter and raised it...and found his answer, as the creature somehow covered the last dozen metres or so with two swift paces, and was now staring the terrified crewman in the face.
From beneath Pavel's flayed skin, a pair of soulless eyes behest Robyodov. The creature... the foul robotoid fucker... was wearing bits and pieces of freshly harvested Bragulan skin all over itself, draped in a terrible visage of death. Robyodov screamed. He screamed with sheer, utter, unbragulan and ubyzonic terror, terror which also happened to propel him away from the Collector and its diamond-sharp (and blood-coverd!) adamantium hand-blades with equally unbragulan speed. For Robyodov Nefartnyi was the most nefartnyi crewman aboard
Bragnum Force
, and had long ago developed a set of very useful (though unbyzonic) instincts that allowed him to survive the countless accidents, enemy boardings and commissarial investigations that he seemed to constantly get himself into. Right now, they were telling him to run. Run like hell.
Thanks to his timely and brave tactical retreat, Robyodov managed to avoid the first sweeping flesh-rending slash, but he didn't stop, despite still clutching the fully loaded k-bolter in one of his paws. He crawled and stumbled and dived through debris and obstructions like a master of the forbidden art of Bragkour, despite never having trained in it and in fact being somewhat overweight.
The creature followed, breaking into a light run. The metal claws it had for feet clanged on the deck plates, intermittently with soft squishes of Bragulan flesh it draped itself in. The corridors were becoming more and more unpassable due to the gunskimmer's extensive battle damage, though, and eventually Robyodov took a wrong turn and faced a dead end, with the ominous clatter right behind him.
"SHITS!", he bellowed, turning around. The motherfucking robot cleared the turn with unbelievable grace, especially compared to its slow, shambling movements from just a few moments before. It landed heavily on the floor...
And the panels broke with a crash, making the collectoroid robot fall into a cleverly concealed death-pit.
"Hah!", Robyodov heard someone scream. A terribly wounded bear crawled out from a collapsed ventilation duct, leaving a trail of burnt meat behind and clutching a sharpened fuel rod, "Take that, you ideologically impure robotic bastard!"
He approached the pit triumphantly and spat down, right on the head of the collectoroid - who was now impaled on dozens of similar fuel rods to the one he himself wielded. Those in the pit, however, were stripped of their protective neutron absorbent coating, and were thus glowing white-hot thanks to the chain reactions (and undoubtedly spewing copious amounts of radiation in the process). The robot was still moving, emitting some weird electronic noises.
"Know the power of Byzon, fiend! Listen to what the great Imperator has to say about those such as you, as quoted from the Green Book itself..."
Robyodov approached the pit cautiously and glanced downwards. Something about the situation seemed odd to him, in that strange way that always resulted in lots of pain in the end.
"...and thus, as they themselves should have realized had they only closely examined their own corrupt systems of governance, it is impossible to maintain growth fuelled by..."
"Excuse me", Robyodov pulled on the other bear's ragged and burnt fur, "We should go"
"...and therefore, they shall...what?", the bear looked at him funny, "Oh. Nefartnyi, it's you. Why don't you join me in glourious Byzonist triumph over our vanquished foe?"
"Can we triumph later?"
"No!"
Robyodov looked around in fear. He knew, instinctively, that something was about to go really, really wrong in the next few seconds, but how to explain that to the Byzonist zealot gloating over the radioactive pit?
Remembering something, Robyodov grabbed a lead-lined piece of deck plating and covered his crotch before continuing, "Because he probably wasn't the only one..."
"Then let them come! We will stand in Byzonist unity against this foe! We will...aaaaaah!"
Robyodov reacted quickly, using his crotch protector to smack aside the huge scarab that landed on the other bear's head.
That wasn't quite enough to calm him down, though. The bear was flailing his paws and screaming, "Aaaah! Get it off! Get it off! Imperator, I hate bugs!"
He almost fell into the plutonium punji pit, too, but Robyodov grabbed him by the paw and pulled him away.
"Come on! They're coming out of the walls! They're coming out of the MOTHERFUCKING WALLS!"
For some reason, the Byzonist didn't need any more convincing. Huge scarabs were crawling out of the various cable ducts and air conduits, and their clattering and scraping of carapaces was now quite audible, coming from beneath the deck plates, from the ceilings and walls. As soon as the two Brags crossed the intersection where Robyodov took his unfortunate turn, floor and wall panels behind them began exploding, spewing a mass of glistening chitinous bodies into the corridor.
Feelings of Byzonist superiority to all species and nature itself apparently weren't enough to make the zealot stand and risk getting eaten alive by the scarabs. As Robyodov noticed with no small amount of envy, the bear managed to outpace him during his panicked run.
After an exhausting - though short - run both of them managed to reach a ladder leading down, towards the gunskimmer's main reactor and up, towards thruster maintenance hatches. Robyodov, being merely a Crewman, and zero class at that, seemed briefly confused - despite the immense heights to which his fear-addled brain could often rise.
"Up! I have an idea!" , the zealot screamed. In that situation, Robyodov didn't exactly need convincing: it was enough to hear the rising clatter behind them. The younger crewman managed to scale the ladder in two moves, followed by the considerably slower zealot - it was quite a change from his mad dash just a few moments before, but then again, he was wounded.
The upper semi-deck was barely more than a maintenance line allowing the crew access to pipes that fed propellant to attitude thrusters. It was remarkably quiet and undamaged, especially considering what pounding the
Bragnum Force
took.
Robyodov's newfound friend looked around briefly, inspected a large gauge and grabbed a pair of fireaxes.
"Quick! Here!", he said, handing one over, "There's pressure in these lines! We'll drown the bastards! You hack up the left, I'll do the right!"
"Wait, but that's...", Robyodov paused after reading the warning on the pipes
"NO TIME! Hurry up, comrade, or they'll eat us! I'm not getting eaten by some robot bugs!", the bear screamed and took a mighty swing. Hearing the scarabs begin to scale the ladder, Robyodov closed his eyes, clutched his crotch-protector tightly in one paw, and swung the axe with the other.
With a hiss and crack and wave of immense heat, the pressurized liquid thorium burst from the punctured pipes, searing the wall. Bragenkov radiation bathed the corridor in an eerie glow and Robyodov could feel the tingle of thousands of rads passing through his body - though that might've been just hair, since his fur was starting to smoke from the heat.
Radiation alarms started blaring throughout the deck, as the wave flushed down the open hatch, burninating the mass of scarabs below. Robyodov backed away from the scene, very slowly, careful to hold his scavenged deck plate
very
tightly and not drop it for a second. They could both hear the strange electronic whine, the death-scream of countless scarabs that were incinerated below, as the liquid thorium filled up the corridor beneath them.
"We go now?", Robyodov asked, feeling overheated air burn the inside of his snout. Somehow, he felt the zealot would want to stay and quote the Green Book here a well.
Fortunately, it seemed almost getting torn to pieces by scarabs was enough to dissuade him, "Da! We go!"
And they went, leaving the thorium-filled corridor behind them. Robyodov kept glancing behind, wondering about how his comrades were doing throughout the ship... or whether any of their fellow navy bears were still alive.
***
Compartment D1
Commissar Tedostp could clearly hear the horrifying screams of crewmen he sent to delay the Collector advance while the ship's surviving handful of actual combat soldiers built a barricade in front of the medical section. He sneered, displeased with the suicide squad's obvious lack of Byzonist spirit that lead to them being so quickly and easily slaughtered.
Despite all that had happened, despite the gunskimmer's sound trashing, the boarding which was supposed to even out the odds yet turned out... less than stellar, the commissar never faltered in his feeling of Byzonic duty. For it would indeed be a dereliction of duty if he admitted even for a second that the foul robotoid fiends had the advantage: even as tactics and stratagems failed one after another, the Commissar never wavered, sending wave after wave of his men at the enemy.
And a formidable enemy it was! From what he managed to ascertain,barely a dozen Collectors boarded the
Bragnum Force
, yet they unleashed such terrifying carnage, cutting down all resistance! But when the Collectoroids finally relented under the weight of Bragulan spirits (and dead bodies) the battle would surely be recorded as one of the greatest feats of Bragulanity ever achieved! An example to follow for cublings and adult bears alike!
Barely had the commissar risen to heights of righteous Byzonic fury when a flayer blast tore his huge Commissarial hat apart at the molecular level, and all hell broke loose.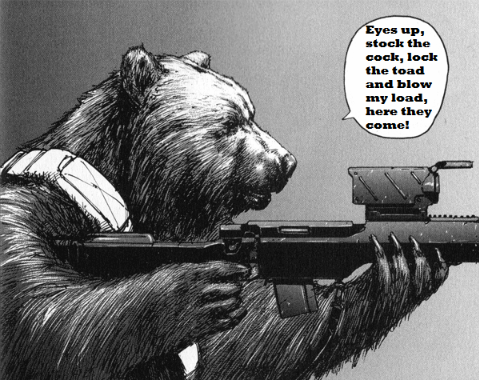 "Eyes up, stock the cock, lock the toad and blow my load, here they come!", the gruff sergeant in charge of the last remaining combat detachment cried and raised his K-Bolter. The ten or so bears in various state of sheer bearly gruffness (displayed by creative profanity scribbled over their armor, and many strange ways to make it as unable to pass inspection as physically possible) levelled their weapons and opened fire, filling the only access corridor with streams of emerald green K-bolts, directed at the skeletal figures steadily marching forward.
And the Collector boarding party did not remain silent for long: carefully aimed green ejaculations blew through the barricade and impregnated themselves in the battle-scarred bears behind. They didn't scream in pain, though: no, not like those mewling press-ganged cublings, those crewmen zero class - no, they roared in anger, firing their weapons even when wounded and being eaten alive by the foul emissions of Collector flayers.
"Never give up, never surrender! Tally ho, you monsters! All work and no play makes Jack a dull boy, MOTHERFUCKERS!", the sergeant bellowed over the sound of combat, managing to drown out even the screams of his bears and the Commissar's well-practiced Byzonist screeds. The Collectors advanced right through the fire, with two or three robotoids succumbing to the hail of k-bolts with an eerie robotic whine. "Go Navy Strong! Brag Power! URRA!"
When it looked like the attack might falter, a subtle change occurred. Under the sound of battle, the roar of k-bolters and cracks of collector flayers, came a faint barely discernible skittering noise. Like that of a thousand tiny clawed feet crawling on metal. In the din of gunfire and energy discharges, this noise was unnoticed. The skeletal warrior robots of the Collectors ceased their advance, holding their position, some even crouching or taking cover behind objects as they fired at the Bragulans - in contrast to their previous dauntless advance.
The reason for this sudden change of pace soon became evident as the overhanging sprinkler systems and halon gas tubes, and the underlying sewage and water pipes, exploderized as an innumerable mass of skittering scarabs poured forth from their ruptured plumbings.
"SCARABS!" a trooper screamed in horror. The sea of scarabs parted into two halves, the first wave throwing themselves towards the Bragulan lines. A few troopers, having already seen what these multitudes of mini-robotic monstrosities were capable of, immediately reached for their mandatory flamethrowers and bathed the corridor in incendiary isotopes.
"I love the smell of Bragpalm in the morning!" shouted the sergeant as he laughed at the sight of countless burninating bionic bugs, popping and melting from the heat.
But the second half of the scarab swarm
didn't
throw themselves at the Brags. No, they went the other way, towards the Collector skull-warriors. They swarmed the damaged machines, the broken down and shattered chassis of those few that had succumbed to bolter-fire, and they insinuated themselves on their metallic forms. Then they began to transfuse raw necrodermis into the damaged and broken warriors, mending their injuries. With jerky movements, the previously fallen warriors rose up, reanimated, whilst the regenerative necrodermis swirled on their hyperalloy endoskeletons like liquid metal flesh.
A resurrected warrior opened its mouth and
howled
at the Bragulans. Then, as if on cue, the warriors resumed their implacable advance - as though the Bragulan bolter barrage had been nothing, as though all the damages sustained had been washed away by the liquid metal necrodermis infusion. They raised their gauss flayers and continued to cut down the remaining Bragulans.
To make matters worse, the burst pipes began to spew more and more scarabs, and now that the warriors had been fully healed, there was no need for the regenerative type of insectile swarms. So the scarabs came. All of them.
Commissa Tedostp looked on in despair as the last of his soldiers were cut down, unable to fight... flayers dissolving them before his very sight, just as the scarabs swarmed over the barricade, overwhelming the last desperate vestiges of resistance.
"BE...ALL...YOU...CAN...BE...", the sergeant, the last one to die, managed to utter before the bugs swarmed over him.
***
Compartment D1, slighty aftewards, slightly further away
The Byzonist skidded to a halt, grabbing Robyodov's paw, "Nyet! Not this way, comrade!"
"What? Why, the infirmary is right the...", Robyodov paused to listen. The corridor carried the noise of a thousand scarabs, that disgusting, seething noise of scraping carapaces and tiny legs on metal, "Yeah, not this way", he agreed in a split second.
But then the noise was pierced by something else, by a terrified scream. But that couldn't be right...
"No! NO! Don't touch me! Get away! NO! MOMMY, I WANT MY MOMMY PLEASE..."
The voice obviously belonged to an adult bear, yet sounded a lot like a mewling cubling. So great was the similarity that, despite having just narrowly escaped death by scarab, the duo cautiously moved forward, glancing - just for a second - at the scene.
Commissar Tedosp was crying. His mewling and sobbing only scarcely punctuated by waves of his beating stick, as the scarab wave creeped towards his perch, high under the ceiling, crawling over dead bodies and what was left of the barricade.
The Byzonist zealot cried out in shock, "It's the Commissar! Quick, comrade, we must save him!"
His cry was met immediately with a flayer blast than singed his fur and blew a large hole through a wall. Robyodov only barely managed to drag him backwards, saving him from getting a hole blown through
him
.
"Leave him! We must find the revengeance pods before they eat us, too!"
"No! A comrade is in need! We shall go and..."
Something howled down in the corridor, like a hungry wraith. The Byzonist shuddered.
"...or maybe he can have his glourious battle, there's no need to rob him of the credit..."
Robyodov began to nod really fast, glancing at the bend from beyond which robotoid murderbots were about to emerge, and pulling his friend behind him. The zealot was still trying to rationalize his fear using Byzonist screeds when Robyodov realized they were in a dead end.
"OH FOR FUCKSES SAKE", he bellowed in rage, "NOT AGAIN!"
He felt a surge of panic. The last time that happened, he was saved by the timely intervention of what must've been Byzon himself, what with the robotoid falling right into the plutonium punji pit. For some reason, Robyodov was certain it would not happen again. Looking for an angle, any way to avoid a messy and painful death for just a second longer, he notice a door.
It was a supply cabinet.
"In there!!!", he screamed, just as the first robotoid cleared the corner.
"But we both can't fit inside!" the zealot protested.
"Oh screw you then!", Robyodov opened the door and realized with terror that he couldn't fit in there alone, either. But something was there.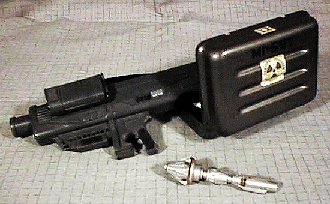 A video camera. And a small open box of Space RPG rounds somebody stuffed here with it.
Connecting two and two together Robyodov grabbed the camera and, in one fluid motion perfectly executed due to utter and overwhelming terror, smashed the lenses, ripped out the photosensitive matrix, loaded a round and aimed the former camera at the advancing robotoids, just in time to see them raise their flayers.
"SAY CHEESE!"
The video camera - which was in fact made in the same factory as Space RPGs, and used the same casings in a brilliant display of efficiency, ejaculated a round, which screamed down into the corridor. The zealot screamed in pain as the backblast burned off his remaining fur, but Robyodov didn't even notice. His fear-addled brain was working overtime, tracing the round as it sailed down the corridor...
...and missed the warriors, to crewman Nefartnyi's dismay.
Then it exploded, far behind the warriors, way past the bend. The explosion wasn't even a proper large-sized explosion, but more like a fizzle, a pop. Because the thermobaric warhead was merely spreading the incendiary istotpic aerosol. Then there was a second, much larger, explosion as the aerosol was ignited and an enormous plume of thermite-plasma came boiling down towards them from back behind the bend. The Collector warriors turned back just in time to see the fireball wash over them, burninating them and melting their hyperalloy endoskeletons, before stopping abruptly just as it was on the verge of engulfing the two huddling Bragulans. The flame dissipated, barely singing their snouts with hot air.
"Imperator save us!" the zealot fell to his knees and wept, grovelling at Nefartnyi's feet. "He saved us, Robyodov! He saved us!"
"Come on, let's get the fucks out of here." Robyodov grumbled as he discarded the spent videocamera.
They went back to the bend, and headed towards the place where the Commissar's screams had come before. Now it was silent. No more screams, no more skittering. Whether it was a good sign, or a bad one, neither of them could decide. They found a heap of Bragulan remains, charred and blackened, whether as a product of the burnination or because the scarabs had peeled the flesh off their bones, they didn't know. The stench was still unbearable, though. Nearby, they found a mound of inert scarabs, also burnt and twisted, their necrodermis half-melted by the thermite-plasma before cooling off and solidifying again.
Miraculously, they found someone alive, underneath the pile of dead scarabs. It was Commissar Tedostp. Robyodov and the Byzonist went to help him up.
The dazed bear looked around, obviously shocked at still being alive. It took him a while to focus, and several whiles before his brain managed to start thinking straight again. Eventually, though, he focused his gaze on the two bears standing before him: the Byzonist zealot, standing proudly erect, and Nefartnyi, trying to pat down a burning patch of fur on his ass.
"Where did you two come from?!", he bellowed, before remembering something, "Nefartnyi! Just wait until I find my beating stick, you fucksing deserter! Unbyzonist traitor!"
Robyodov had just about enough. Between getting nearly sliced in half, getting eaten alive by scarabs, almost burning himself to death with liquid thorium and then finally nearly getting vaporized by a Space RPG shell, he though a break was, really, the least he deserved. Plus, his gastric ulcer was acting up again.
He put out the burning patch of fur on his ass and flipped the Commissar off.
"Fucks you, Glourious People's Commissar Tedostp!", he shouted, to the Byzonist's utter horror, "If it hadn't been for us, you'd have been somewhere amongst the dead bodies here being eaten by scarabs
while crying like a baby
, so why don't you give us a byzondamned break?!"
There was a loaded pause. The Commissar looked around, as if making sure here was nobody around.
"You heard that?", he asked in a conspirational whisper - surprising the Byzonist, who expected a field execution instead.
"YES!", Robyodov shouted back, "It's a wonder half the ship didn't!"
Tedostp scratched his head, thinking very, very quickly. His training told him to stick-beat both bears immediately, but his instincts told him otherwise. What if they had a recording? Could this whelp Nefartnyi truly be cunning enough to have made one? What if...
"Okay", he nodded in a most humanoid fashion, "I will forget your desertion, but let's make what you saw here our little secret, okay?"
Robyodov thought the Byzonist would have a heart attack and was just about ready to catch him, but thankfully, the zealot managed to compose himself. The shock would probably stay with him forever, though.
"Fine, you got a deal, Commissar", Robyodov said, and couldn't help but act just a little smug. Tedostp growled at him and started to wonder if he shouldn't administer a proper stick-beating anyways, but something moaned nearby, making all three bears jump in surprise.
From beneath a pile of dead scarabs, a horribly mauled and burnt paw emerged. It clawed at the air before grabbing on a ruined office chair that used to make up a part of the barricade. The paw's owner pulled himself up with jerky movements and moaned again. Despite the horrible, horrible wounds, Commissar Tedostp could still recognize the sergeant who so valiantly held the line just moments before.
"Hah! I knew the robotoid fiends could not overcome the Bragulan spirit!", he exclaimed, "Let us find our weapons and make good our counterattack!"
Robyodov whimpered. Not this again...
The sergeant didn't seem to notice them at first, though. He looked around, moaning gutturally.
"GO NAVY STRONG!"
"Sergeant!", the commissar seemed irritated. He walked up to the soldier-bear and shook him. To everyone's surprise, one of the sergeant's eyeballs fell off.
Upon seeing that, Robyodov had another one of his feelings, and whimpered again.
A second later, the sergeant lunged and grabbed Commissar Tedostp by the throat with unbearly strength.
"ARMY OF ONE!", he screamed, headbutting Tedostp. The Byzonist cried out some random ideological screed and began whacking the suddenly reanimated corpse with a piece of pipe he grabbed from the deck. Robyodov just backed away slowly, trying to remember which way led to the REVENGEANCE PODS, quite content to leave the two idiots to their struggles.
The Commissar managed to break himself free of the zombie-bear's grip, however, and lunged for his beating stick. He could see the Byzonist sail majestically through the air and slam into the wall, buckling one of the Bragsteel supports on impact, followed by a cry of SEMPER PARAPEFETUS.
The Commissar rose. His beating stick crackled with radioactivity, and glowed white-hot from the unstable isotopes within its miniature subnuclear reactor.
Avoiding another bear-hug from the dead sergeant, Tedostp took a mighty swing and split the sergeant's skull open with one terrifying blow, while yelling an utterly incomprehensible amalgam of Byzonist screeds.
The zombie's skull blew apart. Chunks of boiled bear-brain splattered on the walls, making Robyodov shudder yet again - as if he didn't have enough of a reason to...
But something else also happened. The corpse, now missing one head, was still standing. Worse: it began to quiver and shake, unnaturally, before tearing itself apart with a vomit-inducing sound of ripping flesh. Out of the horrible wounds in the abdomen, out of the visible neck arteries... scarabs began pouring out. The Commissar gasped in shock. The Byzonist zealot looked like he was about to vomit.
Robyodov didn't even flinch: in an instant, he moved from a standing start to a full run back down the corridor they came from. Tedostp and the Byzonist both hesistated for a moment, but took no chances - taking example from the most sensible bear in the pack, they ran as well.
I need a byzondamned vacation
, was Robyodov's thought as he hauled ass down the ruined corridors of the gunskimmer,
Why the hell do I keep getting into those things, anyway?
There was only one way out, one path through the corridors, which he took. He ran as fast as he could, lungs burning, panting through his snout and booted feet clanging against the steel flooring. Behind him, he could hear the two follow his lead, and further behind them... the tide of scarabs.
Robyodov went around another one of the corridors' infinite turns, but stopped immediately.
"Shits!" he cursed. He collapsed to his knees. "Fucks!"
The corridor in front of him ended. Not in a dead end, no. It was simply
gone
. Replaced by a massive chasm. The thorium they had dumped a while ago had melted through so many sublevels, even the one they were on now, eating through the ceiling and the flooring and accumulating somewhere below them on the lower levels thanks to artificial gravity - literally creating a pit of radioactive materials. They could not cross it without jumping into a pool of thorium.
"Shitfucks!" Robyodov shouted again. Just then, the Byzonist arrived behind him.
"Noooo!" the Byzonist screamed as he saw the thorium pit. He gnashed his teeth and looked up into the air. "My Imperator, my Imperator! Why has thou forsaken me! I mean, us!"
The pitter-patter of a thousand tiny little feet belonging to horrific little robot monstrosities out to strip the flesh off their bone grew louder and louder.
But then, something else. The clang of the Commissar's ideologically correct face-stomping boots.
"O yea of little faith!" Commissar Tedostp admonished them, once more quoting the sayings of Byzon. "Ask and yea shall receive!"
He pulled out his beating-stick. For a not-so-brief moment, Robyodov wondered if the Commissar had gone mad, if he was intending to make a last ditch stand against the scarabs by beating them with his stick. But then....
The Commissar pressed a button on his beating-stick. There was a snap, the barbs on the sides of the stick snapped outwards. Then, with another button-press, the pronged head of the beating-stick launched into the air - trailing a cord of Bragsteel cable behind it. The grappling beating-stick hooked on to a twisted bulkhead above them, its electrificating brag-prod turning into a powerful electromagnet.
"Hang on," the Commissar said as, with a big embrace, he grabbed on to his two wayward prodigals. "Here we go!"
Robyodov closed his eyes as they jumped over the pit. It was now a matter of faith, faith in his Commissar who previously had been screaming like a furless cub. Faith in Byzon, in whose name Robyodov's bruised head had received countless stickbeatings. The Byzonist with them clinged tightly on the Commissar's greatcoat.
The scarabs behind them tried to jump after them, only to fall into the thorium and burn.
Then Robyodov felt the sensation of falling.
Oh no.
"OH BYZON I'M ON FIRE!" the Byzonist screamed. Robyodov opened his eyes and he saw his plucky ragtag fanatic-companion rolling on the floor as though engulfed in flames. He looked back and saw that they were on the other side of the thorium pit. Though the Byzonist was not really on fire at all, the Commissar nonetheless administered first aid stickbeating to extinguish his panic. "Oh... we're okay."
"Not for long," Robyodov said, pointing back to the other side. The scarabs were coming closer, despite the gap of the pit. They were attaching to each other and forming a makeshift bridge!
"Quick, here comrades!" the commissar shouted behind him. With unbragulan strength he ripped open a wall panelling, revealing something... a concealed hatch.
"What is that? Where did that come from? That wasn't in the floor plans!" Robyodov said. From where did the commissar pull his hatch from?
"It is secret commissar access hatch!" Tedospt replied as he, the Byzonist and Robyodov squeezed into the miniature turboliftalator inside the convenient commissar compartment. "For commissars to make quick getaway if crew mutinies and he needs to gas entire compartment from safety!"
Tedostp slotted the tip of his beating stick into a keyhole and turned it. Their turboliftor closed and with a
vwoop
delivered them somewhere...somewhere there were sounds, sound of Bragulan speech and barked orders.
For a split-second, flashes of terrible future rolled before Robyodov's eyes, where he was drafted (again) into a ship defence party with only a k-bolter and sent off to die. It only lasted so short because the Comissar opened the shutter and jumped out, straight onto the bridge - to captain Syiegiel's major surprise.
"Commissar! You are alive!" Captain Syiegel shouted as he brushed past crewman Fukeseyev, who was manning (bearing) a B-NET heavy K-bolter.
"Da! Soulless robotoid grit and utter disregard for pain, as well as swarms of terrible flesh-rending drones were no match for an agent of the Commissariat!"
Robyodov's snicker was, fortunately, not heard by anyone important - maybe because the poor crewbear was trying to extricate himself from the tight and cramped mini-turboliftalator.
"And what of our bait?"
"It's, ah, secure.", Tedostp did not mention by whom, for he did not know, and the Commissars never lied!
"By whom?", the captain asked, making Tedostp curse under his breath, but immediately after he waved his paw dismissively, "Doesn't matter, anyway. We are preparing the ship for self-destruct."
Robyodov's visions of horrible death in various shapes came back immediately.
"Why?!", the crewman spat.
At least launch the REVENGEANCE PODS!!!
, his subconscious was screaming,
Preferably with me inside one!
The captain shot Robyodv
a look
and then returned his attention to the Commissar, "The cruiser has arrived and is powering towards us at full thrust. We are going to damage that fiendish murdership and set it up for them to kill!"
"But WHY?!", Robyodov couldn't help himself. Surely, the cruiser had enough firepower to easily deal with the robotoid ship? Or was the tiny vessel so full of murder that it could deal with a Bragulan cruiseroid, too?
"Commissar, why don't you find Crewman Nefartnyi something to do?", Syiegiel growled, "He's getting on my nerves."
Tedostp turned around and waved his stick around, "Shut up, Robyodov."
The most nefartnyi crewman aboard one of the most nefartnyi gunskimmers whimpered, but didn't say another word. He noticed a runner arrive at the bridge, screaming something about the murderbot boarding parties retreating. The captain turned to one of his underlings and nodded. The underling pressed a gigantic, red button on his console.
Robyodov whimpered again.
***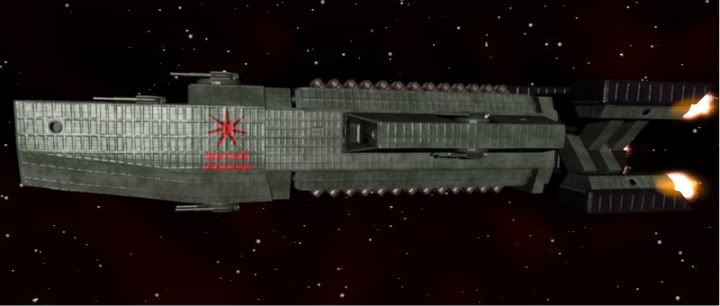 Picture by Darkevilme
Today Is Bragsday

, bridge
The sleek and nimble - by Bragulan standards, of course - cruiser was powering across the system on its enormous atomic thrusters. It had received a distress call from the
Bragnum Force
an hour ago, and immediately went to hyperflight in an attempt to catch the insipid robotoid ship.
Its captain cared little about the puny gunskimmer and its crew: having lost many cubs of his in these constant skirmishes. Now that he had the advantage, he had every intention of blowing the Collectoroids to tiny little pieces.
"All missile tubes ready!", the chief in charge of the weapons station reported dutifully, right on time, as dramatic considerations required. Every crewmember on the bridge could feel the mighty machineries cycling gigantic Spud missiles into their launch tubes, ready to load fresh missile within seconds of the first salvo launching. The
Bragnum Force
was growing larger and larger on the telescreens, and soon buzzers would announce they were in range...
Suddenly, there was a flash. A blast of light and radioactivity, tremendous tremor in the aether that every Bragulan navy bear knew: it was the blast of overloading subnuclear reactors.
The captain wouldn't waste time watching the detonation or mourning the dead crew on the gunskimmer. For all he knew, the Collectoroid ship still lived.
The buzzers started buzzing. A crewman pressed a button.
And there were many missiles.