When last we saw Warboss Migwazza:
Nguyen's World, Sector X-5


January 18, 3400
One thing about being a fighta pilot, you usually had plenty o' dakka. More than anybody could carry. It was never really enough, you couldn't
have
enough dakka, but it was a lot better than nothin'. So when Migwazza found himself back on the ground, with no weapon to call his own but his personal slugga, he wasn't happy. Sure, it was a good gun. But it just wasn't the same as a battery of heavy machine guns and autocannon. After he'd pulled loose a suitable-length chunk of support beam for his smartboy's* crutch, he'd gone looking among the wreckage to see if any of the guns were still intact. Finding that one of the wing-mounted dakkaguns still worked, and even managing to pull some ammo that hadn't cooked off out of the wreckage, was the best thing to happen to him all day.
So here he was, making his way back to base through the rocky badlands of Nguyen's World. He had his slugga, he had a machine gun slung over his shoulder, he had a follower trooping along in the sand beside him. Everything was OK. Well, pretty much OK. Only problem was, the little guy was making pretty good time with that crutch, but even so it was going to be a while. Then he saw a plume of grit and sand rising from the horizon.
Good. Here comes my ride.
He squinted, shading his eyes from the desert sun. It looked like... yup, bikers. As they crested the last rise in front of him, he saw that they were dressed in Nazdreg's colors, with a crude imitation of his banner flying from the lead bike.
Zoggers
.
He shouted as they pulled to a stop a few dozen paces ahead of him. "What you want?"
"Boss Nazdreg, he ain't happy 'bout you screwing up like dis. He saw you go down on da radar. How come you get shot down by a ship wit' no guns?"
That was the last straw. For a moment, that same weird impulse he'd felt earlier flickered, made him want to say something like "get off the bike and no one gets hurt." The impulse died fast. Zog
that
, he could do with a straight fight after all this muckin' around.
"WAAAAAGH!" Migwazza leveled the dakkagun at the leader of the biker pack and let fly. The roar of the heavy gun was deafening, and a blizzard of tracers streamed out. The ace walked its fire onto his newfound enemy, tearing both the ork and the bike he sat on apart in a spray of blood and sparks. Then he charged, firing from the hip. Even with the heavy weapon in his hands, he was still outgunned by the rest of the biker mob, who mostly had similar guns of their own mounted on the bikes. Two of the quicker-reacting bikers had already opened fire; most of their rounds slipped behind him to both sides. He felt a spike of pain from his left side as a heavy slug grazed the outside of his ribcage and tore a shallow gash along it, but now he was in close.
A point-blank burst from the dakkagun saw off another ork; he smashed a third off his bike with a jab from the barrel. Seizing the weapon the third biker had drawn in self-defense in his left hand and drawing his shoota in his right, he laid in among the other orks with pistol and axe. For a few moments, his mind dissolved in the berserk joy of combat, as he scattered the remnants of the biker mob and blazed away at the cowards who fled. Finally, he saw no standing enemies before him.
Nor did he see the one behind him. The biker he'd knocked down lept up and jumped on the warboss's back, growling and locking his arms around Migwazza's massive torso... and pulling a jagged-edged backup knife toward his throat. Migwazza wrestled with the unseen opponent. Normally, he'd have easily overwhelmed any ordinary ork, but the wound over his ribs was starting to weaken him on that side, and leverage was against him. He gritted his teeth and
pushed
, keeping the knife away from his neck, but the wiry little bastard had a grip like a bullsquig... then he heard a pistol shot. The arms clenched about his neck relaxed, and a burden fell away from his back.
Migwazza turned. His wounded copilot limped towards him on his crutch, a smoking shoota in his hand.
The ork pilot let out a mighty bellow of laughter. Now he knew why he took the trouble to save the smartboy earlier.
"Sometimes, Zimgrod, you iz real 'elpful."
"Thanks, boss."
Migwazza looked around, and spotted the bike with the fewest dents and bullet holes in it. Just his luck... it had a sidecar. He peered into the sidecar, reached inside, and pulled out a terrified grot with a toolbox- must be the mob's mechanic. Then he threw the grot into the distance.
"You, boy, you get in 'ere. I drive. We gonna be back to da airstrip in no time!"
Revving the engine and zooming out along the plains brought him back to his early days, before he'd learned to fly, when he was just another biker boy like the ones he'd smashed his way through today. He'd had nuthin' then, and he'd built up a squadron. But not a good enough squadron, fat lot of good they'd done him today. Bitzgrub was OK, an' Zimgrod was OK, but most of the others, they were just mucking about.
When he got back, he'd pull together what he had and get off this rock for a while. Nazdreg might be a grottish bastard some ways, but he had a lot of firepower, and Migwazza would need to rebuild his forces before he could take him on. He'd go find some other planet to work from. An' he'd build a new squadron. He'd get Bitzgrub to design better planes: faster, tougher, shootier. It would be the new... no. He wouldn't even keep the same name from the old squadron. This was a clean slate for him.
He'd call it... no, not that. Not that either. Wait! He knew what the name would have to be. Short, easy to remember, dead killy.
DEFF SKWADRON!
*Smartboys: A rare subtype of ork that is basically a normal warrior in temperament, but unusually intelligent. Typically the ones to remember such details as the actual nature of the mission. Often used by warbosses as a cross between an aide de camp, a designated driver, and a whipping boy.
---
Office of Frontier Affairs


January 20, 3400
Migwazza smacked a meaty hand down on the table.
"So, dat's about da size of it. Safe passage fer me, my gear, an' a few of da lads... an' I tell you everyt'ing you need to give dat zogger Nazdreg a good thumpin'."
The human across from him talked like a grot, which stood to reason. "If it is truly your wish to leave the planet and never come back, we wouldn't dream of stopping you."
"Right. So no fancy tricks like trying to blow us up when we leave da system! I still got fightas, an' if you get tricksy wif me, I make you sorry!" Of course, with his
best
plane shot down by Nazdreg's big guns, that would be a right tricky scrap to get into, but he'd do it. Somehow.
"Naturally, warboss. You'll have no trouble from us."
Migwazza slapped down a pile of complicated stuff Zimgrod had drawn up for him, in between the dok's operations to attach his new cybork foot. Maps, lists, more lists, even
more
lists... it was all in humie, not in proper glyphs, but the warboss could follow enough of the contents to know that most of Nazdreg's arms caches and camps were listed there- courtesy of pictures he and the boys had taken over the last few years, flying over those bases on their way to do jobs for him.
He wasn't sure how much the humies could do to ruin Nazdreg's week with those big planet-defense guns still working, but that wasn't his lookout. Some day he might come back and take care of those, but not now. No, he was going to shake the dust of this zoggin' rockball off his feet and rebuild his fortune on another world, just as soon as the gretchin transport pilots he'd hired showed up.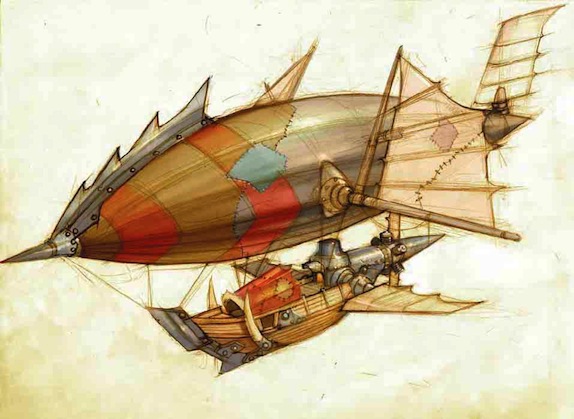 January 23, 3400
The lads were loading the pick of the gear into the back of Migwazza's battlewagon, before driving
that
into the transport. It wasn't the best battlewagon, even he had to admit that, more like a dump truck with some machine guns bolted on... but it was his, and he was proud of it. Most of the space was loaded down with Bitzgrub's supplies: miscellaneous boxes and piles of stuff, some of which he recognized, some of which was random junk as far as he knew.
Migwazza idly kicked one of the crates, and grunted as he stubbed a toe. Then he grabbed it to throw it out of the way, but when he hefted the thing he found it heavy, even compared to his own superhuman muscles. He shouted over to his mek. "Wot's dis?"
"Remember Project Looto?"
Migwazza growled: Bitzgrub's idea of building nuclear ramjet fighter had
seemed
like a good idea at the time, and it had been
dead
zoomy- hyper-WAAAGH!-ic even. He wouldn't forget blazing across the desert at cactus-top level at speeds of two thousand miles an hour any time soon. Not many pilots could say they'd done that, if you didn't count the ones embedded in a mountainside.
But after he landed the thing from the first test flight, half the lads started puking their guts out from... radiate-ors? Something like that. Plus the four-armed mutant snotling attacks had started not long after that. They'd finally had to move the airbase to get away from the things.
"Yeah. You try
dat
again, you better do it away from da camp."
"No, no, warboss, but I still got leftover plutonium! Dat's what's packed in 'ere. Plus a buncha lead bricks an' junk. Y'know. Shielding."
"Plutonium..."
"Plutonium. Da stuff da Sheppohumies use to make boom."
Now
that
was a whole 'nother story. The traditional duality of orkish existence was dakka and choppa. But in the Badlands, that duality was expanded- the orks had learned much from their human neighbors. On the one hand, there were the Umerians, and their zappa. On the other... the Sheppohumies, whose mastery of the art of boom even an ork had to respect.
"Oh. Good. Get dat in da battlewagon!"
"Right you are, boss."
"Too bad you got none of da Squigwindas left. Zoggin' idiots eating da night watchsquigs..."
"Eh, can make more a' dose any time. Squigs iz cheap, rokkits iz cheap. Plutonium, now plutonium ain't cheap. Well. Less'n you know da right people."
Migwazza gave his loyal comrade a hearty pat on the head, one that drove Bitzgrub's feet through the hardpan surface and into the softer earth underneath. "An' if you knew da right people, what would you be doin' 'ere muckin' about wit' us?"
---
Planet Bunyip


Sector Y-5
March 5, 3400
Migwazza had just tossed back the last of his mug of fungus beer and delivered a mighty, near-incendiary belch when Bitzgrub trotted over, waving his arms. "Hey, boss, you got a minute? Got sumfin' over in Hanga three! Fresh outta da Skunkworks!"
"Whut? Another skunk?"
"Nah. Just kept da name from last time."
"So show me already!"
"Right this way. Had mosta da parts before we moved, but... here!"
Bitzgrub waved an arm festooned with some of the fiddlier bits of his toolkit at an oddly-shaped house sized lump wrapped in a large piece of stained canvas.
Migwazza could make a pretty fair guess what this was. He'd never been one for personal powerklaws or the like, but you couldn't call yourself an ork without some choppa on you- in his case, a jagged-toothed 'knife' that would have done duty as a fair-sized sword by human standards. He yanked the blade through the ropes holding the splotched cover on, then tossed it away into the corner, where it settled down on a trio of squabbling gretchin.
It looked... fast. And pointy. Plenty of red. And there were Squigwindas slung under the funny pointy-triangle wings! The first new Squigwindas since the move!
Bitzgrub beamed. "Happy birfday, boss!"
"I like it. I'll call it... da
Big Mig II!
"
April 25, 3400
The target was a cut-rate transport, a converted Shepistani spacebomber last used in some long-forgotten nuking. Designed for a diverse medley of engines and long endurance, a surprising number of the B-36 Pacemaker bombers got reused for low-margin trash haulers after the Spacebomber Aerospace Corps graduated to faster and higher things.
The pot-bellied vessel had reentered the atmosphere and was beginning its landing approach at a disused spaceport on this desolate world, its magnesium overcast tracing a fast-moving shadow on the ground below. But then, it was bounced from above... by DEFF SKWADRON!
"WAAAGH!"
From sheer delight, Migwazza let loose a burst from the heavy deffguns in the nose, but the kannon rounds fell short. Zimgrod was back in his seat, manning the radar and listening to the growls from the missile guidance squigs. "Missiles Four an' Five got it!"
The pilot's massive fist smashed down on the launch buttons for the missiles, as Zimgrod shouted "Squig Two! Squig Two!"
"Whut? Thought you said dat was Four an' Five!"
"Dunno, boss. Just sounded right."
"Oh. OK. Hey, lookit dat! Da engine's on fire!"
"I t'ink dat one's supposed ta be on fire."
"No, Zimgrod you grot,
dat
one!"
"Oooooh."
The aerospace bomber-transport wasn't fast in atmosphere at the best of times. After the first ripple of guided missiles from the ork fighters, there weren't enough engines turning and burning- and far too many engines smoking, joking, or otherwise not accounted for- to keep it airborne. The pilot, despairing of making a descent with his engines shot out, and obviously hoping for a controlled crash, steered for the nearby salt flats- on the wrong side of the mountains from the port.
"WAAAGH!"
But this transport had some special bitz; they didn't want to risk damaging the loot. Migwazza bellowed into the radio, waving off his pilots from the strafing runs they wanted to line up. After they'd complied, or at least settled for letting loose a few dakkagun rounds from extreme range that probably wouldn't hurt anything important, he checked back with Zimgrod.
"Hey, check on da battlewagon!"
The smartboy fumbled with the radio hookup, with its little whirring and buzzing gizmos. There was a snap of electric sparks, then... "I got it! They see da plane, boss!"
So they were right on schedule. Now to find a flat bit somewhere around here so's he could be in for the kill...
Didjabringabeeralong Salt Flats


Some Time Later
The landing hadn't been too bumpy, and the trukk drivers had been right on schedule. Migwazza remembered one time, back before he got his own squadron. He'd been hired to fly escort for a gretchin transport, some kommando thing. It had been an interesting day.
Between the crazy grot, the talky ork who'd somehow managed to win Migwazza's gold tooth at poker, the huge ork they'd had to drop an anvil on to knock him out so they could get him into the transport, and the nob in charge of the whole thing... yeah, an interesting day. But he remembered well what the nob had said, when the smoke cleared and the last of the surprisingly nonlethal explosions went off.
"I love it when a plan comes together."
Migwazza learned a lot that day. Don't be a fool, or you may wind up pitiful. Always keep rabid gretchin at arm's length. Never wager your own teeth at poker if you can bash out someone else's. And, yes,
planning.
He had trouble with it sometimes, but he kept tryin'. That was why he kept Zimgrod around, even though the boy was annoying a lot of the time.
So this had been a pretty carefully timed operation, and it had gone about as well as he'd expected: he didn't have to wait long enough to get mad enough to kill anyone for mucking about. Migwazza leaned out on the running board of the trukk carrying the lads; other trukks stayed behind to refuel the planes so they could take off again... probably. This load was worth them having to haul one of the planes home in the battlewagon, at least according to Bitzgrub, and the fighta-bomba boss trusted the mek's nose for valuable plunder.
They were coming up on the downed transport now. A double handful of Sheppohumies wandered around the crash site, looking confused and disoriented. You could
see
the moment when they noticed the three ork Teknikuls roared towards them. Some ran, some hid, some dived back into the Pacemaker and came out with improbably large firearms. Soon, the trukk's hillbilly armor rang with occasional bullets, just enough to keep things interesting; the boys whooped and returned fire with the vehicles' pintle-mounted dakkaguns.
One of the ground crew took a burst of slugs in the chest and slumped down into the bed, grumbling about his bad luck. At that, Migwazza pulled out his personal shoota and started blazing away himself. Keen eyes measured the range to an accuracy of 'about good enough,' and his third shot from the underbarrel grenade launcher blew one of the Sheppohumies into red mist. At that, the others threw down their guns. The orks quit shooting, one at a time- it wasn't much fun after they stopped shooting back.
...
The boys rounded up the prisoners and stuffed them into one of the trukks, while Bitzgrub sorted through the loot from the spaceplane. "Yep, boss, like I thought. Plowshares."
"Whut's a plowshare?"
"Usually, sumfin' you make choppa out of. But with Sheppohumies, you make
boom
outta plowshares. Lotsa boom. What we got 'ere are nukoforming charges, chock full'a repleted uranium an' lithy... lithadoot... dootahide... uh, other stuff."
"What's it wif' you an' boom these days?"
"Well boss, I got a new idea. You like da new planes, right?"
"Yeah,
Big Mig II
iz ded zoomy."
"So we got zoom, an' we got dakka. You can put choppa on a plane, but it's tricky ta use, I should know. So what's left?"
"...zappa?"
"Well, boss, if you want zappa I know a few Umorkians who might be able ta help, but me, I think zappa's overrated. What we need is... boom!"
"Zoom an' boom?"
"Dat's it. Put da
bomba
in fighta-bomba. So if you don't mind, boss, I got a new project going. I call it... Da Bomb!"
"Hmm... how big?"
"Dunno. Still working out da details."
"Bigger dan Nazdreg's zoggin' guns?"
"You betcha, boss!"
"Go for it."
---
The Lodge


Alice Springs
Bunyip Planetary Capital
April 26, 3400
"He shot down a WHAT?"
"Just a tramp freighter. Shepistani model, owned by a private hauling firm, registered on New Libertopia. They were taking cargo and passengers from the Shepistani Republic down into edges of the Outback, for a Rio Tonto mining operation. This ork shot the transport down and took two dozen Shepistani nationals hostage. His message says he wants a hundred thousand credits in ransom per person."
"Doesn't he know the Sheppos' policy? They
never
negotiate with terrorists, they nuke them!"
"He didn't inform the Shepistani government, ma'am. He called
us
."
"..."
"Ma'am, I recommend in the strongest possible terms that we
not
inform the Shepistanis until the hostages are back safe and sound. If they find out about this and send a punitive expedition..."
"Did you check with the Ministry of Defense? About-"
"Yes, ma'am. Based on our projections, if the Shepistanis send ships in to deal with this, they'd start by nuking Migwazza's airbase. And anything else within several hundred kilometers that
might
be Migwazza's airbase. We expect that they'd drop something between two hundred and seven hundred megatons out there- assuming they use some degree of restraint and don't just carpet-nuke the whole Outback into glass. Prevailing winds would carry the fallout right over the coastal provinces."
"Right. So telling the Shepistani ambassador is right out then. We'd better handle this ourselves. Can we extract them ourselves?"
"We might be able to. On the other hand, this Migwazza seems to have picked his site with care. There are several other ork warbands in the neighborhood. If we send in a large enough force to be confident of taking him down without killing the hostages, we risk getting entangled with the other bands. We might end up touching off a general WAAAGH! towards the coastal provinces."
The prime minister winced. That happened every few decades anyway; they generally managed to beat the orks back without too much damage- their numbers weren't overwhelming, given the rugged, hostile terrain of the Deep Outback. But that might cause almost as much harm as the fallout from a Shepistani nuclear attack would.
"I suppose we'll have to pay up, then. Better that than getting WAAAGH!ed or nuked."
---
Airstrip Migwazza


April 27, 3400
Mek Bitzgrub wandered past the prisoner enclosure, mumbling to himself. "So, big plutonium ball on top, bigga can on da bottom? Or other way 'round?"
"Heef?" One of the prisoners was bouncing up and down, looking like an eager squig who wanted to play fetch-the-snotling.
Hmm. On the one hand, a humie. Humies who tried to look at orky tech usually just wound up laughing or crying or something. On the other hand, he was a
Sheppo
humie, and Sheppohumies knew their boom, you had to admit that.
"Lemme show you!" He reached out one long, tool-studded arm and grabbed the Sheppo, hauling him over the fence of the enclosure. Several of the other prisoners squawked in alarm, as did one of the guards, but Bitzgrub bellowed them all into silence and hauled the fellow off to the shop where he was working on Da Bomb.
"Nuke? Nuke? Nuke?" The humie was still sounding excited.
"Dat's what I'm aimin' for. I wanna build da biggest bomb ever!"
"Heef!"
"You know anythin' about boom?"
"Do I ever! I'm Budd, by the way!"
Some vague impulse, perhaps the perception that he'd found a fellow expert, made Bitzgrub stop dragging the human and set him on his feet. "Bitzgrub da mek. An-" he rounded the corner and gestured at the two-ton assembly he had on one of the reinforced shop tables- "here's Da Bomb!"
"It's..." Budd brushed a tear out of his eye. "It's the most beautiful thing I've ever seen."
Some Hours Later
Zimgrod the smartboy trotted around the buildings in search of the last humie prisoner. Bitzgrub had let him out of the pen, and Boss Migwazza was getting impatient. He finally found the grot when he rounded a corner and saw the humie excitedly waving his arms and babbling at Bitzgrub, stabbing his finger at a graph nailed crudely to the wall of the test lab.
"Oi! Budd! We got yer ransom, get in da humie chopper out front!"
"Whut?"
Zimgrod, who spoke pretty good humie, explained again.
"Ran-som. You go back now."
"Screw that! I'm stayin' here!"
Zimgrod might speak humie, but he'd never heard of Shepholm Syndrome... until now. This was a tricky one. "Bitzgrub, whatta ya say?"
"Keep 'im! E's good! Zog, we could go from
here
-" the mek poked one curve drawn on the paper- "to
here!
Maybe up here even!"
"So... you wanna keep him?"
"Right!" The mek's eyes were shining as he contemplated a radical enhancement of Da Bomb's boom potential.
"...OK." Zimgrod wandered off, scratching his head and frowning as his cybork foot clinked off the gravel and hardpan of the airstrip. He returned to the chopper.
"Hey, boss, one of da humies doesn't wanna go back!"
"WHUT?"
"I dunno."
The humies who'd come in the chopper were looking
really
nervous now. One of them waved a hand slightly. "Can... can we see him?"
They murmured to each other; Zimgrod cocked an ear and caught-
"Damned lunatic- what if they're lying- have to get a signed statement from him- something like that, I don't want to be taking iodine supplements for the rest of my life if the Sheppoes get mad about this."
April 29, 3400
Migwazza bellowed to shut up the partying orks. "We's clearin' outta here! Get yer crap into da trukks an' MOVE!"
The hostage trick, and a few other raids, had him feeling pretty flush. He had good hardware, some good boys. He'd put one over on the humies, but it was time to clear out just in case the Sheppohumies decided to come by and spread some boom around after all.
Maybe it was time to find out if he had what it took to make it big back in the homelands... onward to da orky quarter!