I revoke my previous comment. The content is arriving, now:
The OS-1 Orbital Space Station, also known informally and unofficially as the Orange Star or as The Star, is the most powerful space-station and super-weapon in the Universe, even more so then the evil Galactic Empire's Death Star.
It began life as the Separatist Ultimate Weapon before becoming the Expeditionary Space Planetoid Development Initiative after it ceased to be a Separatist project and became a Imperial one in 19 BMY. The station is only used to destroy evil planets, create new ones, and to preserve peace and justice.
Production Information
Name: Orange Star
Picture: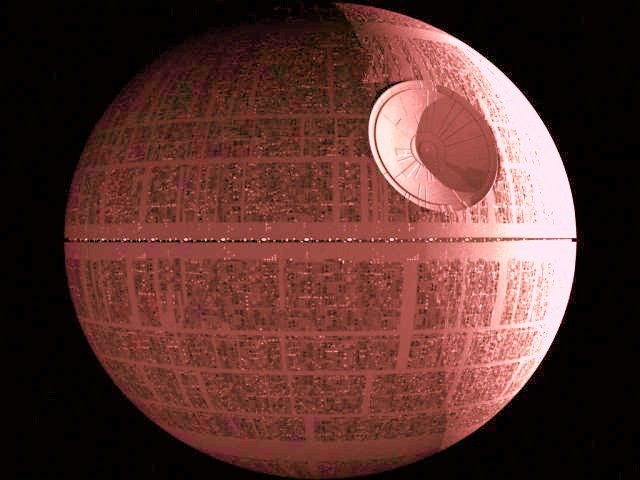 Manufacturers:
Imperial Department of Scientific and Military Research (steel and quadanium, coating of the station surface, defenses, barracks, supervision of construction)
Federation Fleet Systems (hypermatter reactor, computer systems, emergency life modules, security systems, holodecks)
Skywalker Industries (sublight engines, navigational matrix, hyperspace generators, navigational systems, holographic systems, tractor beam generators)
Youngian Industries (exterior, shuttle and elevator system, communications and internet system)
Model: OS-1 Orbital Space Station
Class: Deep space mobile space-station
Technical Specifications
Length: 160 kilometers
Width: 160 kilometers
Height/Depth: 160 kilometers
Mega-light: 10
Engine units: Falcon Sepima 40-1 sublight engines (2)
Hyperdrive rating: 0.1 (Warp 11)
Hyperdrive system: Isu-Sim SP494 hyperspace generators (986)
Power plant: Federation Fleet Systems SFS-CR3099000 hypermatter reactor (1)
Armament:
Concave Dish Composite Beam Superlaser (1)
Range 80,477,900 kilometers into deep space
Falcon and Bak super-blaster batteries (15,600)
Falcon and Bak turbo-laser batteries (20,100)
Federation and Tam heavy turbo-laser batteries (15,600)
SFS LS-9 laser cannons (12,500)
Borstel I-LOM-90 ion cannons (9,100)
SB regular torpedo cannons(4,500)
Enterprise D photon torpedo armories (19,700)
Phylon tractor beam generators (768)
Charged-particle blaster (9,100)
Magnetic rail-guns (1,400)
Proton torpedo banks(1,300)
Surface cannons (900)
Bank guns (400)
Complement:
Galactic carriers (10)
Strike cruisers (400)
Star-fighters (700,800)
Assault shuttles (8,700)
Destroyers (1,400)
Dreadnoughts (3,000)
Imperial Walkers (1,000)
Merchant ships (10,100)
Supply ships (2,000)
Soldier drop-ships (1,860)
Star-ships (14,000)
Crew:
Regular crew-members (343,160)
Officers (827,000)
Aides (600,000)
Sub-officers (1,200,000)
Support and maintenance crew (3,400,000)
Troopers (1,343,000)
Pilots (15,246,600)
Ship support crew (20,140,500)
Support robots, droids, and androids (41,467,000)
Guards (25,470, depending)
Gunners (2,468,300)
Passengers (896,182,900)
Children (433,158,988)
Other systems:
High speed turbolift and elevator system
Communications, television, holodecks, and internet system
Emergency use life-support modules
Orange Star computer system
Orange Star security system
Usage
Roles:
Battle-station
Space-station
Carrier
Cruiser
Era: Present-day era (Imperial Era)
Affiliation:
Galactic Empire
Earliest sighting: 19 BM
Completed: 0 BM
Commanders:
Regional Governor Willhuff Tarkin (Main Commander)
Fleet Admiral Conan Motti (Naval Commander and Operations Officer)
Army General Cassie Tagge (Army Commander)