Previous Incarnation of this Thread; 16 pages
In a large amount of published Science Fiction that deals with military conflict lately, there are a large amount of painful tropes and assumptions that are made by various authors (no naming names here, you should know them).
This is intended to help you
understand
these tropes; and what real life situations they are based upon, in order to assist your writing; rather than being a hurf-derp collection like TVTropes which just lists the trope, and doesn't explain the trope.
Trope 3: A Super-Trained Ninja-Forces Special Forces guy can sneak ANYWHERE and/or kill anyone.
You've probably read this at least once. Maybe twice. Our super-genetically engineered superman soldier manages to sneak into a military base, plant his bombs; and then leave, without anyone noticing them. Or steal something sufficiently interesting.
A collorary to this is our super-ninja soldier sneaking up on a lone soldier and breaking his neck; then proceeding to kill the other guys in that patrol one by one until they're all dead. Or something like that.
This is actually one of the more realistic tropes out there, but it's misused horribly and people don't understand the rationales for why the trope works in the first place.
Here are the reasons this trope works:
*
- Sneaking up on someone isn't technically that difficult. You just have to move as slowly as possible; because movement is noise and possible detection. This means instead of simply crouch-walking across a soccer field sized distance to reach a guard post in a few minutes; you need to take an hour or more, slowly moving across the distance. This is not only very tiring, but requires intense willpower, as your natural reaction is to get out of that kill zone as fast as possible; not to take hours to cross it. This is another reason why special forces training is deliberately made tough -- to weed out the people with poor willpower.
Oh, did I mention you need balls of steel? At any moment, the guard can do something unexpected, throwing a huge wrench into your 'plan'. This is especially true if you've worked your way to within 15-20 feet of the guard. You're close enough to be seen easily, but still too far away for a easy silent kill. Your only chance is to force yourself to stay as absolutely still as possible and not move, because if you don't, you're toast.
*
- Guarding something is really hard. You need to have good leadership that keeps the guards properly motivated.
It's easy to keep them motivated to properly search the riverbed under that bridge you're guarding in bright sunshine and moderate temperatures.
When it's night-time and temperatures are in the sub-zero range, combined with blowing snow...the guards won't want to go out.
This is especially true if their officers come by and exhort them to keep on their toes..."We have news of CommieNazi saboteurs in the area...", and then go to the heated Customs building next to the bridge to eat warm food and drink schnapps. The guards will notice this, and wonder...
if my boss isn't taking this seriously, why the hell should I?
The quality of the guards also comes into play. Third-Line Milita troops, or hastily armed civilians will be doing all sorts of stupid things like lighting cigarettes on duty at night (which ruin their night vision), or sticking to absurdly obvious routines, like doing a patrol of the fence line every two hours on the clock.
*
- Guarding something really, really well is manpower intensive.
Lets use Bolling AFB in Washington DC as an example. It's a rather small Air Force Base that exists as a Headquarters base to support the Air Force in the DC region. Measuring Bolling on Google Earth gives me about 40,600~ feet of perimeter to be guarded, with about 19,000~ feet being riverfront perimeter.
If we place a guard tower every 680 feet, which is the standard at a Maryland Prison in Jessup; that gives us about 60 guard towers we have to man.
Figure each guard tower has one guy looking outwards, two guys looking up and down the fenceline, a pair of guys in the central core manning the telephone and video/sensor bank...and you have 360 guys there.
Add in the need for roving patrols to check the fenceline -- if we figure two guys per patrol, and they check the fenceline between each guard tower on their routes; that's another 120 guys.
And that's just the outer perimeter. Add in the need for roving vehicular patrols by guards to patrol the base's interior roads; plus of course the usual guards at especially sensitive sections of the base, like the guards on duty at the entrance to the main HQ, and you can easily add in another 120.
Figure in another 30 guys to act as a dedicated quick reaction force; and you have a total of 630 guards on a single shift. Figure in another shift and half of guards, so that you can have a 24 hour guard force, without straining the guards too much with twelve hour shifts on the line; and you have a force of 1,575 men to guard the base.
That's about the size of a Battalion. Add in the typical HQ force for a unit of this size, and you've cracked 1,600 men easily.
In the real world, Bolling AFB actually has about 1,500~ people who work there; so our security force is about equal to the working population.
While something this intensive would most certainly be done for someplace where super advanced stuff is being worked on; or for a super weapon storage dump..for someplace a bit more common, the matter comes down to money.
Guards are expensive, compete with other personnel for facility space, and don't contribute much to the facility's mission. So to a facility commander trying to squeeze his budget and look good to his superiors; the first thing he'll do is cut the guard force before he cuts the buffet service in the DFAC.
*
- A lot of facilities that need to be guarded have poorly laid out lighting arrangements that ruin night vision -- like placing a cluster of floodlights that light up a parking lot next to a guard tower -- ensuring that when the shift changeover happens, the replacement guards will have their night vision ruined for quite a bit as they march towards the guard tower.
*
- The biggest problem is simply that even with the best preparations and advantages to the guarding force; the infiltrators can just arrive and wait for the right time.
They can for example, spend a week simply throwing rocks at the fences or letting loose rabbitoids to screw with the security systems; so that by the end of the second week, the guards no longer respond when the security system detects movement -- they'll just assume the system is just on the fritz.
-----------
So we've covered the basics of how special forces can go places and kill people, like in the movies!
But the movies never tell you about what happens in real life, when Special Forces missions go wrong.
And they do go wrong with a very disturbing regularity.
Some of the classic failures of special forces sneakiness are:
*
-
Persian Gulf War 1991:
An inordinately large amount of Long range SF missions against Iraq failed when they were detected by Nomads or other random people on the march to the target and had to abort the mission. Many of the teams had been inserted by helicopter fairly deep into enemy lines, and thus had nice 100+ mile or more hikes to reach the border. One of the more notable ones was the
Bravo Two Zero
mission that has seen every single survivor write a book claiming that THEIR survival was a spectacular success.
*
-
Panama 1989:
This is one of the greatest fuckups ever. OK. We need to disable Manuel Noreiga's LearJet at Punta Paitilla Airport in Panama. How do we do it?
Do we send in a two-man SEAL sniper to rent an apartment across from the airfield to study the airfield and give them a laser designator to blow up Noreiga's LearJet in it's hangar with a LGB from a F-117 or F-111?
NO. That would be too EASY.
Ok? What about sending that same sniper team and putting them on the roof of the cafeteria of the airport? This way they get a better view of the hangar and shoot out the tires of the LearJet if someone tries to taxi it.
NO. Still too easy.
Ok, Ok. We'll get a team of eight SEALs, and have them steal a vehicle for local transportation, then drive to a hole in the fenceline that previous reconnaisance found. Four men remain behind with the vehicle as guards, while the other four SEALs enter the airfield through the hole in the fence, cross the airfield to the hangar, kill any guards with silenced MP5s and disable the plane.
NO. That's still too easy! What do you think we are? The US Army Rangers?
Ok. We'll go with the original plan. We'll insert 48 SEALs in two platoons at these cliffs at the end of this 3,500 foot long runway. We will then move up the runway towards the hangar. One squad will disable the LearJet, with another squad will drag small airplanes onto the field to prevent it from being used. The other two squads will be used for security at the north and south airfield ends.
PERFECT. LETS GO WITH THIS. RARRRRGH! SEALS!
*cue to start of mission with SEALs at end of runway*
So the runway's well lit by the landing lights; there's literally no cover and the entire airfield is well lit.
Do the SEALs call it off?
Nope, they start advancing, disarm some guards they encounter, and begin blocking off the airfield with light aircraft.
At this point, things start to come undone. They get a radio message that armored cars are possibly headed to the northern side of the airfield.
They also are spotted by a bunch of Panamanian houseguards on buildings nearby, who warn the guards in the hangar via radio.
By this point one of the SEAL squads is within 100 feet of the Hangar.
The Hangar guards by this time are dressed and in defensive positions, and they tell the SEALs to surrender. One of the SEALs then says the Panamanians should surrender to THEM instead.
The response? Several long bursts from the hangar guards. This volley wounds all but one of the SEALs. At this point, the houseguards across the airfield begin to fire on the SEALs, putting them into a crossfire; killing some SEALs and wounding a bit more.
The other SEAL elements being to rush forward to protect the two squads under fire; and during this, the SEALs managed to hit the LearJet with an AT-4 missile, and then withdraw.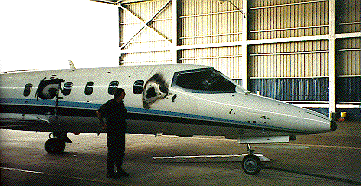 That's not exactly mission accomplished there. The Lear's damaged yes; but it certainly does seem to be flyable to me; as long as you stay low enough to not need pressurization and no key wiring was incinerated by the AT-4.
Anyway, the planned five hour mission became a 37-hour one before the US Army Rangers replaced them.
(NOTE: This ties into what I was saying earlier in the last thread about what SF training does -- it weeds out the people who can't adapt to the shitastic extended nature of the Death Mission they're on.)
*
-
Germany 1960-1991
: This one is more of a hypothetical. As Pezook pointed out in the last thread; the Soviet Union and the Warsaw Pact had an enormous amount of "Special Forces" units devoted to various specialist duties, like saboteur/partisan duty behind NATO lines. It was expected that each Spetsnaz unit would eventually be destroyed. But that was OK; because if a single Spetsnaz unit found a Pershing SSM battery and destroyed it; it had justified it's cost. Same thing for radioing in a supply convoy location so that MiG-23s could cluster bomb it.