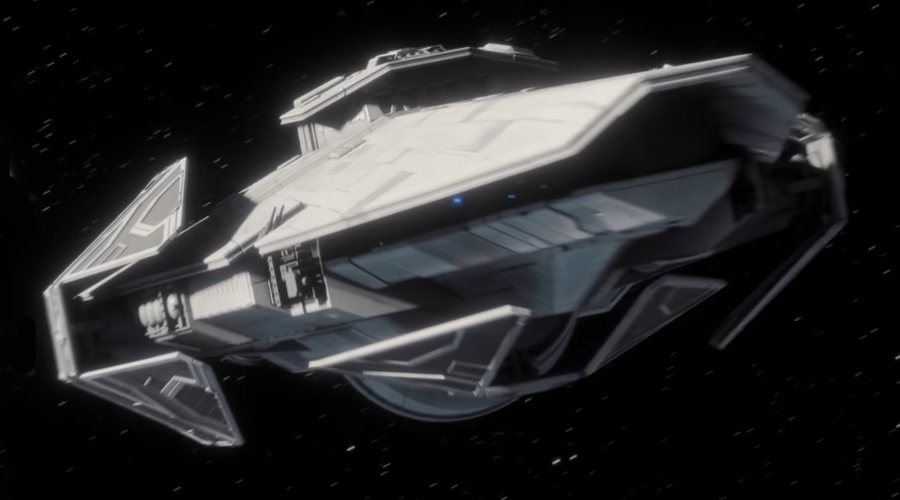 150m
So this, the Raider Class Corvette, is going to be the hero ship for the new Battlefront II and it raised some questions for me.
So it seems that the new Inferno Squad is a unit of commando trained fighter pilots or pilot trained commandos in the vein of the old Rouge and Wraith squadrons from legends. If so I cannot see how the Raider is supposed to carry the fighters for Inferno Squadron or deploy Inferno to combat. From visual inspection it doesn't seem that it has an internal hanger bay, in fact legends says it doesn't and the model is the same between legend and Disney cannon. While it could be that they use external hard points like the Gozanti-Class Cruiser/freighter there doesn't seem to be any visible connection points for fighters or even shuttles to mount to.
83m
Also while it would be possible for the pilots of Inferno Squadron to simply be equipped with FTL capable fighters like the Defender, Avenger, Advanced, Phantom or specially modified TIE/LNs or Interceptors and travel with it, it would negate the purpose of having the Raider as a carrier ship and limit the long term viability of missions if Inferno couldn't eat, sleep, use the lavatory etc.
While its confirmed that the Raider can land on the surface of planets it would seem odd if that was the only way for the on-board "Black Ops" commandos to deploy. For example the Normandy from Mass Effect which was retro-fitted to essentially be an insertion vehicle for a Spectre and his/her team and it had a launch bay to deploy the MAKO in the first game and a shuttle and hover tank in the second. Landing also would expose the commandos only means of FTl travel to hostile fire and risk their chance of evacuation.
Previously Imperial Storm Commandos, also not quite sure whether Inferno are supposed to be storm commandos or something new, possessed the Imperial Escort Carrier which possesses a visible hanger bay from which the commands could launch their TIE Hunters and presumably troop ships/shuttles.

150m
While the same size as the Raider the Escort Carrier is designed to insert commando into combat while the Raider is a dedicated anti-fighter warship designed to patrol Imperial Space and escort larger capital ships. Unless Inferno's Raider has been modified I'm not sure how they are actually going get to and from ground combat, short of landing the whole ship, let alone participate in fighter combat.
All that said I'm excited to see the game come out.
So what do you think?