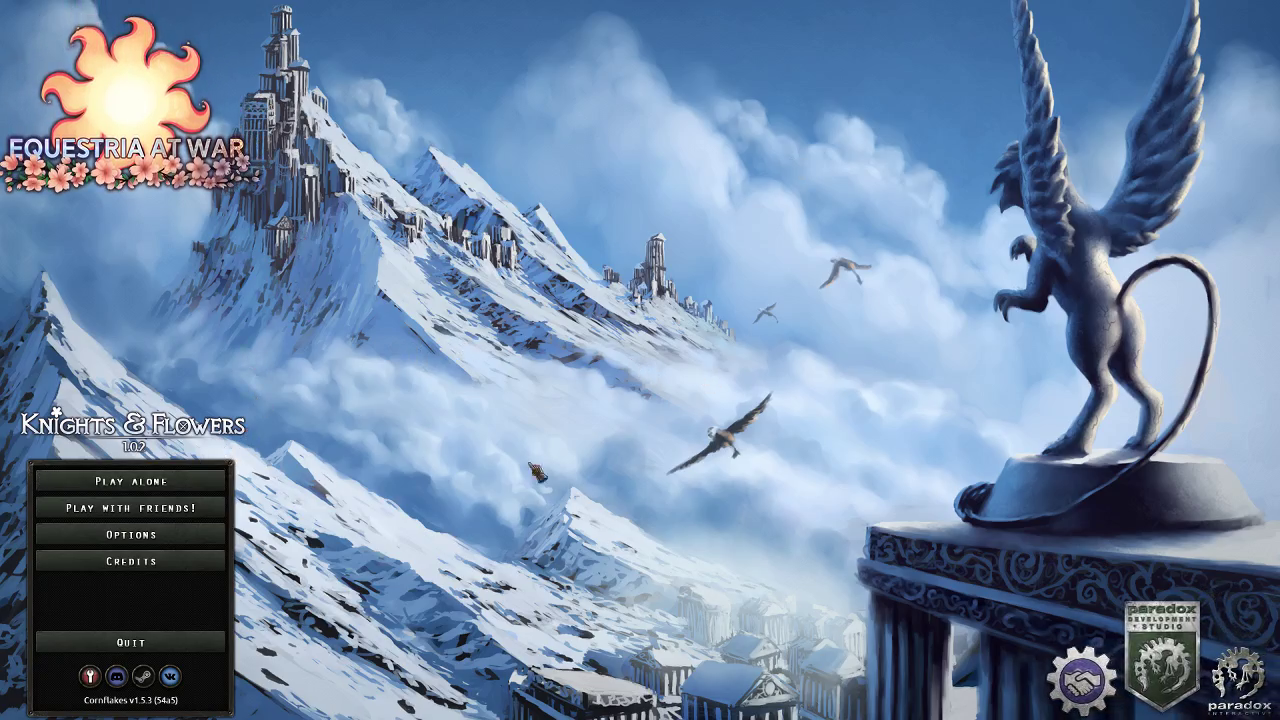 Well, this certainly is a thing.
Wait, what?
Hearts of Iron IV is the latest in a series of World War 2 Grand Strategy games developed and released by Paradox Interactive, a game studio based in Stockholm. Released on June 6th 2016 in order to coincide with the anniversary of Operation Overlord, the game involves the player taking control of literally any country on the planet in either 1936 or 1938 and leading them through the Second World War. Since its release, it has seen several major expansion packs and updates, some of which have changed fundamental game concepts like aerial combat.
No, but Equestria?
Equestria is the fictional country (or perhaps planet) that serves as the setting of My Little Pony: Friendship Is Magic, a cartoon TV show premiering on October 10th, 2010. The show follows the adventures of the Unicorn Twilight Sparkle and her friends as they learn about the magic of friendship, and has recieved something of a cult following amongst those who are decidedly
not
its target audience since its debut. Yes, that does include myself. Equestria is nominally ruled by four Alicorn Princesses: Princess Celestia, who raises the sun each morning, Princess Luna, who raises the moon each night, Princess Cadence who... it's not really clear what Cadance does, and Princess Twilight Sparkle, who became an alicorn as part of her adventures. In practice, however, the country is largely self-ruling, and-
Just what in the name of the Holy Hand Grenade of Antioch am I looking at?
Oh, right. So some intrepid people decided to port the whole world of My Little Pony into Hearts of Iron IV. This mod, called Equestria at War, was released on September 17th, 2017, and features a more grim and gritty version of the setting.
Oh, and when I say the whole world...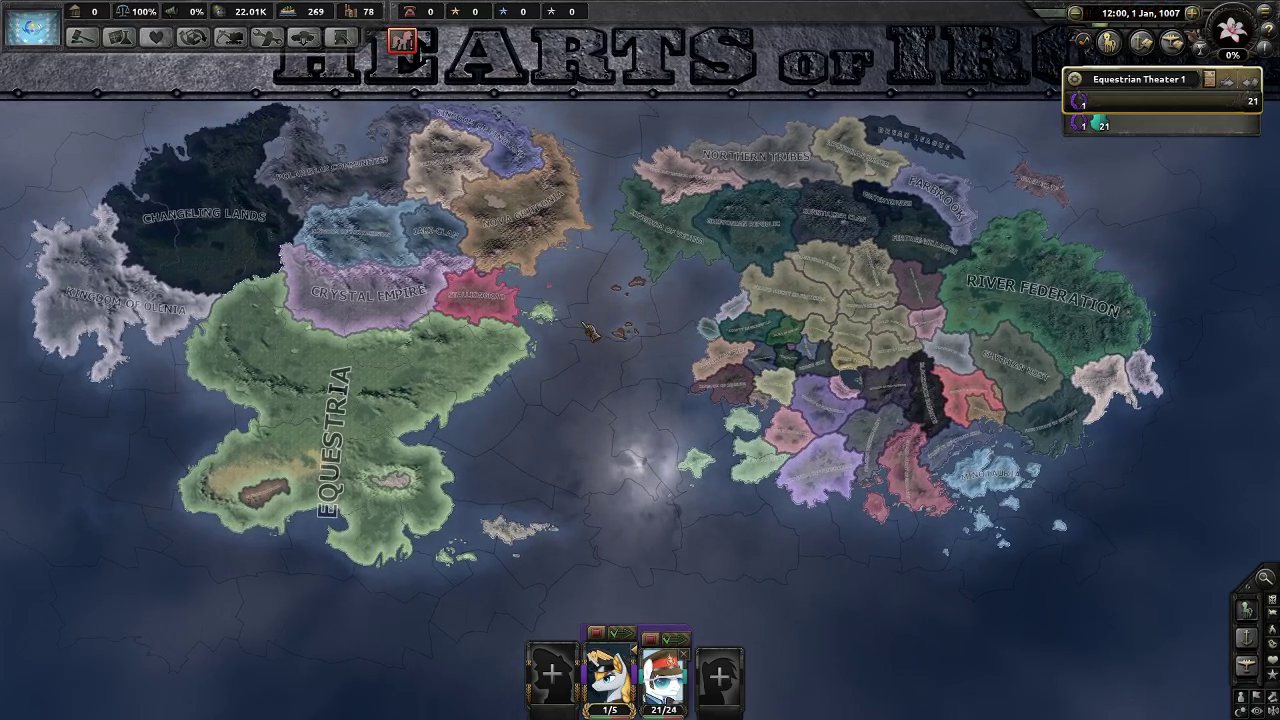 I
mean
the whole world. There are two major continents. The
mane
MAIN continent containing the nation of Equestria, along with the Changeling Empire, Stalliongrad (a fan-made USSR analogue), the Crystal Empire, Olenia (another fan-made nation, this time populated by deer), and a bunch of minor nations: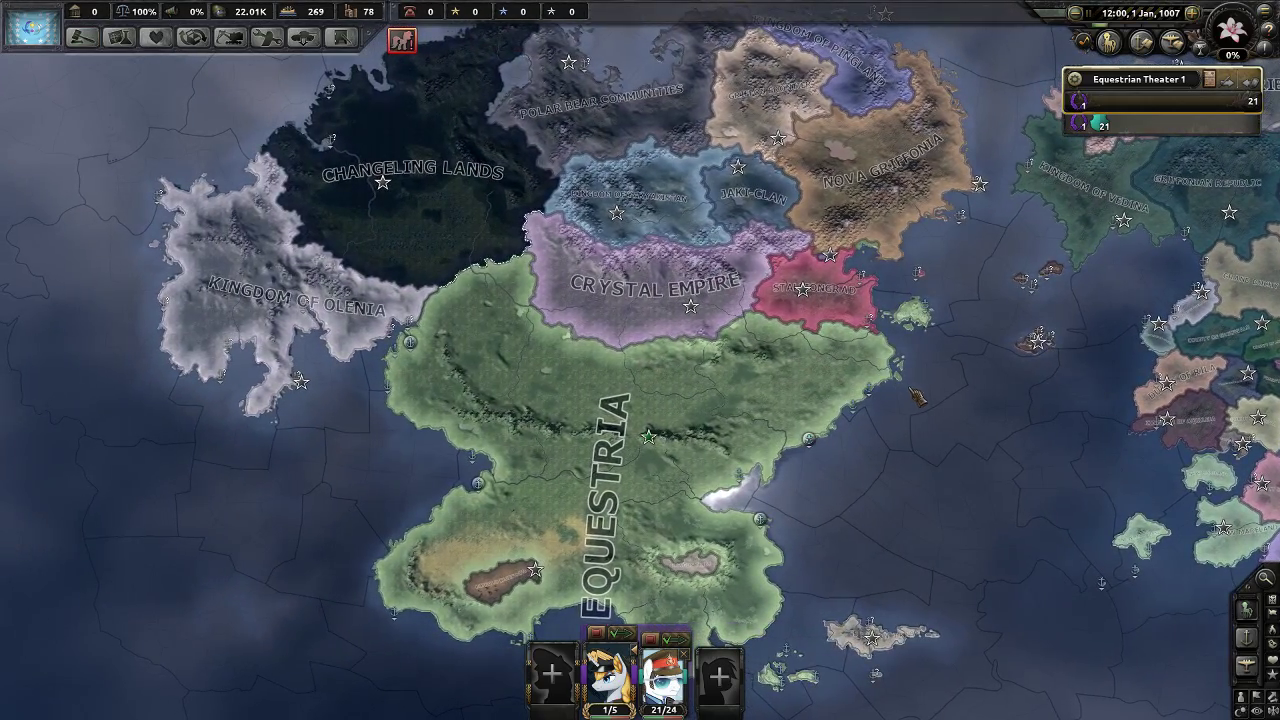 These images have been taken after I did my initial setup. You'll see what that means in the first actual game post. Also, take note of those two non-green bits in Equestria - those are independant states.
and the continent of Griffonia, dominated by the River Federation (made up of Ponies) and the incredibly fragmented remains of the Griffon Empire: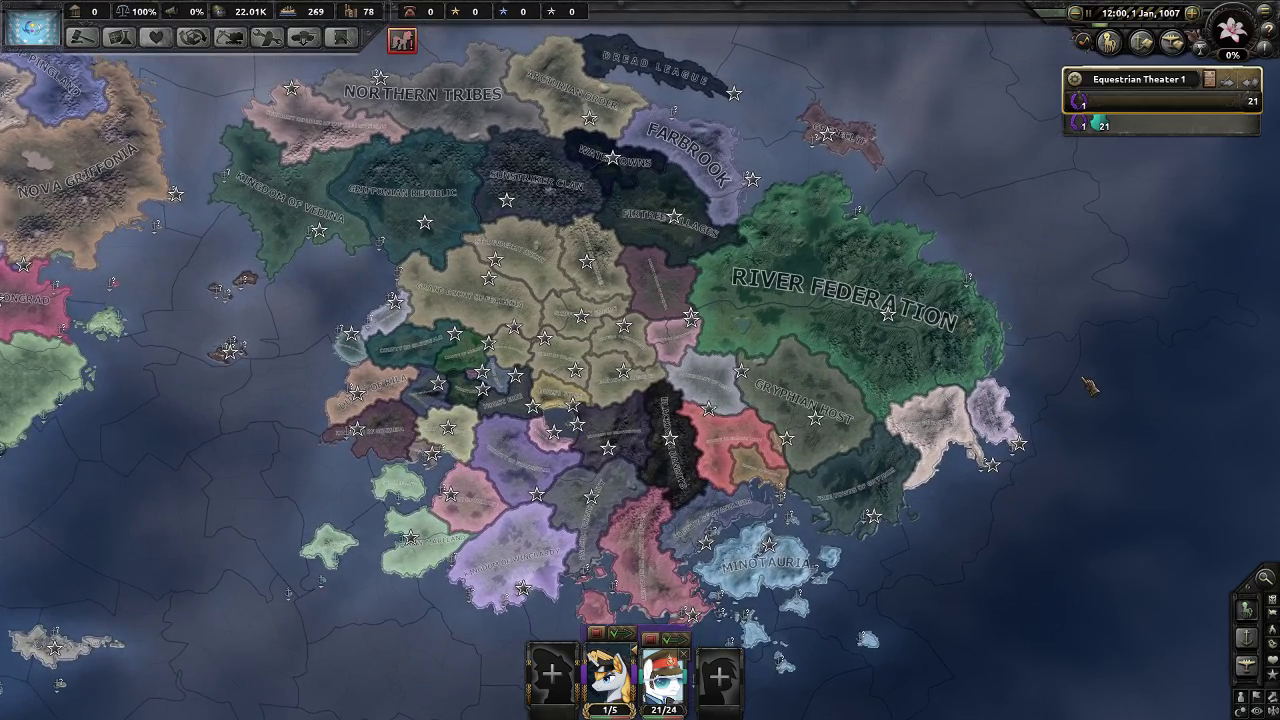 You see that blob of yellow nations? Yeah, that's all Griffons. So are all the nations in the ring around them, and a few more besides.
This second continent is the focus of the mod's most recent expansion, "Knights and Flowers", released on April 1st 2018. The vast majority of these nations have their own fleshed out National Focus tree and custom events.
Okay, but... why are you showing us this?
It's interesting and I felt like taking on a new project.
So what does this Let's Play actually entail?
We will be playing as Equestria, mostly because it's the nation I'm most familiar with. We're playing on Regular difficulty, meaning neither we nor the AI get any bonuses or maluses. I've also turned historical focuses off, because I'd like us to be surprised. With historical focuses on, the AI will choose a specific national focus path to go down, which results in the same wars happening each time you play. It will be partially narrative, because I am a story writer first and foremost, so those of you hungering for terrible fanfiction can rest assured. I might also occasionally ask for strategy input from the audience, especially regarding certain events that'll come up in the course of this Let's Play. What form that takes is yet to be determined, but will most likely just be votes on certain decisions. If any of you want to write terrible fanfiction of your own, feel free to do so. We'll probably only play up until just after the end of our first major war. After writing out the first update, I can tell you I probably won't last much longer than that, if I even get that far.
Links:
Mod's Moddb page:
https://www.moddb.com/mods/equestria-at-war
Hearts of Iron IV Wiki:
http://hoi4.paradoxwikis.com/Hearts_of_Iron_4_Wiki
(please read through the beginner's guide on this if you're not familiar with game mechanics - I'm not confident in my ability to explain them. There are some differences between the version used for the beginner's guide and the most recent version, but I'll cover those if they become important.)
Also, I've noticed a problem where some of the images I've used are a bit too small on this forum to make out details. Could someone please advise me on how to make them bigger? This is literally my first attempt at a screenshot Let's Play, so any advice would be appreciated.