I figured that the previous ship name, the 'Spacehammer' was far too optimistic. As such, my latest one was dubbed the Statistically Unlikely.
Against my best logic, I launched it. Somehow, it utterly failed to detonate at any point. Desford even managed to circularise it's orbit to the best I've done so far. Seeing I still had plenty of fuel left, I decided to send Desford one step further.
Suck it, Mun. Of course, it wasn't anywhere near the Mun by the time it arrived, so no pictures there unless you like seeing a ship drifting in empty space.
Dropping the aerospike stage, the penultimate stage was kicked into life to smack the aphkerbion back to something sensible.
With that almost out, I figured that as the Munshot was a bust (but feasable), it would be worth giving the systems a try out.
Seeing as how Desford was now a Kerbali hero, I thought it unwise to detach him from the spaceframe and ordered him to kick the engine for a deorbit burn. The ideal was for a beach landing.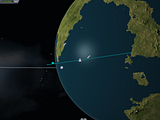 Unfortunately,Desford forgot to account for the atmosphere.
Ever optimistic, Desford dropped the landing gear anyway.
Hmm.
Well, Desford, you know what this means?
Damn straight.
So, what have we learned? Firstly, how to realistically get to the Mun. Secondly: That I really need to work out a good lander. This one, while it could work, really needs an extendable ladder and more fuel to get it back off of the Mun. Thirdly: Kerbals can swim.
All things considered, the first flight of the Statistically Unlikely was a profoundly sucessful experiment. Which was indeed statistically unlikely.