Please outline your preferred tactics/approach to the following scenario as either the First Order Skipper or Federation Captain. Both sides have a working knowledge of the other's abilities.
1.1 Starfleet Briefing
You are the captain of the USS
Progress
. Lately you have received a priority transmission from the USS
Foundation
indicating that the hostile force, the First Order, has kidnapped a survey team during an away mission, consisting of sixteen persons including two native guides, eight scientists and six security personnel. These persons are currently aboard a
Gozanti
-class transport, a small and old first order transport. You have, by fortune, been able to intercept this transport near a neutral land-based station, it is likely that the vessel will land, complete its refuelling, and be on its way within twenty one minutes thirteen seconds (as your Vulcan tactical officer punctiliously informs you).
You are currently undetected five hundred kilometres astern of the target vessel, having stepped down from slipstream drive to warp drive and then standard orbit while maintaining cloak. You have been able to verify that the comm-badges onboard are not currently being worn, and are clustered too tightly to indicate they are being worn.
1.2 Starfleet Resources
USS Progress
, Galaxy
-class Refit. Equipped as per
this thread
in points 2.3.x. including cloaking device.
2.1 First Order Briefing
You are the Lieutenant JG Commanding First Order
Gozanti
-class transport colourfully named
Freighter-129
, a punishment you suspect, given that the ship is so old that its spaceframe is pre-Imperial. You are hauling a group of sixteen prisoners from the planet
Jakku
, who claim to be a survey team from a polity called the United Federation of Planets, suspected of being hostile to the First Order. You are enroute to Penal Facility Omega based on the ice planet Zerga, where they are to be interrogated.
You are presently waiting in the queue to land at an independent and unarmed fuelling station to continue your journey back into First Order space; you do not have the means to make a hyperspace jump at present. Well aware that this is where an ambush is most likely to happen. You have the energy to run all the ship's combat systems and sublight systems, but the hyperdrive requires more reaction mass than you currently have on board to complete your mission.
You have previously confiscated a variety of rifles, strangely configured pistols, scanner and communications devices from the prisoners, who are located in your aft cargo bay. You have also, for the duration of the fuelling stop, manned the four TIE/fo fighters your vessel carries in outboard clamps, to patrol the area around the ship while it docks, and ensured that all your personnel are carrying sidearms, you are running with your shields raised, until you land and refuel.
2.2 First Order Resources
You have on board, four manned TIE fighters and eight stormtroopers, as well as 8 other crew (4 TIE technicians, deck chief, pilot, co-pilot, yourself) on board.
No reinforcements are available until the
Progress
decloaks, and whereupon you can expect a Star Destroyer to arrive exactly thirty minutes after any request you send.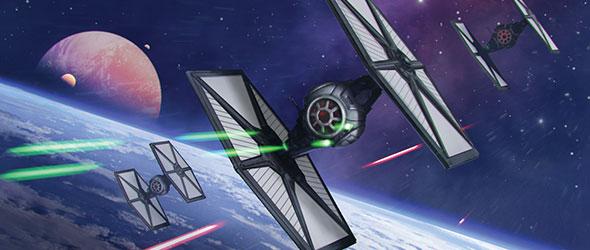 The TIE/fo fighters you are carrying are less capable than the TIE/sf special-forces model, they are single-seat models that lack a torpedo armament, hyperdrive, copilot or underslung turret gun, but are equipped with various modernization improvements and fully rated Starfighter-grade deflector shields.
3. Refuelling Station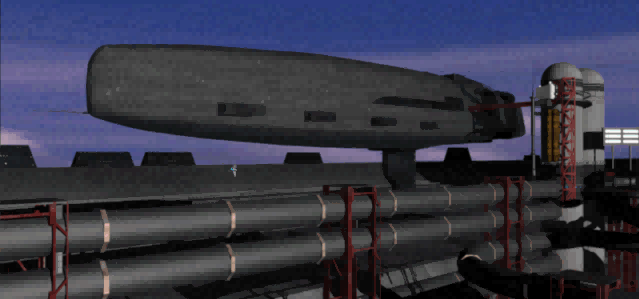 Fuel Station Hastis is a neutral facility belonging to the mighty Duraa the Hutt. Neither side can afford to damage it if possible, this is optional for the First Order however, while Federation Rules of Engagement preclude causing large scale loss of civilian life. Refueling requires that a ship enter the atmosphere of the planet the Fuel Station is located on, drop shields and link to a pumping tower to take on the required load, which is likely to take more than sixteen minutes for
Freighter-129
.
Due to Duraa the Hutt wishing to cut costs, the station is not equipped with a theatre shield nor any means to shoot at inbound targets, though it does have a set of powerful mag-clamps on the docking tower that can restrain any vessel that attempts to leave without paying.
Resources:
Galaxy Class Tech Specs
; a good breakdown of tech manual information, with some original aspects, obviously doesn't include the upgrades mentioned above.
Phaser Rifle
in use by security forces aboard the USS Progress.
Rick Sternbach's Galaxy Class Starship Deckplans
- may be considered valid for this thread, cetacean tanks and all; note, not all decks are accessible on the page.
First Order Stormtroopers
standard equipment.
Gozanti-class Freighter-Cruiser